GameStop is way more than just a gaming store anymore. It is honestly one of the constant stores on my hunting radar that I have to stop at to see what is new. The collectible world has easily expanded over the years and 2020 will be no different. This time it looks like GameStop is getting three new Marvel statues from Diamond Gallery, one of which you can get today! Avengers: Endgame Pym Particle Suit Captain America is getting his very own statue ready for your collection. The statue stands 9 inches tall, shows some likeness to Chris Evans, and features a window box. This statue is already available at GameStop and you can find it located here.
Avengers: Endgame Captain America Team Suit Marvel Gallery Statue
Marvel Movie Gallery Avengers Endgame Captain America PVC Diorama Whatever it takes! Captain America suits up to avenge his fallen comrades in the newest Marvel Gallery PVC Diorama from Diamond Select Toys! Based on his appearance in Avengers: Endgame, Cap strides towards the viewer in his white Quantum Realm suit in this approximately 9-inch sculpture featuring the likeness of Chris Evans. Crafted of high-quality PVC, it features detailed sculpting and paint applications and comes packaged in a full-color window box with a fifth-panel door. Sculpted by Rocco Tartamella!
Swinging on in next is two new Marvel's Spider-Man statues ready for any webheads collection. First, we get Spider-Man himself in his updated White Spider costume from the video game. I do like the base of this statue as it features a Daily ugly sign on top of a taxi cab, very New York. Pre-order for this statue is already live and you can find them located here. He is priced at $49.99 and is set to come out next week at GameStops, so keep your eyes in store next week.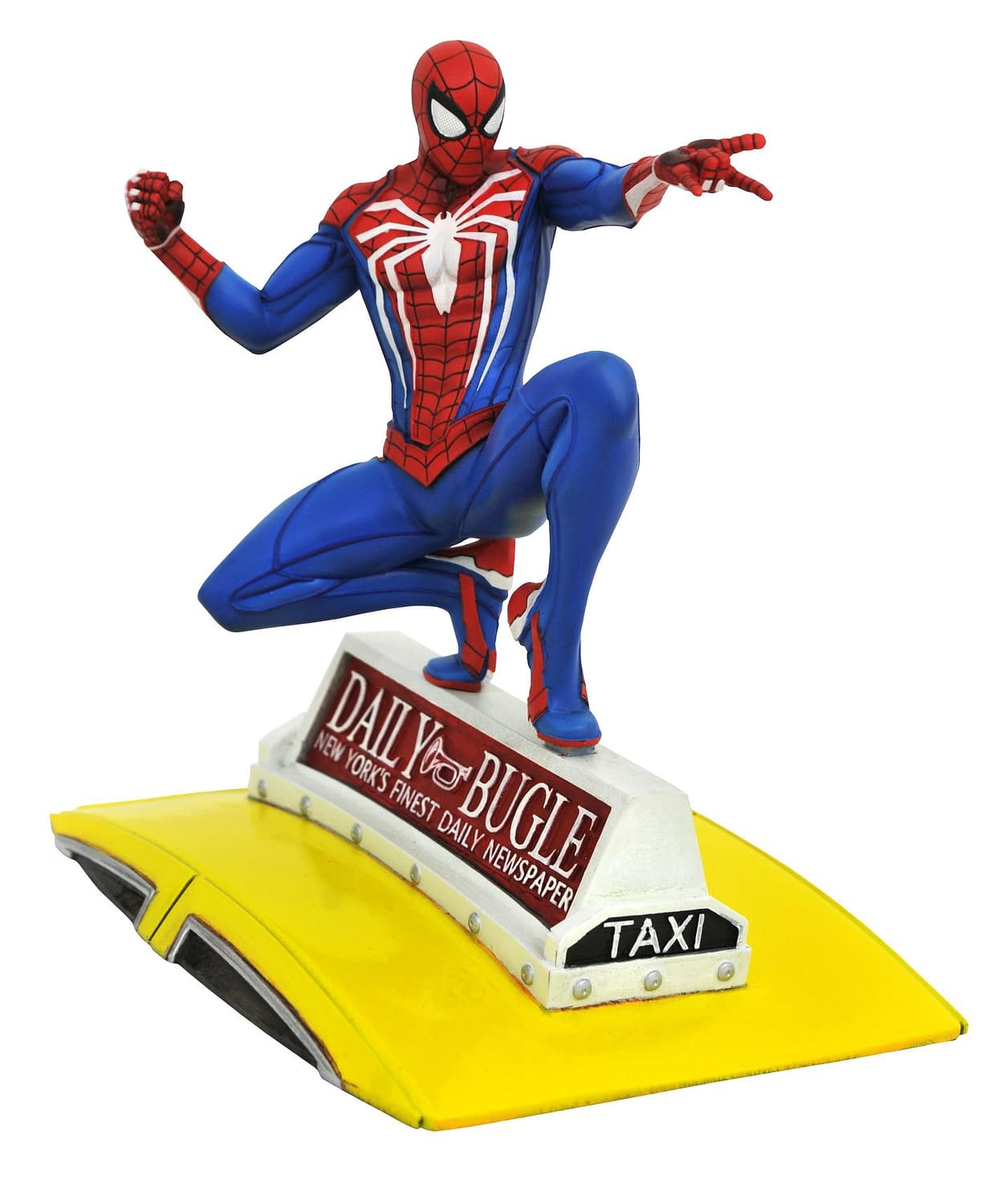 Marvel's Spider-Man Marvel Gallery Statue
The hit video game Spider-Man is now a Gallery PVC Diorama! The web-slinger hitches a ride to the hit sculpture line in style, crouched on a Daily Bugle sign atop a New York City cab in his new, already-iconic costume. Measuring approximately 9" tall, this PVC sculpture of Spidey preparing to fire a web comes packaged in a full-color window box. Sculpted by Cortes Studios. A Diamond Select Toys release!
Lastly, we are getting a first here as Spider-Punk makes his way to 616 with his own statue. This GameStop exclusive is 7 inches tall and decked out with punk details from his costume to the design. These statues are a must-have for any Spider-Man game fan or fan of the web-slinger himself. If you want to lock down your own then you can find pre-order links already live and located here. He is set to release February at GameStop stores so be on the lookout!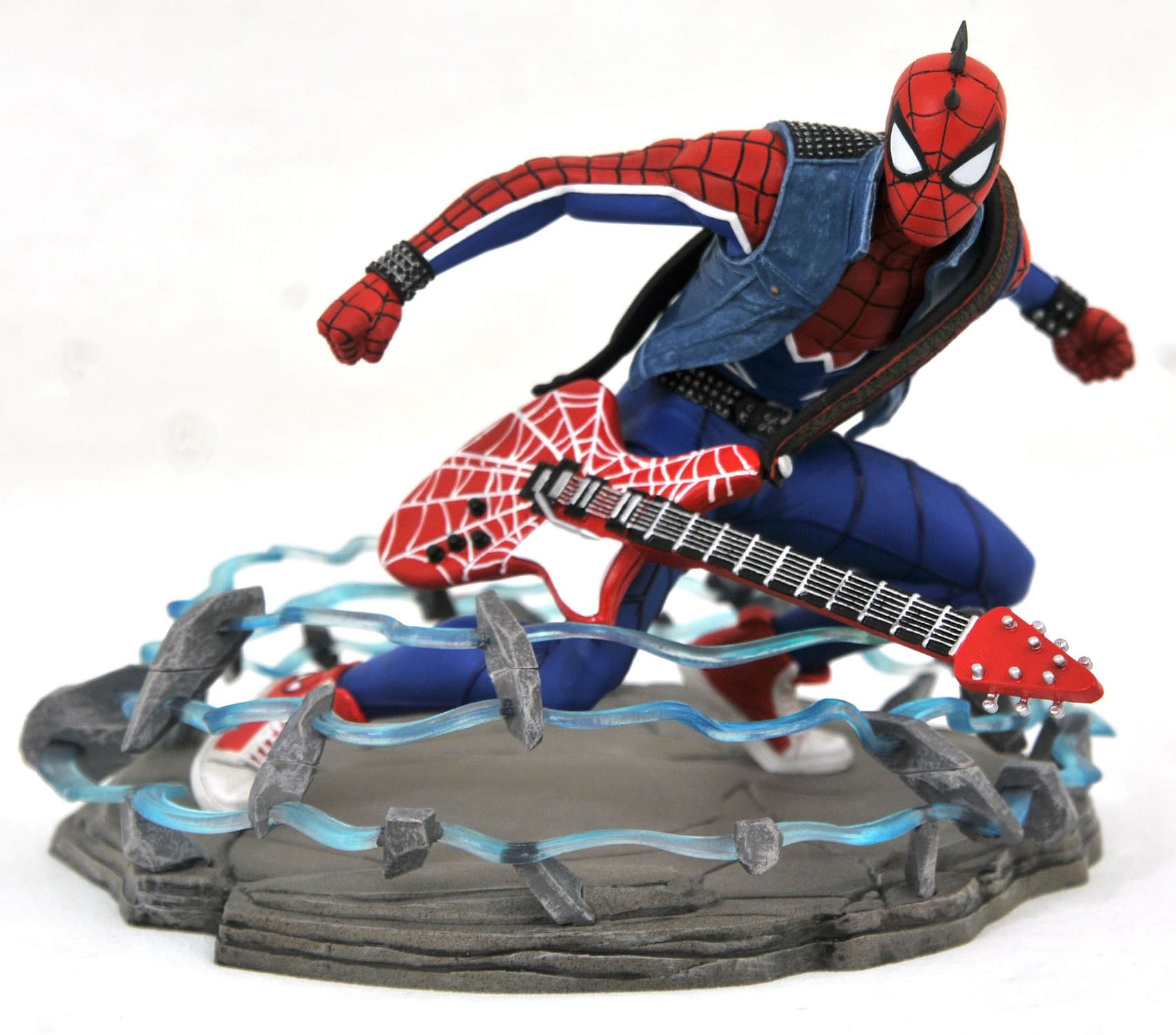 Marvel's Spider-Man Spider-Punk Marvel Video Game Gallery Statue
Time to go into the Spider-Verse! Enter the noisy, crowded clubs of New York City with the most hardcore Spider-Man of all, Spider-Punk! Measuring approximately 7 inches tall, this sculpture of the nonconformist hero shows him surrounded by barbed wire, his guitar by his side. This PVC Diorama is made out of high-grade plastic and features detailed sculpting and paint details. Packaged in a full-color window box with a fifth-panel door. Sculpted by Cortes Studios. A Diamond Select Toys release!