Ghost of Tsushima Collectibles Teased by PlayStation
The long await SuckerPunch game Ghost of Tsushima has finally dropped. PlayStation 4 fans now can play as Jin Sakai and follow him through his samurai journey. Fans of the game will now also be able to look forward to some new collectibles that are headed our way. Playstation recently showed off a couple of Ghost of Tsushima collectibles coming soon from big companies like Funko. First up is not one but two Jin Sakai Pop vinyl will be coming soon. One of which will be a bloodied version that is exclusive to GameStop and pre-orders are live and found here. The Funko Pop Vinyl shows off Jin in his ghost armor and it is beautifully designed for any gamers collection. Next, we get a look at the upcoming Ghost of Tsushima sigma from Good Smile Company and Max Factory. This figure is not yet completed but we get to see the 3D design of him. It looks like he will also be featured in his Ghost Armor and will come with a nice set of accessories. Interchangeable hands, head, swords, and bow with an arrow will also be included. With Good Smile Company and Max Factory behind the wheel, you know this will be an amazing Ghost of Tsushima collectible.
Last but not least is a quick Ghost of Tsushima teaser from Prime 1 Studio. Coming out of the Golden Forest, Jin Sakai will be getting a special 1:4 scale statue. This collectible is also a rendering but we will get to see Jin pondering his path as the Ghost intros statue. With Prime 1 Studio this statue will be pricey, highly detailed, and a must-have for any Ghost of Tsushima fan. All of these Ghost of Tsushima collectibles are perfect pieces to any fans collection. With the game in gamer's hands now I'm sure more fans will start to come out. Which Ghost of Tsushima collectible are you excited to get your hands on?
"Along with our friends at Funko, we're happy to reveal two versions of Jin Sakai Funko Pop! Vinyl figures! Both versions measure approximately 3.75 inches tall and feature Jin outfitted in his Ghost Armor, complete with his deadly katana and tanto. You can get the original Jin Sakai figure or get a variant with blood spatter at GameStop."
"First, the team at Good Smile Company and Max Factory are working on a fully articulated Jin Sakai Figma. While we only have a sneak peek today, we can't wait for this figure, which features posable joints, swappable heads with and without Jin's Ghost mask, a cloth cape, and accessories including different sword kits and arrows. We love Figma and we're excited to show off this early concept, but even more excited to share a more detailed look later this year!"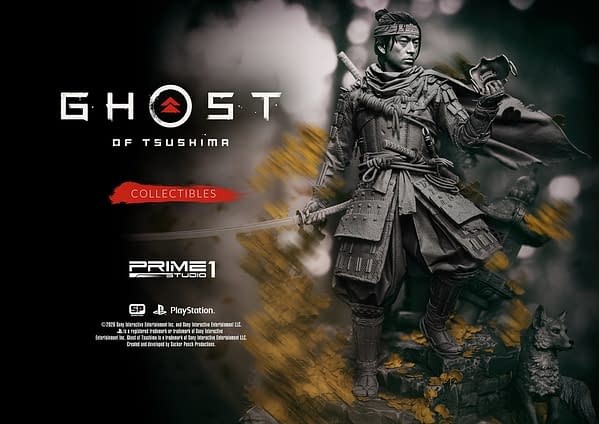 "And finally, the incredible team at Prime 1 Studio is hard at work on an absolutely stunning Jin Sakai 1:4 Scale statue. While we can only share this early concept with you today, rest assured that the detail here is truly awesome, with details including a fox and shrine, guide bird, and ginkgo leaves straight from the Golden Forest featured in the game. We can't wait to share more of this one!"