Ghostbusters Reunite Once Again with Eaglemoss Box Set
A new box set from Eaglemoss has arrived for pre-order featuring your favorite team of ghost hunters. That is right, the original team of Ghostbusters has returned once again for a special Eaglemoss statue box set. Peter Venkman, Ray Stantz, Winston Zeddemore, and Egon Spengler are here with their 1984 look. Each one is quite simplistic and each has its own unique Ghostbusters feel. Ray and Winston both are shown getting ready to use their proton packs. As for Egon, he is shown using the iconic PKE Meter to check to see any lingering ghost activity. The last Ghostbuster, Ray, is shown holding the ghost trap and is even sporting some ghost goggles. The colors of these statues are well done and the shading adds a more realistic effect to their suits.
Ghostbusters is one of those films that really shined during the 80s. The 80s shown Pop culture that there was an untouched goldmine for science fiction. We saw the grown of the entertainment industry with films like Alien, Predator, RoboCop, Terminator, Back to the Future, and of course Ghostbusters. This statue from Eaglemoss is a nice collectible set to reunite your childhood once again as all four characters are packaged and ready for some action in this set. Enhance your office, collectible cave, or entertainment center with this special box set. The Ghostbusters 4 Pack Statue Box Set from Eaglemoss is priced at $70. They are expected to ship on out in June 2020 and pre-orders are live and can be found here.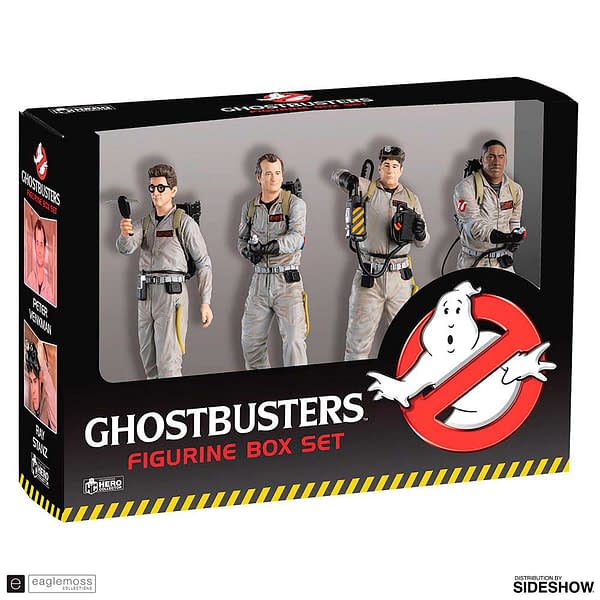 "Sideshow and Eaglemoss present the Ghostbuster Figurine Box Set! This epic Ghostbusters Figurine Box Set features all your favorite characters from the original 1984 movie. Relive adventures with Peter, Raymond, Egon, and Winston. These figures are cast in their iconic poses, carrying proton packs on their backs. These models depict each character holding a famous invention from the franchise, which includes a ghost trap, PKE meter, Neutrona wand, and proton gun."