Gundam Perfect Strike Scale Model Kit Coming Soon From Bandai
Gundam has a huge fan base. There's not a time where I don't go into a comic book store or collectible shop and not see a Gundam section. They are always unique and showcase some of the coolest Gundam's from the vast variety of shows or games. The newest addition from Bandai Hobby Gunpla is the SEED Perfect Strike model kit. The kit includes three Striker weapon System modules, the aile, sword, and launcher. The model will be almost 12 inches high and will feature light-up eyes, which is pretty unique for a model. There will be a newly molded parts for this figure as well as adjusted coloring. This model said is perfect for any fans of Mobile Suit Gundam SEED, Or fans of the Gundam series itself.
The Gundam SEED Perfect Strike 1/60 Scale Model Kit is priced at $269.99. He is set to release February 2020 and his pre-orders are already live and located here. Don't miss out on yours so lock down a pre-order today.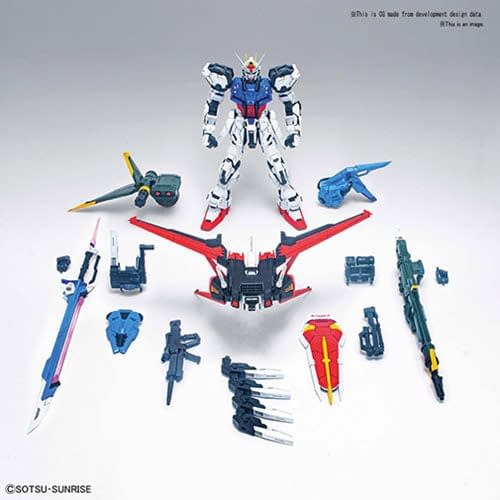 Gundam SEED Perfect Strike Gundam PG 1:60 Scale Model Kit
Description
Specifications
From Mobile Suit Gundam SEED, comes the PG Strike Gundam has been retrofitted to the latest format! All 3 of the Striker Weapons System modules including Aile, Sword, and Launcher configurations are included which can be displayed individually or combined to create the Perfect Strike Gundam. In addition, newly molded parts for the armor throughout the body including areas such as the head and face give the Strike Gundam a brand new appearance as well adjusted coloring including Gunmetal colored internal frame and darker shade of blue. New plated parts are also included to highlight frame components. The Gundam SEED Perfect Strike Gundam PG 1:60 Scale Model Kit includes LED parts for the eyes. Measures about 11 4/5-inches tall.