Horizon Zero Dawn Aloy Is on the Hunt With Prime 1 Studio
Th hit PlayStation exclusive game, Horizon Zero Dawn is back as Prime 1 Studio has announced a new statue featuring the heroine Aloy. This new exclusive statue is a 1:4 scale and clocks in at roughly 28.78 inches tall. She is wearing her rare Shield Weaver Armor Set as the statues shows it off with intricate detail. She is placed on top of a detailed snowy base with broken machine parts around her. She will be equipped with the Carja War Bow but with the exclusive version fans can now show off the Carja Sharpshoot Bow. Each bow has it's own special traits and now Aloy can show off her skills with both. Aloy is sculpted to perfection with this piece from the details on her face to the design of her costume. Fans will not want to miss this Horizon Zero Dawn statue.
It has been 3 years since the amazing tale of Aloy as she took on the vast wildness. It is nice to know he is not forgotten and collectibles continue to come out even if it is a simple exclusive bow modification. This statue is beautifully detailed and sculpted to perfection that any Horizon Zero Dawn fan will want this statue in their gaming pad. The Horizon Zero Dawn Aloy Shield-Weaver Armor Exclusive Version Statue is priced at $1,099. The statue is set to be released between September and December 2021 and you can find pre-order links are already live and available here. Be on the look out for the companion Horizon Zero Dawn Stalker piece to show off Aloy's bow skills. Don't forget to check out some of the other amazing Prime 1 Studio statues coming soon like Joker, Spinosaurus, and the Alien Warrior.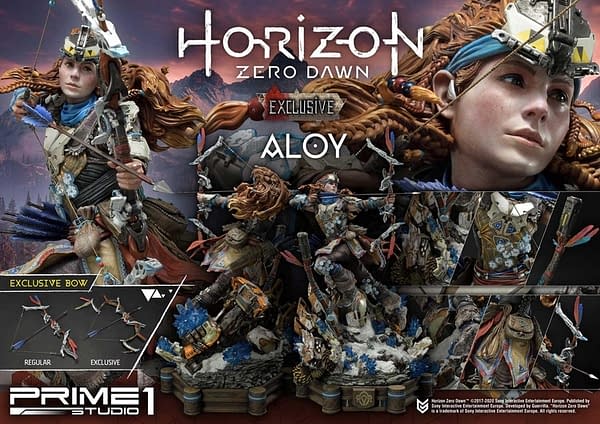 Ultimate Premium Masterline Horizon Zero Dawn Aloy Shield-Weaver Armor Set EX Version
"I fought my way past an army while you cowered in this cave, do you really think you can stop me?!" "Prime 1 Studio is proud to present the 1:4 scale UPMHZD-01 Aloy Shield Weaver Armor Set from Horizon Zero Dawn. Aloy is the protagonist of Horizon Zero Dawn, an award-winning action role playing game developed by Guerrilla. She is curious, determined, and intent on uncovering the mysteries of the world around her. Shunned by her own tribe since birth, Aloy has learned to harness her agility, cunning, and deadly aim to hunt machines and survive in the unforgiving wilds."
"Behold Aloy mid-shot using her powerful Carja War Bow. Can she turn the Stalker into prey? Aloy is presented gracefully and heroically, standing upon the remains of a defeated Scrapper. In conjunction with Guerrilla, we have crafted her Shield-Weaver armor with meticulous attention to detail to create the best Aloy statue on the market. The exclusive version features a Carja Sharpshot bow switchout. Aloy carries a stern yet focused expression on her face. She is untouchable by any robot monstrosity and an excellent addition to your collection."
Specifications:
– One (1) designed theme base
– One (1) swappable Carja Sharpshot Bow [Exclusive Version Only]