Celebrate Jaws 45th Anniversary With New Collectibles from SD Toys
The Steven Spielberg classic Jaws is celebrating its 45th Anniversary this year. Some theaters are even replaying the film to celebrate this moment. You would imagine we would see more collectibles with such a big event for this lovable shark and SD Toys is here change that. Pre-orders have recently gone live for two very unique Jaws collectible statues. The first is a diorama statue featuring the iconic shark attack on the Orca fishing boat. With Martin Brody on broad, he must fend off the blood thirsty shark to save the day. The statue stands at 6 inches tall and 10 inches wide and is a complete 3D rendering of the boat sinking scene. The Orca Boat Diorama Jaws Statue from SD Toys is priced at $59.99 and you can find pre-orders here. The next collectible coming to us from SD Toys is a Jaws 3D Poster statue. No better way to celebrate the 45th anniversary than with a recreation of its iconic poster. The Statue stands 12 inches tall and shows off "Bruce" coming from the depths. The water is translucent to see the shark cast inside with a lonely victim swimming on top. This is one statue that Jaws fans will not want to miss and it is priced at $59.99. The Jaws 3D Poster Statue from SD Toys is set to ship out between October and December 2020 and pre-orders are live and can be found here. Be careful when you go into the water this summer you never know who is hungry…
Just when you thought it was safe to go back in the water… Inspired by the boat named Orca featured in the Jaws movie, this highly detailed diorama captures the jaw-stopping scene where Martin Brody is perched atop the mast of the sinking boat, trying to fend off the persistent man-eating shark the film crew nicknamed "Bruce."
10 x 6 x 6 inches (25.4cm x 15.24cm x 15.24cm)
Based on the classic Jaws film
Features diorama of the iconic boat-sinking scene
Celebrating the 45th anniversary of Jaws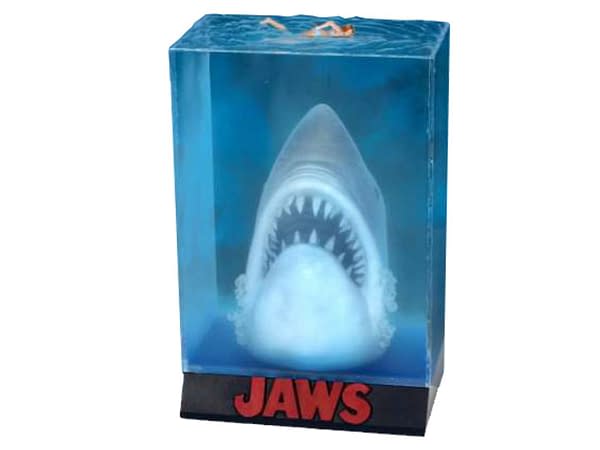 "The famous poster comes to life as a unique collectible 3D diorama! Celebrating the 45th anniversary of the iconic Jaws film, this diorama stands about 12 inches tall and features a blue translucent material so it can be viewed from all different angles."
12 x 5 x 7 inches (30.5cm x 12.7cm x 17.8cm)
Based on the original Jaws movie
3D diorama of the movie poster
Celebrating the 45th anniversary of Jaws!