Kylo Ren's Journey into the dark side has been what fans have been wanting in a Star Wars story. I think we would all love to see on what truly led him to enter the dark side and we might have our answers this weekend with the premiere of Star Wars: The Rise of Skywalker. Until then we get to enjoy as many Kylo Ren collectibles and stock up before it's too late.
Some of these collectibles are available today others are still available for pre-order. First up we're staying cheap with the new Kylo Ren Funko Pop figures. There are quite a few Kylo Ren Funko figures out and each is unique and ready for your shelves. The first is a simple supreme leader Kyla Ren lightsaber in hand. This is a simple Star Wars bobblehead that can have any collection feel the power of the Darkside and you can find them online and is located here. One is Kylo Ren in TIE Fighter Pop ride that is beautifully crafted. Pop rides are unique and give a little more dynamic field to any figure and they're still in stock and available here. The last but not least one is the new Kylo Ren electronic Funko Pop that features lights and sounds from the iconic character. This figure is set to drop in January 2020 and you can pre-order yours today and located here.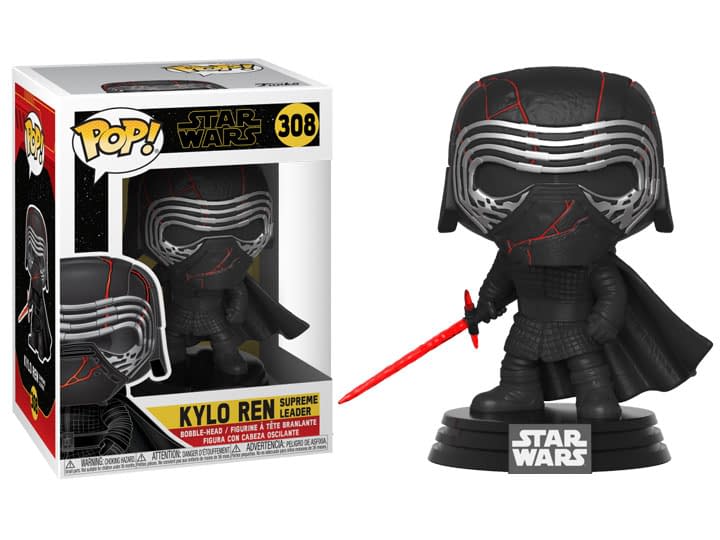 You can't have a Star Wars collectibles list without showcasing Star Wars: The Black Series. It is such a great set of action figures there any Star Wars fan must have especially with this year's new first edition variant figures. Kylo Ren made the cut and has a special white box with his 1st edition figure. The figure is quite simple and shows the newly scarred helmet and has a lightsaber and hilt accessory. You can pre-order your own Kylo Ren figure online here or test your luck in trying to find the first edition white box.
Next, we have the recently announced Star Wars Kylo Ren Hot Toys sixth scale figure. This is a recent release from Hot Toys that will perfectly satisfy any Sith Lords collection. The figure features a new mold and some special LED incorporations into the figure. Not only do the scars on his helmet pulsate but his lightsaber has a light-up function as well to bring a new dynamic and compelling feel to this figure. You can pre-order your own Kylo Ren figure from Hot Toys that is priced at $251 and located here. He is not expected to ship out until between April and June 2021 so you have time to save and prepare yourself.
The last figure we have to put on our list is the Star Wars the rise of Skywalker S.H. Figuarts Kylo Ren. This figure is highly detailed and very poseable and it gives us a real cloth cloak and an unmasked head sculpt showcasing Adam Driver. This figure gives us some fan service and it would be perfect for any Sith Lords collection. This figure is available now and in stock and you can purchase them located here.
Kylo Ren's journey will reach its conclusion this weekend so who knows how far he will go on his path along the dark side will come to an end. Only time will tell with this young Sith Lord's journey but that won't stop us from collecting his amazing variety of collectibles. Make sure you go see Star Wars: The Rise of Skywalker this Friday, December 28, 2019.
Let the hate flow through you.