Luna Lovegood Casts Her Spell With Good Smile Company
Good Smile Company is returning to Hogwarts as they announce a new Nendoroid figure from the Wizarding World of Harry Potter. The lovely and wonderful Luna Lovegood is ready for her close up. She will come with two expression faceplates, one is standard and the second is a dreamy thoughtful look. She will come with a couple of accessories with copies of The Quibbler, wand, Ravenclaw scarf, and her Quidditch lion hat. Any Luna Lovegood fan will be happy to add this adorable figure to their magical collection.
Luna Lovegood fans will be in love wot this figure. Good Smile packed just the perfect amount of magic, detail, and accessories into her. I do wish we would have got her swirling glasses though, maybe next time. The Harry Potter Luna Lovegood Nendoroid Figure from Good Smile Company will be priced at roughly $41. She is expected to return to Hogwarts in December 2020 and pre-orders are already live and she can be found here. Don't miss out on all the other amazing Harry Potter Nendoroid figures also available at the Good Smile Shop.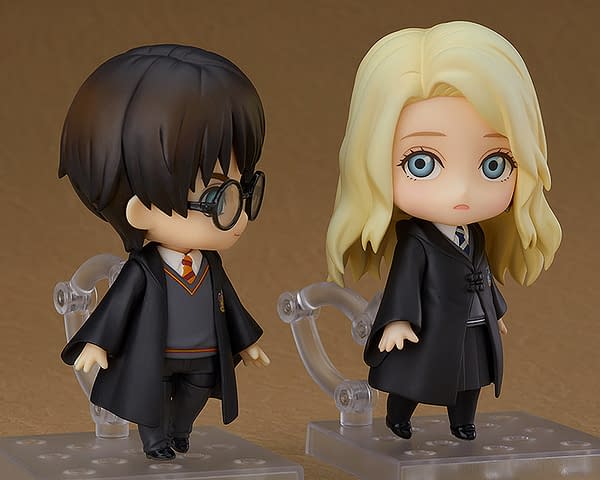 "Things we lose have a way of coming back to us in the end, if not always in the way we expect." "From the internationally popular "Harry Potter" film series comes a Nendoroid of Harry's friend Luna Lovegood! She comes with two face plates—a standard expression and a dreamy thoughtful expression. Of course, Luna is ready to distribute copies of The Quibbler to fellow Hogwarts students. She also comes with her wand, a Ravenclaw scarf, and the iconic lion hat she wears to show support for the Gryffindor Quidditch team. Be sure to add her to your collection and display her with other Nendoroids from the Wizarding World!"