My Hero Academia McFarlane Toys Toy of the Year Nominee [Review]
My Hero Academia has been a popular collectible this year. From Funko Pops, statues, Figpins, to even action figures, this popular anime is taking over the collectible world. Special thanks to Funimation for sending us a wave of their My Hero Academia action figures for review, including the Katsuki Bakugo action figure that has been nominated for Action figure of the Year! Four figures have been released in this wave so far; Izuku Midoriya (Deku), Katsuki Bakugo, All Might, and Tomura Shiguraki. Each one comes with hand accessories and Deku even comes with a secondary face to show a more battle-ready look. Jump on into the box design first, they are quite simple with a display window with the character design on the front and the characters available in a line on the back.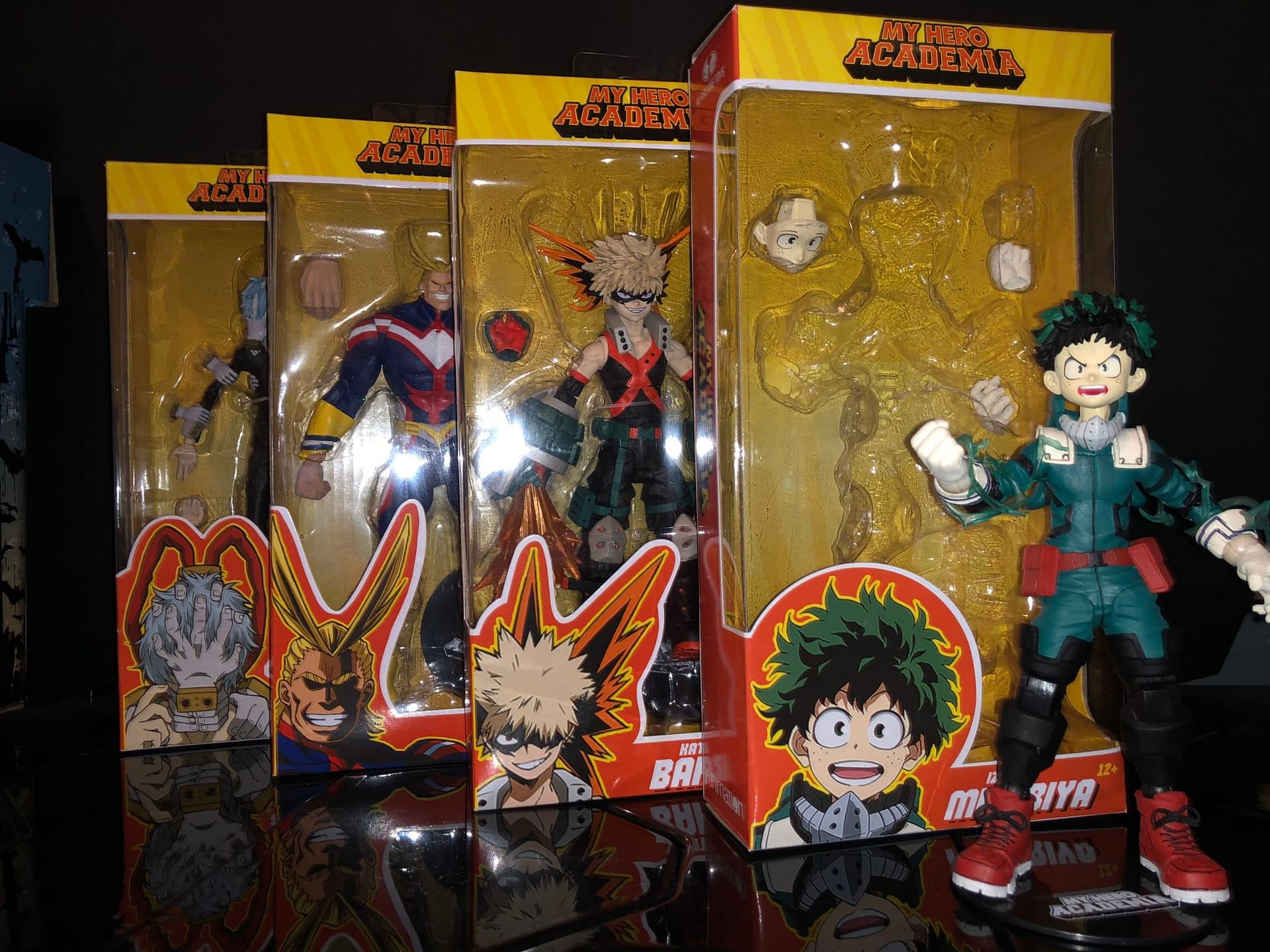 The My Hero Academia Izuku Midoriya figure was definitely a delight. Deku's hair was very sharp so watch out for that and no instructions are included so it was kind of hard to figure out how to replace the face. I was having alot of issues replaced the head too, sometimes putting on his head would make his arm pop out. This happened quite often too when posing him since he was very stiff at first. Besides those simple defects, the colors and the poseability of this figure we're definitely pleasing. He is very detailed and sharp and it was a treat to play with and pose.
You can definitely see the quality that McFarlane toys have put into this figure line. The design and sturdiness of these figures definitely would make it qualify for any Action Figure of the Year. The closer we get to look at these figures the more I realize why this figure would be nominated and wouldn't be a surprise if Bakugo won. Moving onto the famous hero All Might, he's definitely a quite sturdy and simple action figure. He does come with a second set of hands that are very easy to slip on and off and very simple to pose. I would love to see a battle damage version is a figure, I have seen another silver aged outfit all my out there from McFarlane Toys that you can also get today.
Next, we have the villain Tomura Shiguraki. This McFarlane Toys My Hero Academia figure is definitely well designed. Unlike the Funko Pop version, you can really see all of the detail with the hands with this figure. Not only does it make it quite eerie but is a perfect re-creation of the figure in figure form. The colors and designs are great in this figure I'll be perfect for any My Hero Academia fans collection.
Finally, we hit the main event with the Katsuki Bakugo action figure that has been nominated for an Action Figure of the Year from McFarland Toys. This figure is definitely amazing and worth all the praise. With over 22 points of articulation, to interchangeable hands with explosion effects, he is a great collectible. The colors of this figure really pop and he is something special and Bakugo was very easy to pose with no issues posing him at all. Even when you change out the hands it brings a whole new dynamic to the character. If you're looking for a perfect figure to collect that you want and you're My Hero Academia collection. You can vote now for the Katsuki Bakugo action figure right here at the Toy Awards. He is definitely worth all the praise and let us get a win for the anime fans out there.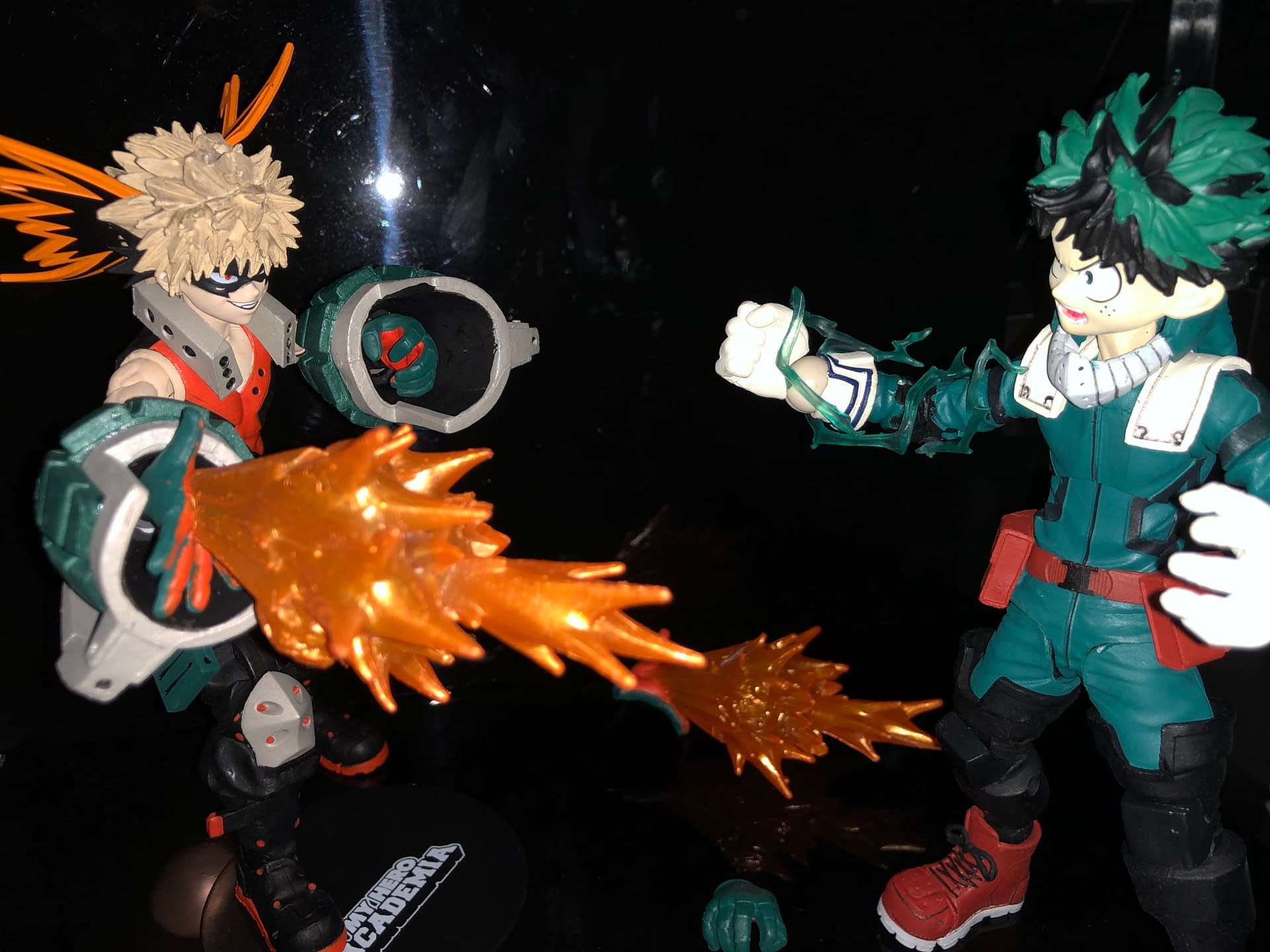 If you want to snag up your own My Hero Academia McFarlane Toys figures you can find them located here. They are priced at $21.99. If you want today and you don't want to wait you can find them at local retailers especially game stop has them. Don't forget to vote for the Action Figure of the Year Toy Award here, voting is open between now and January 6. Special thanks to you to McFarlane Toys for sending us these figures for free to review. Let's unite and get Bakugo first place again!