My Hero Villains Funko Pop Vinyls Get NYCC Exclusives [Review]
My Hero Academia is easily a modern anime treasure. With a great cast of characters, we are introduced to a world of superheroes that we have never seen before. Not only do the heroes shine but the vast variety of villains really captivates audiences. There are a lot of collectibles out there for the My Hero franchise, one that quite often sells fast is the Funko Pops. This past New York Comic Con, we got to see two exclusive My Hero figures come out. I was lucky enough to snag them up on release day, so let us embrace our villain sides and do some reviews.
First up is My Hero Academia's Hero Killer Stain who was shared exclusively to GameStop. Nothing special stands out in the packaging, it does have the NYCC Shared Exclusive sticker though. The figure itself is pretty unique as it shows the dynamic feel of the anime character.
Hero Killer Stain is showcased being crouched with a sword and knife in his hand. His tongue is out which is pretty iconic for the character as his quick works when he licks the blood of his victims. This puts them into full paralysis, making his work quite easy. I do like the way that they used his headband and how it shows movement. As well as they were they put his cape coming down and rounding him. This is a great Funko Pop My Hero exclusive figure and I am glad it dropped as a convention exclusive. You can also really change up the vibe of this character with a simple blood-splattered Pop protector.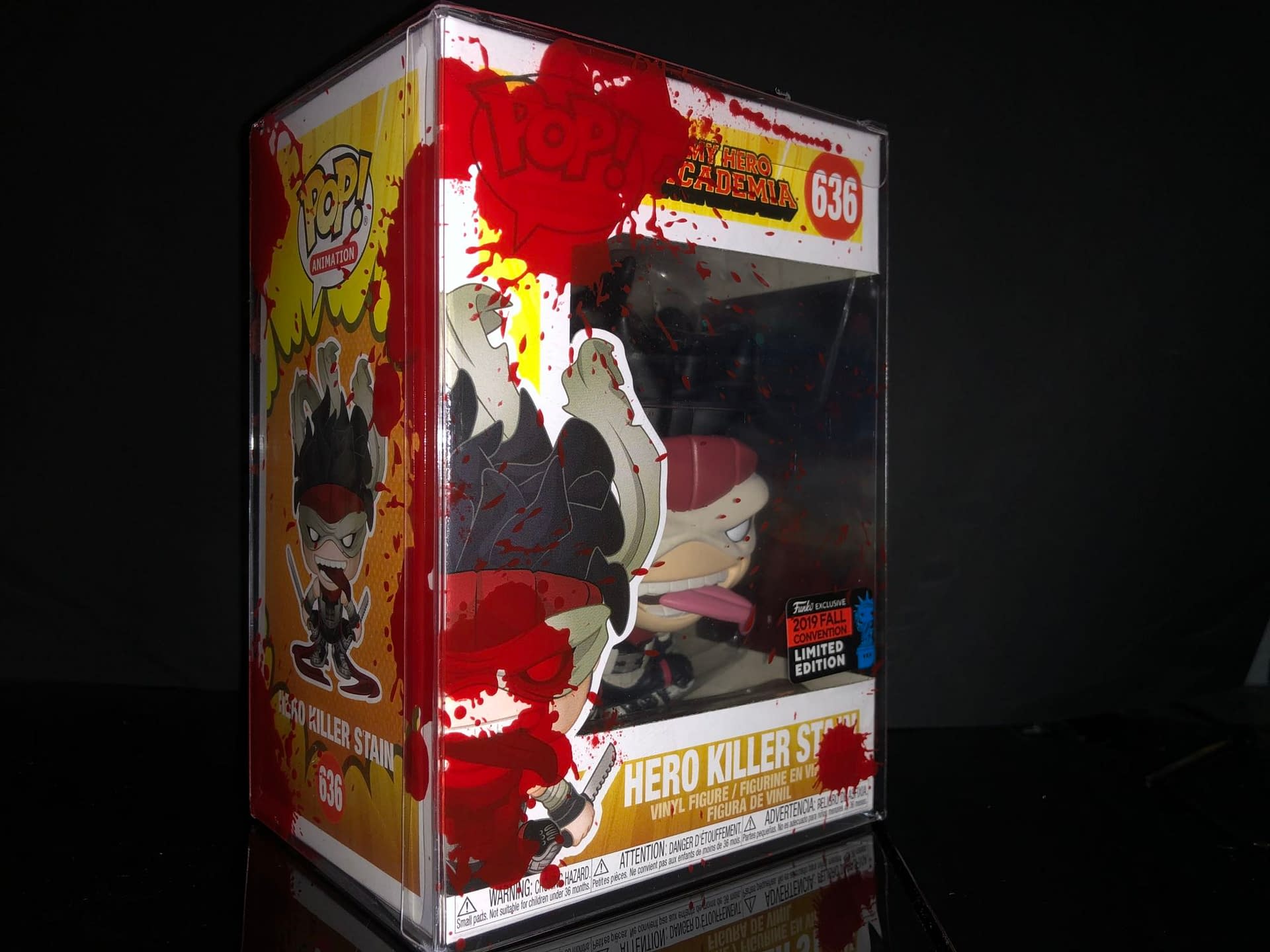 The other New York Comic Con My Hero exclusive figure is Dabi, who was a shared exclusive to Hot Topic. This villain played quite a role in the third season of My Hero Academia during the Summer Camp episodes. His box is the same as the rest of the My Hero Academia releases, like Stain though, we are treated with an NYCC Shared Exclusive sticker.
This stitched up villain left his mark Eraserhead and the class of 1A. He is a villain I hope we get to see more of but until then we have his Funko Pop My Hero figure. This figure is a little more dynamic than the rest showing a blue flame standing base as well as a blue flame in his hand.
The design and the detail on this figure are pretty remarkable as you can see the different coloring as well as the stitches across his face. I do like unique Funko Pop's that have that dynamic field to them, but this does make them feel more of a mini statue rather than the Pop Vinyl's we are used to. There's nothing wrong with that and I still love this character and glad I own one.
Both of these My Hero Academia Funko Pop character exclusives are perfect examples of what convention exclusive's should be. The fact that Funko has opened up shared exclusives makes these able to get into more hands of collectors and I appreciate it. Both of these are unique in their own specific way and any fans of My Hero Academia should add them to their collection. While finding these in stores will be slim to none, you can call your local GameStop to see if they have any Hero killer stains still in-store or check the GameStop app. Dabi would be located at Hot Topic and if you're lucky they might have some left in store. Good luck if you're looking for them! PLUS ULTRA!