Joker from Batman: The Animated Series is making his Beast Kingdom debut alongside the recently announced Batman Egg Attack Action figure. Best known for being voiced by the iconic Mark Hamill, this Joker EAA Figure is no laughing matter. His classic outfit is made of real cloth and he comes with crazy assortment of accessories. The EAA Figures are highly articled so there is no end to what position you can have your Joker in. He comes with three separate faces, this way you can have him in any expression that best fits your Joker needs. He also comes with four pairs of hands for you to position him and to attach the iconic and perfect other accessories. A clown grenade, a mutated fish, a batman doll, and the iconic clown dentures and the pistol that always ends with a BANG!
This Animated Joker is perfect for any Batman fan and would go perfectly with the recently announce EAA Batman. This figure is a PX Previews Exclusive so best way to obtain is through your local comic shops! He is priced at $80.00 and is due to be in shops May 27, 2020.
Check out Joker and all of his madness below!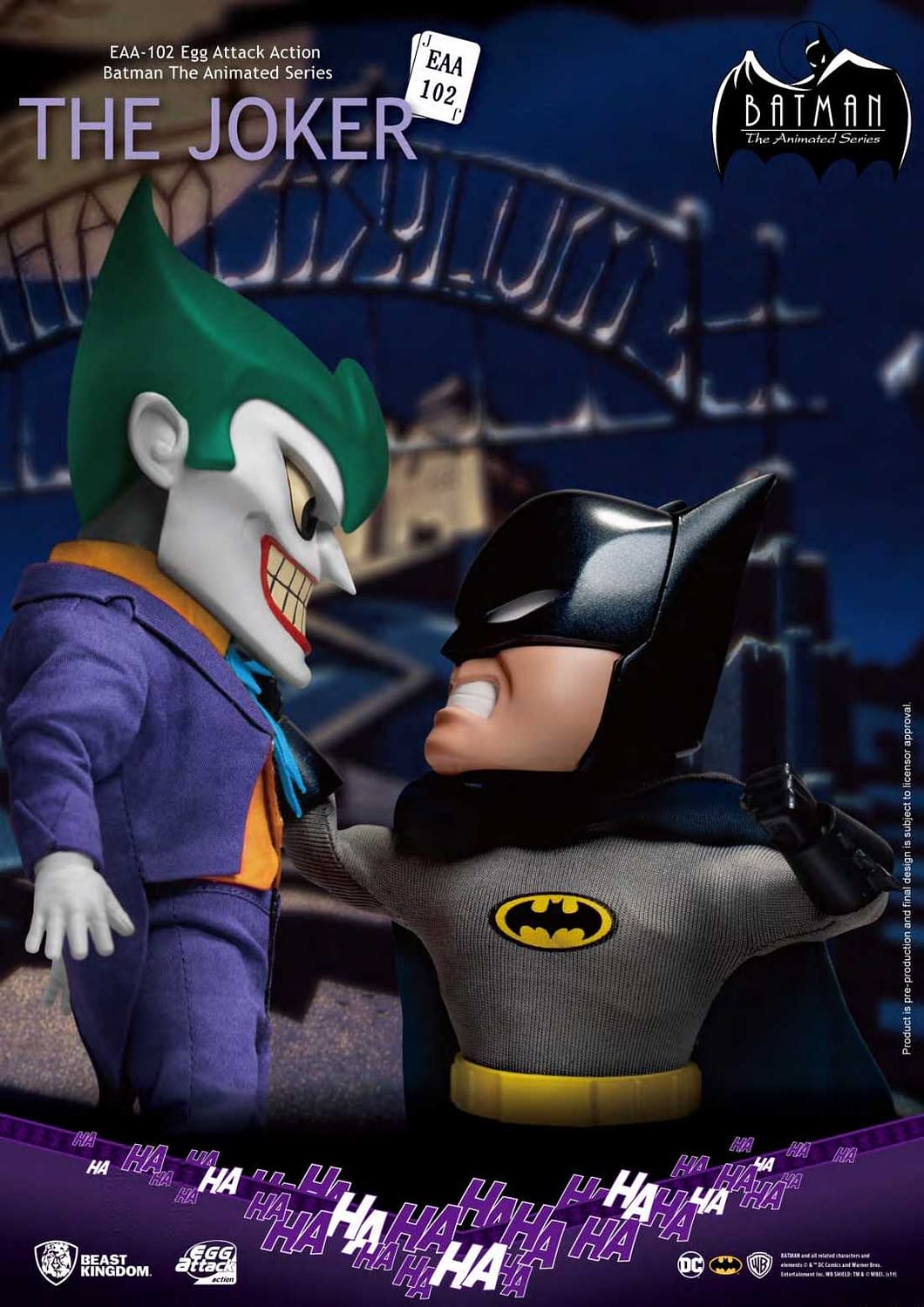 From Beast Kingdom A PREVIEWS Exclusive! Following the release of the EAA-Batman, Beast Kingdom is proud to introduce the Egg Attack Action Joker from Batman the Animated Series! Befitting of any crazed villain, the Joker is seen with his classic purple suit, orange vest, bow tie and 3 replaceable facial expressions fit for any occasion! Collectors can now reenact any of his signature ultra-creepy expressions as well as having the ability to pose him with a high degree of articulation. The figure packs a series of accessories including: four pairs of replicable hands, a clown grenade to fight off his enemies, a Batman Doll for those lonely clown nights, a mutated clown fish, clown dentures and the infamous pistol that shoots out a bang to scare any foe! With a great selection of accessories, high mobility and the use of real cloth for clothing, make sure you don't miss out on this Joker figure!
Enjoyed this article? Share it!