Robin is finally here for us to pre-order! We recently covered the Robin Premium Statue from Sideshow Collectibles as they released the first look at it during their 12 Days of Sideshow. Now it looks like the famous Boy Wonder is ready to get his debut. The statue is 19" tall and shows off Robin jumping over an Ace Chemicals barrel. His cape is fabric, features a removable hooded multiple replaceable pieces. He will come with two heads one looks like Damien Wayne and the other looks like the original Boy Wonder Dick Grayson. He will also come with a katana if you get the exclusive version. The standard Robin statue is priced at $540 and the exclusive Sideshow version is priced at $550. He is set to jump into action between September and November 2020and pre-orders are live here.
"I'm sure you didn't leave your hole tonight thinking you'd get your ass kicked by a ten-year-old!" – Damien Wayne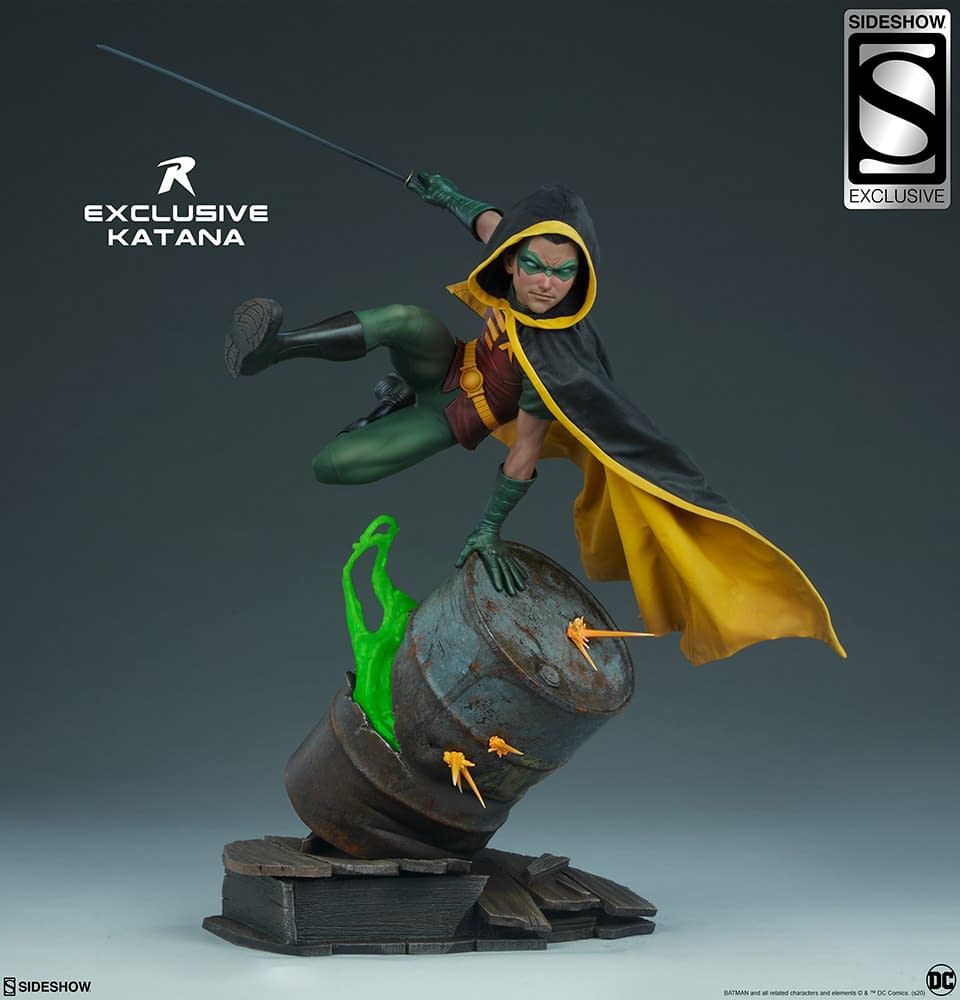 Robin Premium Format™ Figure by Sideshow Collectibles
ABOUT THIS PREMIUM FORMAT™ FIGURE
"Of course we're going to do this. I said it looked tough, not unbeatable."
Sideshow presents the Robin Premium Format™ Figure, the perfect sidekick for your DC Comics collection.
The Robin Premium Format™ Figure measures 19" tall as the Boy Wonder leaps into action at an Ace Chemicals warehouse, dodging gunfire and noxious green ooze spilling out from a broken barrel. Eager to aid Batman in the fight, Robin is equipped with a battle staff for beating up bad guys with maximum reach.
The polyresin Robin Premium Format™ Figure features a sculpted red and green costume complete with a black and yellow fabric cape with a removable hood. Both the hood and cape have internal wiring, allowing you to pose the fabric for added dynamism. This action-packed DC Comics collectible also includes two distinct portraits featuring differing hairstyles, expressions, and green domino masks so that collectors can choose which version of this iconic hero they want to display. Whether he's smiling or scowling, Robin is ready to clear out the criminals of Gotham City wherever they lurk.
The Exclusive Edition of the Robin Premium Format™ Figure includes a swap-out right hand wielding a katana blade, so collectors can arm the acrobatic crimefighter with a unique additional weapon.
Build your Bat-Family and bring home the Robin Premium Format™ Figure to your Batcave of DC Comics collectibles today!
Matt Black (Sculpt)
Richard Luong (Design)
Kucharek Brothers (Design)
Adam Smith (Mold and Cast)
Bernardo Esquivel (Paint)
Esther Skandunas (Costume Fabrication)
The Sideshow Design and Development Team (Development)