Scorpion Shows His True Face In New BBTS Exclusive "Mortal Kombat" Figure
Scorpion and Subzero are probably the two biggest names to come out of the Mortal Kombat franchise. These two front runners have always had something special, with one being the master of fire and the other ice. Big Bad Toy Store is showing off their love for Scorpion with the newest figure from Storm Collectibles. This 1/12th scale action figure gives us our favorite fighter in all his glory. He comes with his "get over here" hook and a battle-ax. Scorpion also comes with four sets of interchangeable hands as well as three blood effects. What makes this figure an exclusive is that it features his skinless skull head sculpt. This head does come with two separate mask styles, one featuring the ninja mask the other one a skull. This figure comes in at 7 inches tall and will be highly articulated. He is a perfect addition for any Mortal Kombat fans room or dojo.
The Mortal Kombat 3 VS Series Scorpion 1/12th Scale Big Bad Toy Store exclusive figure is priced at $69.99. He is set for release November 2019 and Big Bad Toy Store has pre-orders already up in available today and located here.
"You killed me two years ago to this day, but I have returned from the depths of the Netherrealm to avenge my death. …"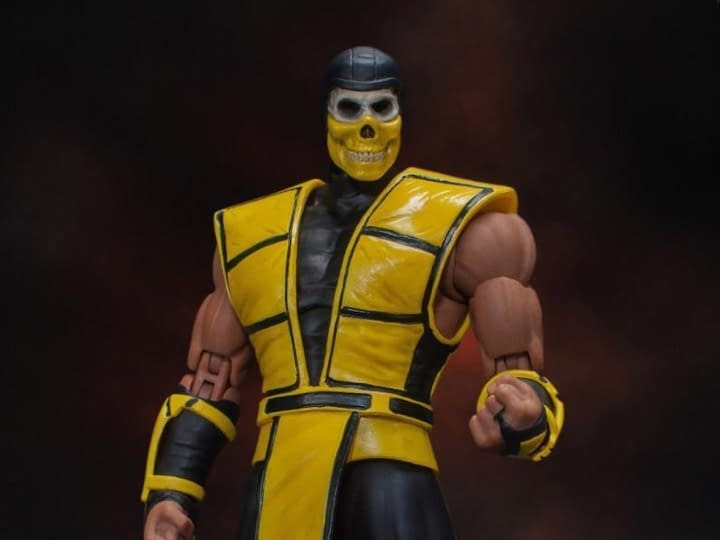 Mortal Kombat 3 VS Series Scorpion 1/12 Scale BBTS Exclusive Figure from Storm Collectibles
Product Description
Product Features
7 inches (17.78cm)
Made of plastic
Newly developed body with new joints
Highly articulated
BBTS Exclusive
Skull head sculpt
From Mortal Kombat 3
Box Contents
Scorpion figure
4 Pairs of hands
Alternate mask
Axe
Scorpion Spear "get over here!"
3 Blood effects