Sekiro: Shadows Die Twice Arrives at Good Smile Company
The From Software game Sekiro: Shadows Die Twice comes to life a new collectible from Max Factory. This time they are giving the one armed shinobi Sekiro his very own figure. This figure is more than just any collectible out there as Max Factory was entirely supervised by From Software. This gives fans of the series a very accurate figma that does the fans and the character justice. There are two editions coming out for this figure as you can get a standard and a deluxe. Each one comes with a highly detailed and posable figma figure that features smooth joints and flexible plastic for a perfect range of motion. They use 3D paint work to bring the Sekiro and his glaring expression to life. On top of the detail and flexibility, he will come with a nice set of accessories like his weapons, the Kusabimaru and the Mortal Blade. Of course, you can't have the shinobi clear a level without tactical advantage so the Grappling Hook is also included. The Deluxe version will come with a nice set of extra weapons like his axe, spear, Sculptor's Idol, and more. The shinobi will come with an articulated figma stand that will allow a wide range of display poses.
The Sekiro: Shadows Die Twice figma from Max Factory is set to release in January 2021. The standard version is priced at roughly $88 and you can find that pre-orders are already live for him and can be found here. The deluxe figure is priced at roughly $111 and you can find him live and pre-orders here. This is a nice figure all around and the fact that From Software oversaw its production makes it even better. The paint, design, sculpt, and added accessories all add some nice depth that any Sekiro fan can easily get behind.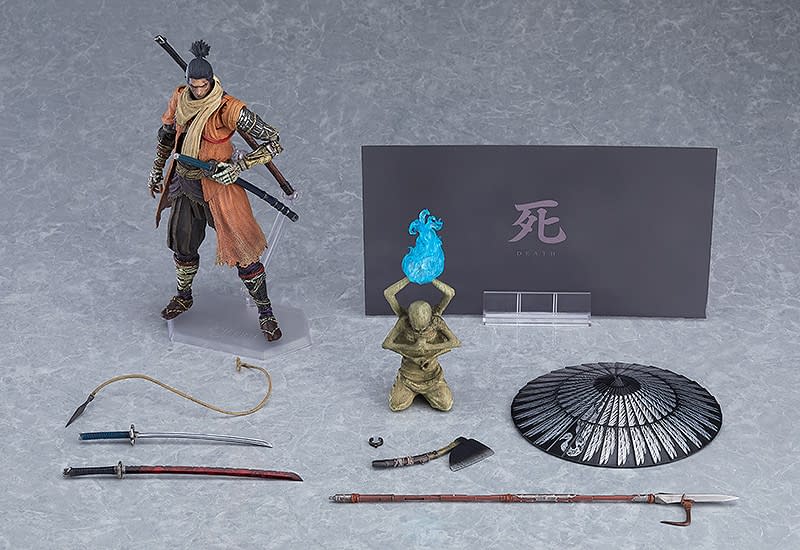 "Death of a shadow…You taught me well. From the popular game "Sekiro: Shadows Die Twice" comes a DX edition figma of the one-armed shinobi Sekiro. The creation of the figma was entirely supervised by From Software, making for a stunningly accurate recreation. Using the smooth yet posable joints of figma, you can act out a variety of different scenes from the game. A flexible plastic is used for important areas, allowing proportions to be kept without compromising possibility. 3D paintwork has been utilized to realistically recreate his glaring expression. He comes with Kusabimaru, the Mortal Blade and the Grapple Hook as optional parts. Additionally, the DX edition includes the Loaded Axe, Loaded Spear and Loaded Umbrella Shinobi Prosthetic Tools along with a Sculptor's Idol and Death Effect Sheet. An articulated figma stand is included, which allows various poses to be taken."