Hot Toys is keeping to their promise with releasing Star Wars: The Clone Wars Animated Series figures. They announced this back on May the 4th and today we get our first glimpse at their newest addition. The Clone Captain of the 501st squadron, Rex, is here and reporting for duty! This 1/6th scale figure of Captain Rex is highly detailed and sculpted to perfection. His armor will feature weathering effects and he is equipped with multiple accessories. The helmet will be removable, which is a nice touch and it reveals his blonde hair. He will come with a secondary helmet from Ahsoka Tano's 322nd Squadron that we saw during the final arc of the Star Wars: The Clone Wars series. He will come with a jet pack, his iconic dual blasters, a blaster rifle, and a display base. Star Wars fans new and old will be head over heels to getting their hands on this figure.
Captain Rex is the perfect first character to release for this new wave of figures. This Star Wars character has gained huge amounts of popularity since the series return of the final season. The amount of detail dedicated to him and accessories for this figure is just the perfect amount. Pre-orders, price, and release date do not know just yet but they should go live later today. You will be able to find them located here. The popularity of this character has gained extreme traction lately so make sure you lock down a pre-order. Past figures of Captain Rex figures from Sideshow have easily sold out and are now valued on the high one of the collector spectrum. So take this advantage collectors while you can and add Captain Rex to your Star Wars army.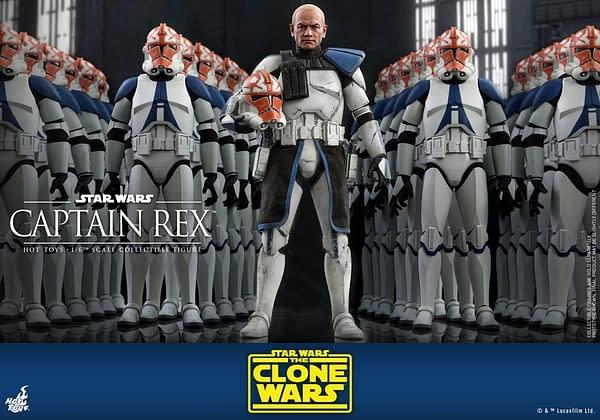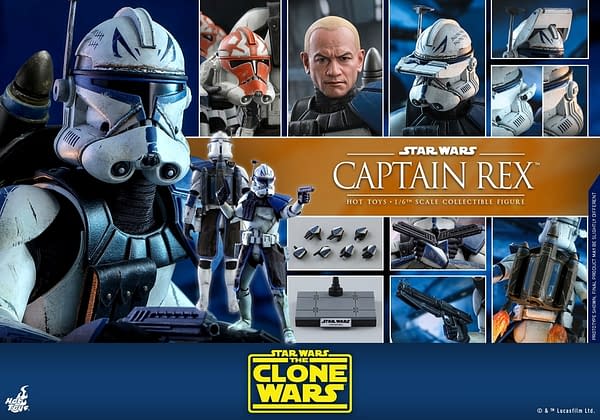 "Clone Captain Rex served the Republic during the Clone Wars, often taking orders from Anakin Skywalker and Ahsoka Tano. He viewed military service as an honor, and he always completed his mission. Fond of using two blaster pistols at the same time, Rex customized his armor with distinctive blue markings. His loyalty to the Republic and his Jedi Generals was absolute, but even this dedicated veteran soldier found himself plagued by doubts as the Clone Wars claimed more lives and brought ruin to more worlds."
"The highly-accurate collectible figure is specially crafted based on the appearance of Clone Captain Rex in the acclaimed animation series featuring meticulously crafted and finely detailed recreation of Rex's distinctive Clone Trooper armor and helmet, interchangeable head sculpt with amazing likeness, skillfully applied weathering effects, his signature dual blaster pistols as well as a blaster rifle, a detachable jetpack, an Ahsoka's Clone Trooper helmet, and a figure base!"
Enjoyed this article? Share it!