Star Wars Plush Exclusives Come to the Toynk Booth at SDCC
Star Wars plush exclusives are coming to this year's SDCC. Toynk will have five total exclusives from Solo: A Star Wars Story available at their booth, all limited to only 2,000 total pieces. Each will only cost $10 as well.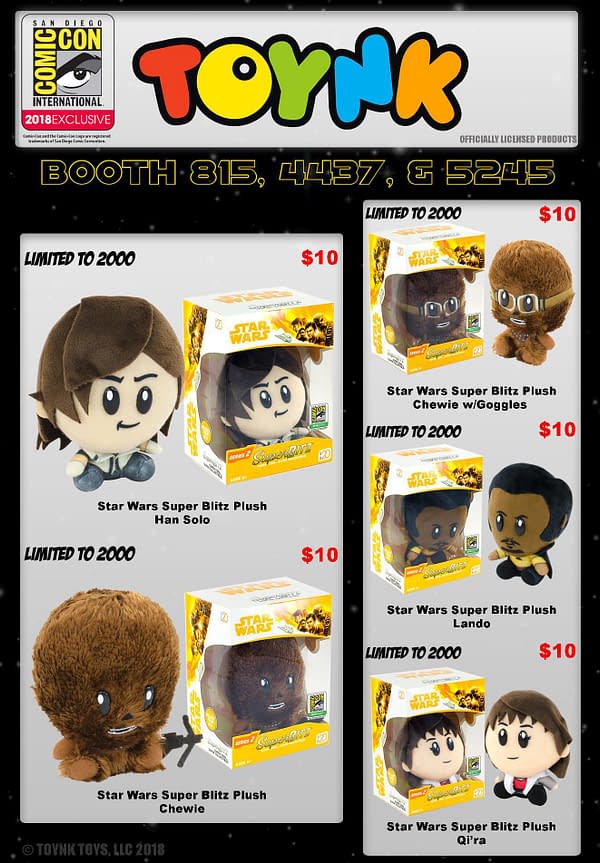 Two versions of Chewbacca will be available, one with and one without goggles. Qi'Ra and Han Solo himself will be in their garb from Corellia at the beginning of the film. But the most popular will undoubtedly be the Lando Calrissian, played in the film by Donald Glover.
These join the many other exclusives they announced earlier. Looks like their booth might be one worth stopping to take a look at. On top of these Star Wars exclusives, they will have a plethora of exclusive pins and other geeky collectibles from basically every corner of fandom. Like games? Cuphead, Fallout, Sea of Thieves are all here. Marvel fan? Pins and Tikis from Black Panther, Infinity War, and more. Aquaman trailer got you pumped? Check out their trident pin. Even Bob Ross and Mr. Rogers have collectibles there. Rick and Morty fans collect the enamel pins like mad, and they have one of the cooler ones. Make sure to check them out on the show floor.