Star Wars Resistance Figures Are Some of Hasbro's Best as of Late
Star Wars Resistance figures have been hitting stores hard since the calendar switched over to 2019. The latest animated series from Lucasfilm is mid-way through their first season, and the first wave of figures feature most of the main players form the series, some new troopers, and some new droids. Hasbro was kind enough to send over a few of the figures, so let's take a look!
I really like the cardbacks. With the Star Wars Black Series dominating the pegs, it is refreshing to see some brighter cardbacks on the shelf. Two different class of figures are hitting right now: basic, single pack releases, and deluxe packs with one figure and a droid. These are 3.75 inch figures, featuring five points of articulation. While some collectors will tune out as soon as they hear that, they should give these a shot. They have great sculpts and fit right into a display.
The first deluxe pack is of Poe Dameron, and this might be my favorite Poe ever. He comes packed with a blaster and flight helmet, and while the face portrait doesn't resemble Oscar Issac since it is supposed to be animation style, it looks like an old Kenner figure. Like, if they said "we are going to do Kenner Star Wars, but updated for modern times", this is what they would look like. A perfect figure. BB-8 is a good figure too, although getting him to stay still is a touch tricky.
The other deluxe pack features Jarek Yeager and droid Bucket. Jarek has a great sculpt, and is a great, clean looking figure. One thing I noticed about these figures is that many of them feature one leg longer than the others. This one is fine, but it makes some of them hard to stand. Yeager also comes with a blaster and swappable head. Bucket has some flimsy legs, but I love his design. He has a third leg that pops out of his body as well, which helps keep Bucket sturdy when posed.
Both Kaz Xiono and Torra Doza look like they walked right off the screen and onto the shelf. Hasbro did a really great job keeping the free spirit and brightness of the show alive in the figures, especially Torra. She comes with a swappable head, but it is near impossible to get the helmeted version on. Kaz also comes with a blaster and helmet.
Synara San is one of the cooler figures in the wave, and features a great design. She is a fan favorite from the show, and she has the coolest helmet of any other figure. She also comes with a blaster. This one has been one of the harder ones to track down.
The coolest figure however is the First Order's Major Vonreg. I can't wait until they make a vehicle out of his crimson TIE Fighter. Until then, the figure will have to do. His uniform and helmet are fantastic, and while it is a small detail, the First Order symbol on his shoulder is very well done. He comes with a blaster, and is one of my new favorite trooper figures in my collection.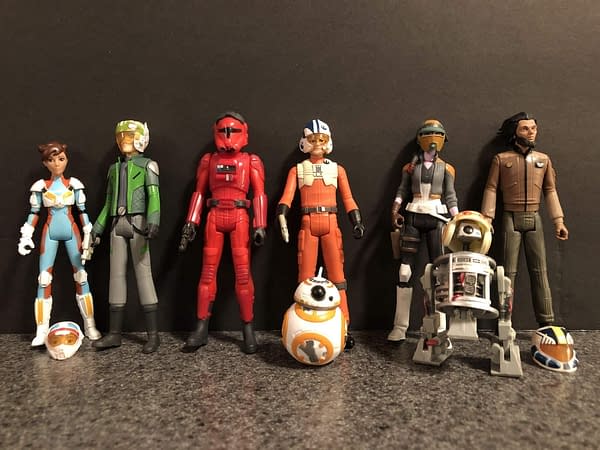 While not perfect, this is a solid first wave of figures for a show that many should be watching. Star Wars fans can feel confident that Hasbro is still making quality figures that, even if you are not a fan of the characters, are worthy additions to our collections. You can find these and others in stores now, or order them here.