The Star Wars Retro Collection Tarkin Figure and Death Star Game Set are Pretty Awesome
Star Wars collectors were shocked in February when Hasbro announced plans to not only re-release vintage Kenner style figures on throwback cards, but that they would be producing one of the figures not done back in the day, Grand Moff Tarkin. Why Kenner didn't make Tarkin in the original line, I don't know. But now here he is, all these years later, released as part of a set with a re-release of the EscapeFrom the Death Star game. This whole line is Target exclusive, and while they are just starting to trickle into stores, I managed to find the set on the shelf. So, let's take a look and see if Hasbro nailed it or if they should have left this one undone.
First- the game. The box and game are fully recreated to match the vintage game perfectly. Now, I have the original, and to be honest, it is not a very good game. Well, that is not true. I like it. Everyone I have ever sat down and played it with hates it though. They recolored a bunch of the inside pieces an instructions so that the vintage stays vintage as well, and I can appreciate that. Repro products in the Star Wars community are a big no-no, but we will get into that later. Overall, this is a nice reproduction and I never have to break out my vintage set again if I don't want to.
There is only one reason anyone is buying this anyway, and that is the Tarkin figure. I can't really describe what it is like to hold this in my hands. The cardback is deigned after the classic Kenner Star Wars line, with subtle differences. The hole punch is in a different location, things like that. Also, it comes with a huge sticker on the front. As you can see, it is not easy at all to get off. Its placement is ok, you can still see Tarkin's face, but man I wish that wasn't on there. So, MOC collectors beware. This sucker is very hard to get off, use extreme caution.
I wanna start with his blaster. It is modeled after the Imperial Blaster from the Kenner days. One of the biggest issues with this line, and with good reason, is that vintage collectors will have to worry whether their vintage figures they are buying have these paired with vintage figures or not. That was the number one concern when these were announced. Repro weapons are already a huge issue, and Hasbro adding to it was less than ideal. I am happy to say that it will be easy to tell them apart. Not only is it made of a more modern plastic so that it has a different feel, but there is a small number placed on the handle. The black is also a different hue than the originals. They seem to have gone out of their way to alleviate some of those concerns. Whew!
Finally, Tarkin himself. Star Wars fans- they nailed it. Crushed it even. This figure fits right in next to his vintage counterparts. He features the standard Kenner five points of articulation, and like his older brethren, cannot hold his blaster at all. Well, thats not true. He can, it just takes some work. That put a smile on my face. After talking with the Star Wars hasbro design team about this figure, holding it in my hands I can tell what a labor of love this one was to produce. I cannot get over what it is like to walk into a store and buy a NEW, vintage Star Wars figure. I have zero complaints about this. It is perfect.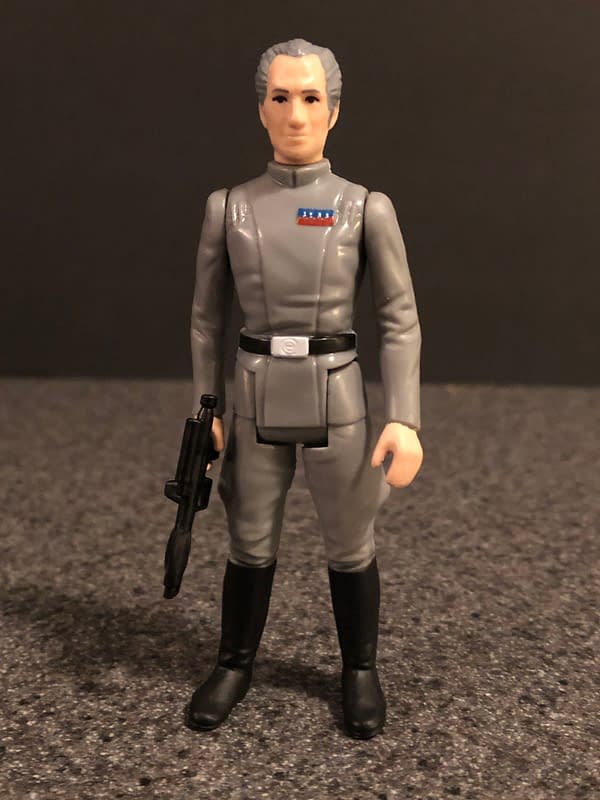 Buy this. That is pretty much all I have to say. If this is what they are capable of with the vintage line, please PLEASE Hasbro: make more. If you are a vintage collector, you NEED to have this. At $19.99, it is a no-brainer purchase. Look for it at Targets everywhere now.