"Starship Troopers" Bugs Come to Life with Good Smile Company 
Starship Troopers is a sci-fi classic but in 2017 we got to see Starship Troopers: Traitor of Mars. This film gave us a new look at some new bugs and this time wit Good Smile Company they have caught one of the bugs for our pleasure. This time a Warrior Bug is getting the sigma treatment and is highly detailed and super posable. On top of the bug, the figure will also come with two kinds of Starship Troopers Power Suit miniature figures. Each one is scaled after the Warrior Bug and they came with a Johnny Rico and generic soldier head. The injured figure pose will allow a new set of poses for the bug and his new victims.
The Starship Trooper Warrior Bug figma figure will be priced at roughly $111. You can lock down your pre-order for your collection located here.
Game over man.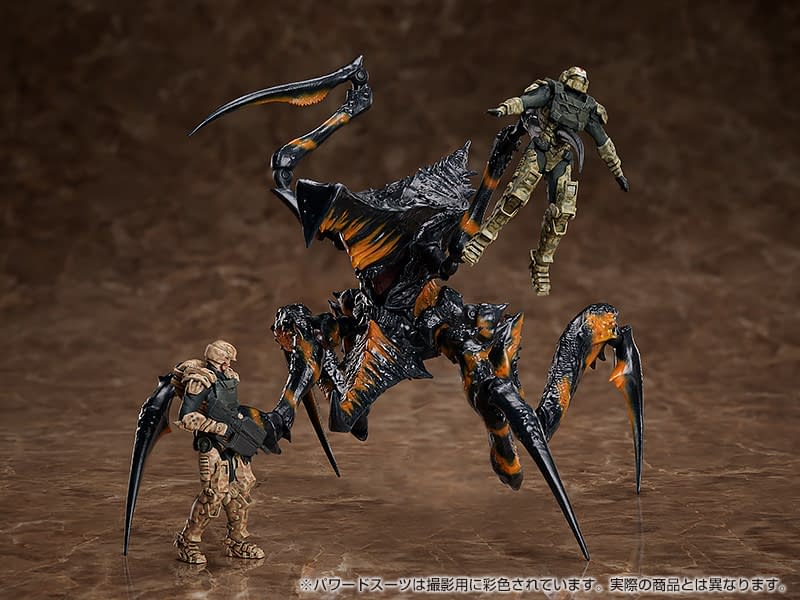 Starship Troopers: Traitor of Mars figma Warrior Bug $111
Invasion of the bugs!
From the 2017 film "Starship Troopers: Traitor of Mars" comes a figma of the Warrior Bug, the standard infantry unit of the Arachnid species.
The smooth yet posable figma joints allow you to act out a variety of different scenes from the movie.

Two kinds of Power Suit miniature figures in the same scale as the Warrior Bug are included.

The standing pose miniature figure comes with both a Johnny Rico head part and generic soldier head part.

Using special parts, the injured pose miniature figure can be displayed with the Warrior Bug to recreate intense combat scenes from the movie.

An articulated figma stand is included, which allows various poses to be taken.
*Power Suit miniature figures pictured were painted for the purpose of taking product photos. Actual product will vary.
Starship Troopers: Traitor of Mars ©️2017 Sony Pictures Worldwide Acquisitions Inc., All Rights Reserved.