The Incredible Hulk Gets a European Exclusive Marvel Legends Figure
The Incredible Hulk is beloved by many fans, and his newest comic book The Immortal Hulk is getting a lot of recognition. Most of us recognize this green giant but his original historical appearance the Hulk was grey. This was mainly due to a printer error at Marvel for The Incredible Hulk #1, 1962. This Grey Hulk is coming back yet again for a new Marvel Legends figure from Hasbro. This figure will be an exclusive figure only available to the UK and European convention attendees first. The Incredible Hulk has multiple points of articulation, he includes a crushed pipe weapon and a ripped orange t-shirt. He does come in a nice black and white box showcasing a Marvelous 80th anniversary. This figure would go great next to the recently released Incredible Hulk in the Wolverine/Hulk two-pack. I love the design in the color of this Marvel Legend 80th-Anniversary figure. It is a great convention exclusive and I hope we can see more figures like this released to cons in the future.
The Incredible Hulk European Convention Marvel Legends figure is set for release at MCM London Comic Con. No price has been revealed just yet. It looks like this convention exclusive Hulk will be hitting HasbroPulse.com November 4, 2019, so be on the lookout.
Hulk Smash below: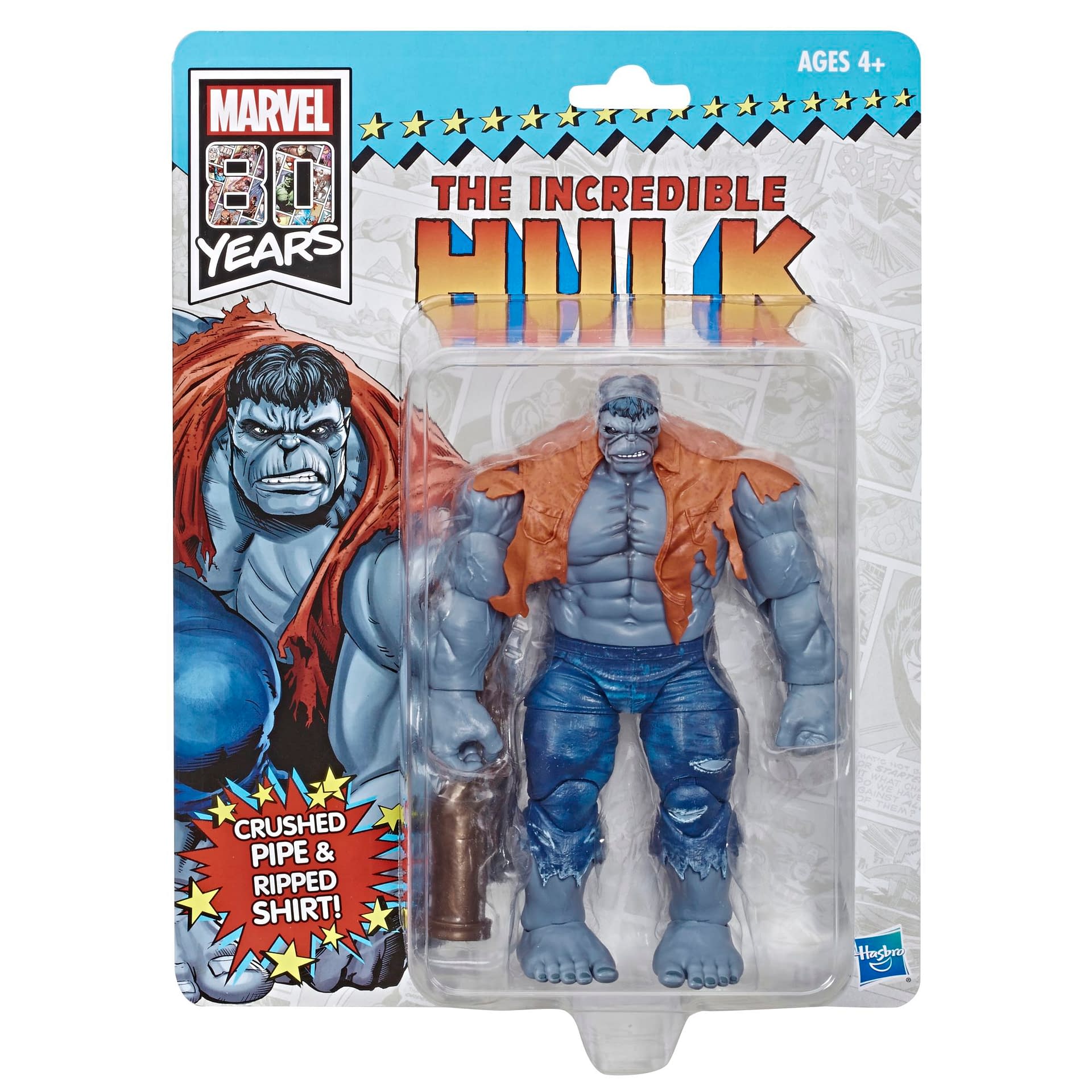 Hasbro Marvel Legends Series 80th-Anniversary Exclusive Incredible Hulk Figure
(HASBRO/Ages 4 years & up/Suggested Retail Price: Varies/ Available at multiple retailers at MCM London Comic Con)
Fans can celebrate the marvel universe with this exclusive incredible Hulk figure from the Marvel Legends Series. Standing 8.5 inches tall, this high-quality, realistic figure with multiple points of articulation includes the classic grey character design from the musclebound behemoth that first officially appeared in the Incredible Hulk #1 in May 1962. Includes crushed pipe weapon accessory and ripped T-shirt accessory, which can be removed. Limited qualities of this item may be available at other select conventions in the UK and Europe and in stores and online globally, including HasbroPulse.com beginning November 4, 2019.