The Mandalorian Returns with a New S.H. Figuarts Figure.
The Mandalorian is blowing up especially with the appearance of baby Yoda. Until we can see more collectibles come out from baby Yoda which will before the holidays and we covered that here. We have more Mandalorian collectibles coming out soon that can take our money till then. The newest one is the Star Wars S.H. Figuarts figure and it stays faithful to the television show and his on-screen appearance. He will include cloth cloak as well as a weathered style painting to capture that bounty hunter feel. He will come with replacement wrists first left and right hands. He will also get two separate blasters, one will be his rifle and the other one will be his pistol that can be a holster. The Figuarts figure is perfect all around and it easily makes our list for one of the top Mandalorian collectibles to get which you can find that located here. This is a must-have figure for any fan of The Mandalorian before it gets even more popular!
The Mandalorian Star Wars S.H. Figuarts Figure will be priced at roughly $61 after conversion. He is set to start hunting in the Outer Rim in May 2020. Pre-orders for him are live and you can find them located here. Don't forget to check out some of the other amazing Star Wars S.H. Figuarts figures coming soon that showcase the newest Star Wars film, Star Wars: The Rise of Skywalker.
Bounty hunting is a complicated profession.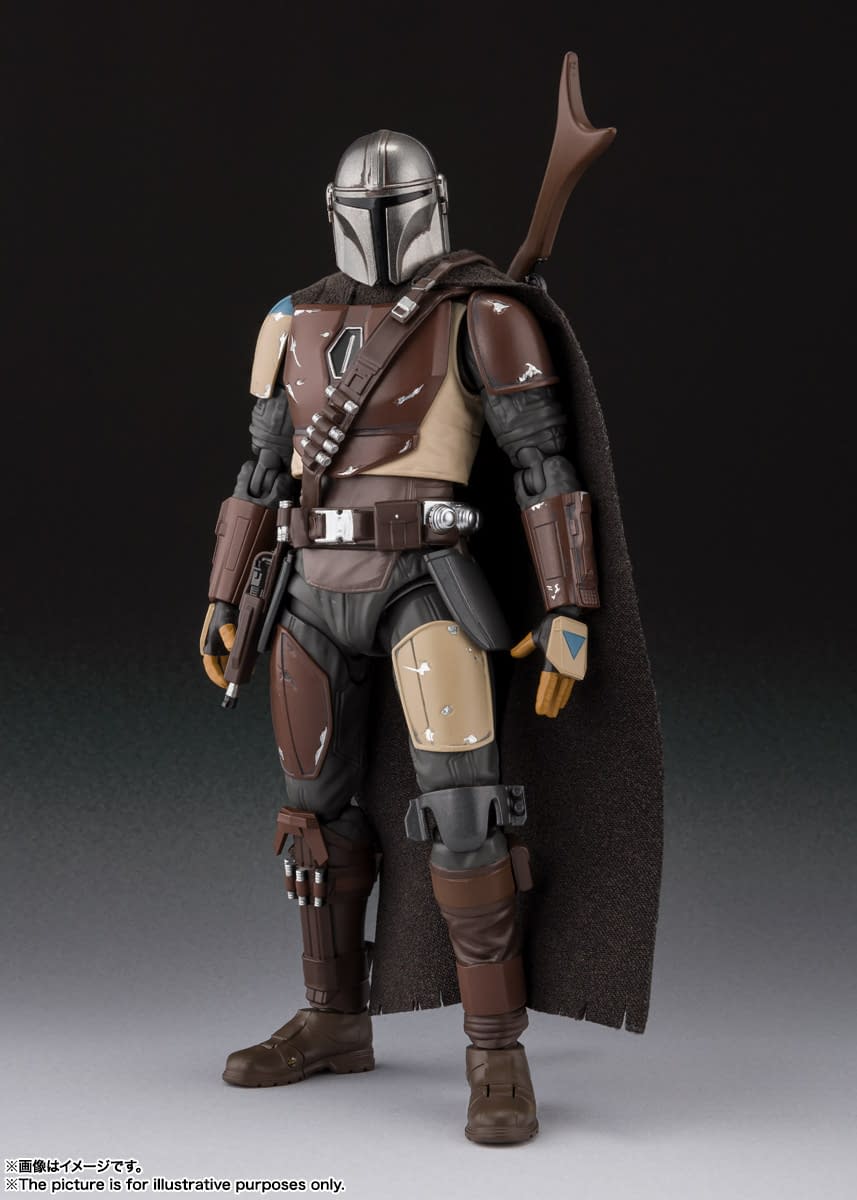 The Mandalorian
Price: 6,600 Yen (about $61 USD)
Release: May 2020
A new chapter in the Star Wars series. A new legend of winning money starts!
The main character of the new program "Star Wars: The Mandalorian" scheduled to start distribution in 2020 appears in S.H. Figuarts.
Faithfully reproduces the appearance in the play with cloth cloaks and dirty paints that are related to the texture and material.
Weathering paint realistically reproduces the atmosphere in the play.
Product Specifications
Height: about 150mm
Material: ABS, PVC cloth
Set Contents
Body
Replacement wrist Left 3 types Right 4 types
Blaster
Holster
Rifle