Transformers Optimus Prime is Ready to Roll Out with Threezero
Hasbro and Threezero have teamed up to bring fans and collectors another Transformers premium figure. Coming out of the newest Transformers movie, Bumblebee, Optimus Prime has arrived. This figure will feature his more iconic retro look just like we saw on screen. The figure is quite massive as he comes in at 19 inches tall and features over 140 points of articulation. He will include having LED effect with his eye and for his Ion Blaster. Optimus Prime will also come with interchangeable armor pieces that will allow Transformers collectors to switch between Cybertron and Earth Modes. These will include chest, shoulder, forearm, and wheel plates and covers.
This is a highly detailed and massive figure that can easily be a highlight of any Transformers fans collection. This is from the Bumblebee movie but it does feature his live action retro look which is a great design. The LED effects are a perfect touch for these figures and the swappable armor allows some nice customization. The Transformers: Bumblebee Optimus Prime Premium Figure from Hasbro and Threezero will be priced at $518. He is set to release between April and June 2021 and pre-orders are live and can be found here.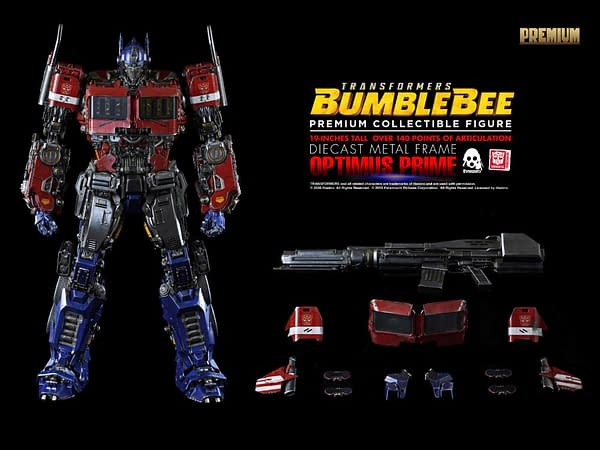 "Hasbro and Threezero are proud to present the courageous leader of the Autobots, Optimus Prime as the next exciting character in the Transformers PREMIUM Collectible Figure Series! Pre-orders roll out June 1, 2020 and will be available at threezeroHK.com, threezero Tmall, and threezero distribution partners worldwide! Premium Collectible Figures are Threezero's top of the line large-format collectibles featuring ultra-detailed sculpts, extraordinary amounts of articulation for maximum poseability, LED illuminated details, die-cast metal parts, and expert paint weathering!"
"Standing an impressive 19 inches tall, the Transformers: Bumblebee – PREMIUM Optimus Prime collectible figure features over 140 points of articulation including articulated fingers. Additional components include LED illuminated eyes, and interchangeable armor pieces that provide the option of displaying the figure as either Earth Mode or Cybertron Mode! Optimus Prime comes equipped with an LED illuminated Ion Blaster as seen in the film. PREMIUM Optimus Prime also features a Die-cast Metal Frame, adding an incredible weight and tactile finish to the presentation!"
Includes:
1 Ion Blaster
1 Chest Armor Plate (Earth Mode)
2 Shoulder Armor Plate (Earth Mode)
1 Chest Armor Plate (Cybertron Mode)
2 Shoulder Armor Plates (Cybertron Mode)
2 Forearm Covers (Cybertron Mode)
4 Wheel Covers (Cybertron Mode)