Let's Take a Look at the Walgreens Exclusive Marvel Legends Mystique
Marvel Legends mutant collectors: it is never going to get better than this. For the last couple years, Hasbro has made it a point to push out as many X-Men-related figures as possible, to mostly glowing results. They still have a ways to go to cross off some big names, but the latest Walgreens exclusive is one of those names. Mystique has badly needed a new figure for a long time now, and fans are gobbling this figure up as fast as they see it. We got our hands on one, so let's take a look!
Packaging is the standard that we have all come to know and love from Marvel Legends. As I always say in these figure looks, we could use some kind of new, fresh look, but its not needed. One cool thing they have added to the latest figures is a plastic cover for the figure tray, making it much harder for swappers and accessory stealers to get to the pieces without destroying the package, so kudos to them on that.
Once she is out of the box, this figure really shines. They did an excellent job on the headsculpt, her belt stays pretty firmly planted when posing, and my figure had little to no paint bleed from the blue and white transitions. She also comes with two weapons, a perfectly sized pistol that she can hold in either hand, and a ridiculous rifle that will be better served with other figures. She also comes with two swappable heads, including a half-changed Rogue head for everyone who has that figure, and a Shi'ar Lilandra head.
I am so happy they nailed the hue of the blue for her skin as well. That is half the battle right there, the fact that the figure is great to pose and easy to maneuver is icing on the cake. I will say that the hips on mine are a little loose, but not to the point where it was annoying. This is the first female Marvel Legends figure in awhile that I have also not had any issues with the right elbow piece, so that was nice.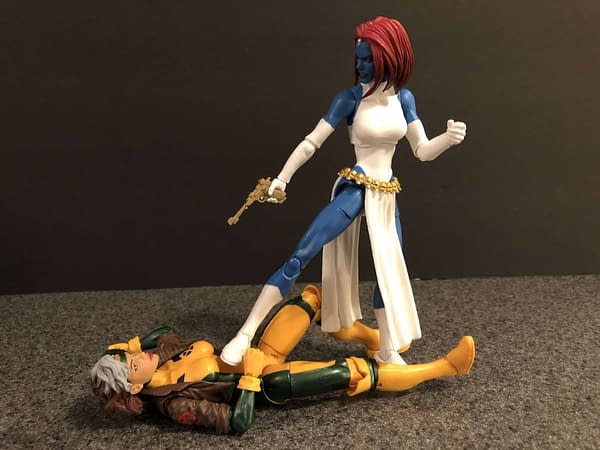 I have zero complaints about this figure. This is an early leader for Marvel Legends figure of the eyar as far as I am concerned. She is hitting Walgreens stores all around the country right now in full case loads, so if you want her go out and find her!