Wonder Woman is ready for battle with this new Mezco Toyz ONE:12 figure. This classic edition figure is packed with accessories and ready to bring any man to their knees. The figure comes with a display base featuring Wonder Woman's classic retro symbol. She does come with two head portraits and four sets of interchangeable hands. Wonder Woman's weapons aren't holding back either as she comes with a Spear, Battle-Ax, Sword of Athena, and two Lassos of Truth one being posable. She also comes with her shield as well as a cape that can be removable. Mezco Toyz went all out for this figure in any Wonder Woman fan that needs to have her.
Wonder Woman Classic Edition from Mezco Toyz is priced at $90. She is set to come out this year between November and January. Pre-orders for her are already available and located here.
"Please take my hand. I give it to you as a gesture of friendship and love, and of faith freely given. I give you my hand and welcome you into my dream."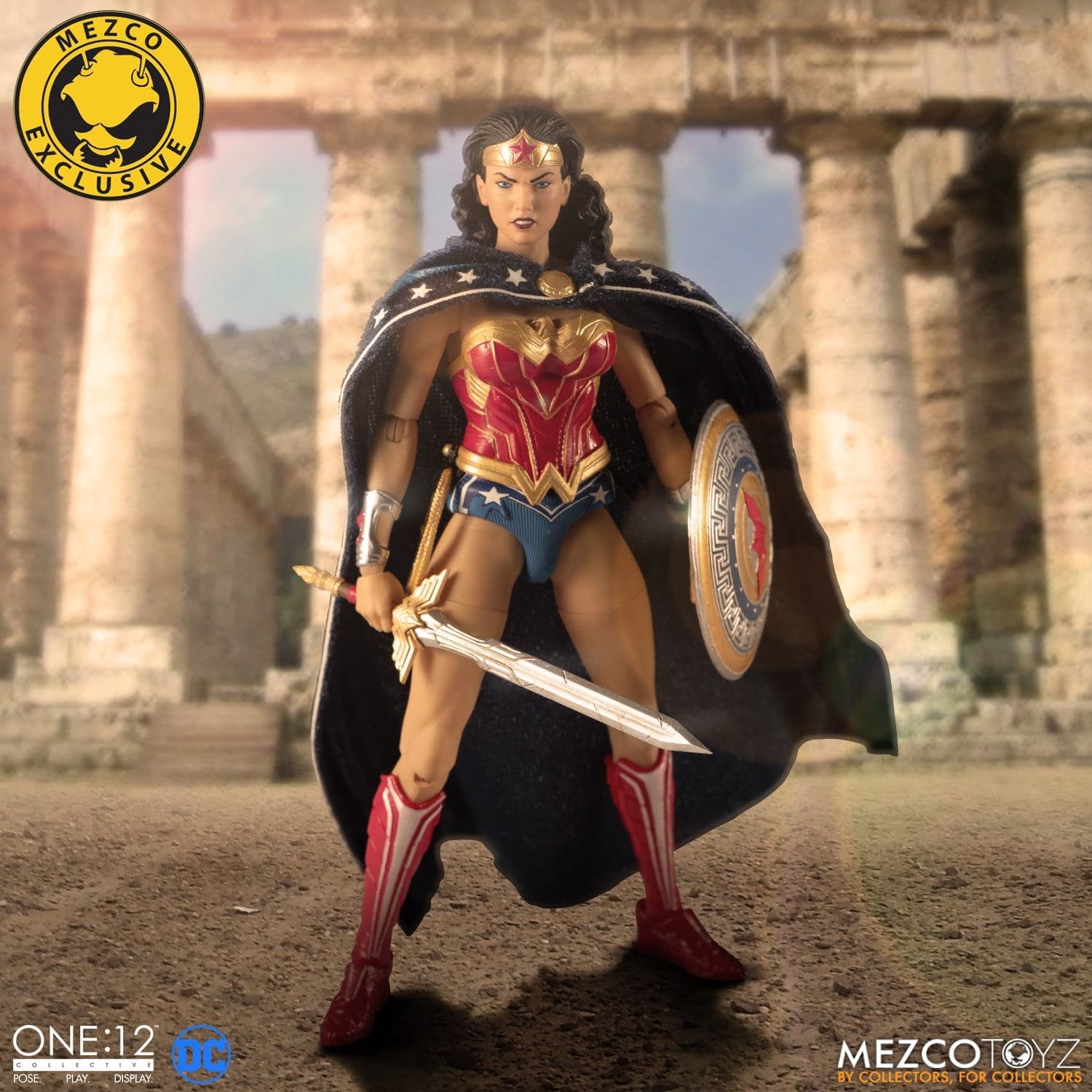 DC Comics – Wonder Woman Classic Edition One:12 Collective Figure
The One:12 Collective Wonder Woman – Classic Edition comes prepared for battle, outfitted in reinforced torso armor and trunks with star pattern detailing. The unconquerable warrior wears a cape with an integrated posing wire that attaches via a clasp at the neck. Wonder Woman comes complete with weaponry fit for the Princess of the Amazons, such as the Sword of Athena and Lasso of Truth which can be held on her belt, a spear, a battle axe, and a shield.
Diana Prince, better known as Wonder Woman, is a member of a tribe of women called the Amazons, native to Paradise Island. Wonder Woman has come to represent the possibility and potential of life without war, hate, or violence. She stands amongst the most powerful superheroes to protect the world from injustice in all forms.
THE ONE:12 COLLECTIVE WONDER WOMAN FIGURE 
FEATURES:
One:12 Collective body with over 30 points of articulation
Two (2) head portraits
Hand painted authentic detailing
Approximately 17cm tall
Eight (8) interchangeable hands including

One (1) pair of fists (L & R)
One (1) pair of lasso holding hands (L & R)
One (1) pair of sword holding hands (L & R)
One (1) pair of posing hands (L&R)
COSTUME:
Royal Tiara
Reinforced torso armor
Wrist bracelets
Cape (removable, with integrated posing wire)
Belt with 'W' insignia
Trunks with star pattern detailing
Shin armor
Combat boots
ACCESSORIES:
One (1) Lasso of Truth (posable)
One (1) coiled Lasso of Truth
One (1) Sword of Athena
One (1) battle axe
One (1) shield
One (1) spear
One (1) One:12 Collective display base with logo
One (1) One:12 Collective adjustable display post
Each One:12 Collective Wonder Woman – Classic Edition figure is packaged in a collector friendly box, designed with collectors in mind