Words and Photos courtesy of Bleeding Cool's Marcos Salinas:

Moving into Saturday afternoon, SDCC 2018 was definitely running low on a dose of thrill power. Luckily the editor of 2000AD, Tharg the Mighty, sent his ambassadors to San Diego to help bring in a dose! They came to chat about the recent sellout success of the 2000AD 2018 Sci Fi Special, the future of 2000AD, and had a small special announcement at the end.
The panel featured Michael Molcher moderating a menagerie of maniacal makers, including: Liana Kangas and Katy Rex, fresh off their knockout rendition of Tyranny Rex; longtime contributor and recent Eisner Hall of Famer Dave Gibbons; and journalists and 2000AD lovers Graeme McMillan and Jimmy Aquino.
The Galaxy's Greatest Comics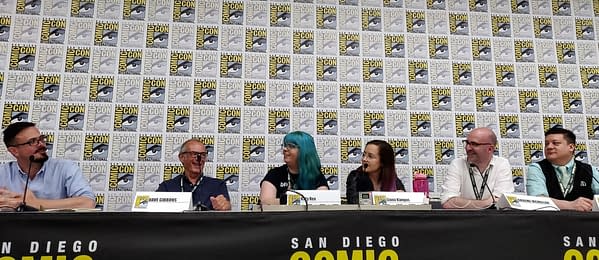 Comics Legend Dave Gibbons (Rogue Trooper, Superman Annual No. 11, Watchmen) remarked how 2000AD has always had a history of trying out new artists. Though he joked they usually got Shanghaied by the Americans after being groomed there, he spoke of how the magazine's culture was to try new things. In this way, the company has had an influence on not only British comics, but American ones as well!
Though the methods of finding these creators has changed over the years, there has always been a desire to get new talent on board. Recently the Thought Bubble convention has been a way to find new writers or help writers develop in the talent competition. They'll bring the writers on stage to help give advice and listen to their scripts. The thought of this drew shock from the audience and several panelists when it was explained.
"It used to be enough to be privately humiliated by an editor… god I'm glad I'm getting out of this business!" Gibbons joked.
A Declaration of Intent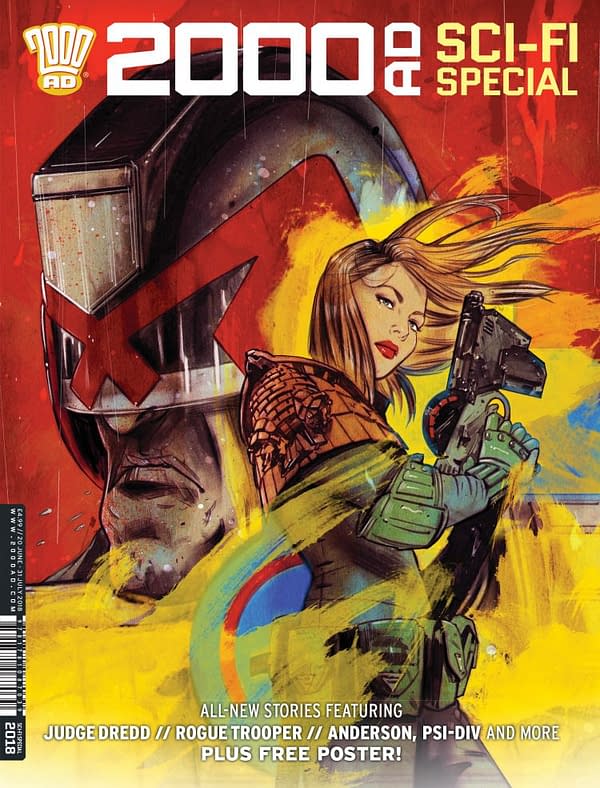 One of the writers of the 2018 Sci-Fi special was a winner of the aforementioned competition, Laura Bailey (Love Remains.) She received great praise for her ability and was one of the creators that was picked to be on the special. She wasn't the only woman on the special, though — the 2000AD team decided that this book would be written and drawn by all women. It was described by Molcher as a "Declaration of intent" that this is not tokenism — they are not going back to how it was before with all men.
Katy Rex said, "At first I thought the issue was just for show, or dumb, but it was great. They took us seriously." In her and Liana Kangas's book, they spun the piracy angle of the popular reptilian character, Tyranny Rex. Her origins were in the notion of "home taping is killing the movies", with her making clones of stars. Katy and Liana bring her back to that with the meme-tastic anti-piracy advert slogans of recent: "You wouldn't download a car." The women smiled knowingly after saying that.
Throughout the panel we got the feeling that 2000AD is excited to see these women succeed and grow their ever-expanding style and roster of writers and artists on their books. Babs Tarr's linework on her Batgirl line was something they were excited to get to work with on their ever-popular Dredd franchise. With the first woman to ever write Dredd, Emma Beeby said they "get" the aesthetic that makes up the worldwide seller. It was described on the panel as a story that involves the masked Judge getting angrier and angrier throughout the story as he faces a weaponized drug makes everyone all lovey-dovey. I love everything about this concept.
Not only has this been a seminal issue for 2000AD, it's definitely been making waves. Big Bang, a comics shop in Dublin, Ireland, which recently was up for an Eisner, has said that this is the best special they have ever seen come out of 2000AD. Not only is it popular, they ran out!
The Silver Screen and Beyond
There was some talk about the news about Rogue Trooper. A very popular book-turned-video game, it has been planned to get its own big screen debut. Duncan Jones (Moon, Source Code, Warcraft, Mute) has been working in very close contact with 2000AD and their parent company Rebellion, and it has led to "many a sleepless night" according to Molcher. Though this is not the first time a Rogue Trooper movie has been planned, this is the first time it seems they are being taken seriously.
"Once upon a time there was a chance of a Rogue Trooper movie with Vin Diesel, and the production company asked 'does he have to be blue?' 'what if just his veins are blue,' 'veins are blue,' and it never went to project," laughed Molcher. It seems that with the abilities Duncan Jones has, this film is in good hands.
Finally, they made a small announcement. The script for the Mega City One pilot, the story of the city in which Judge Dredd lives and works in, has been finalized! At first it seemed like the episode was within grasp, even done, but alas, there are still some delays. They are getting together the necessary things like shooting locations and capital in order to ensure that this will be a "domestic affair" in England. While I'd like to see Karl Urban return to the sneer he rocked in the 2012 version, I'll be excited to check out who they cast!
Unless a judge has sentenced you to hard time in an iso-cube, there is no reason to miss some of the upcoming media from 2000AD!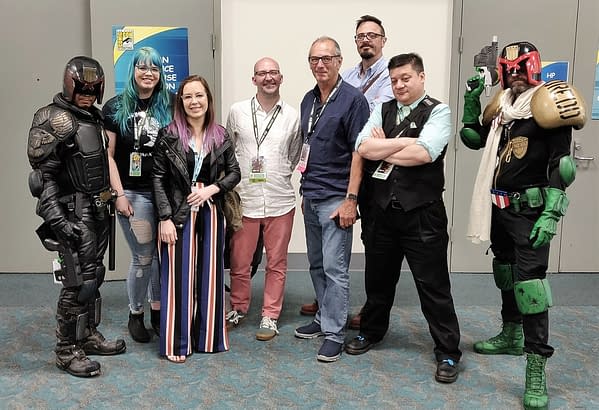 Enjoyed this article? Share it!