3 Reasons You Should Be Reading Snyder and Lemire's A.D. After Death
A.D. After Death is a long anticipated collaboration between Scott Snyder and Jeff Lemire published by Image Comics. When previews of the comic were published in Image +magazine, what readers saw begged the question of whether this would be a traditional "comic" or an illustrated prose book, since both paneled comic pages and typescript prose pages with illustrations were included. Last week, the first of three prestige-style issues of the work appeared in shops, not only containing a mixture of formats, but in a square-bound magazine size and 72 pages in length–more of a novella or volume 1 than a single issue.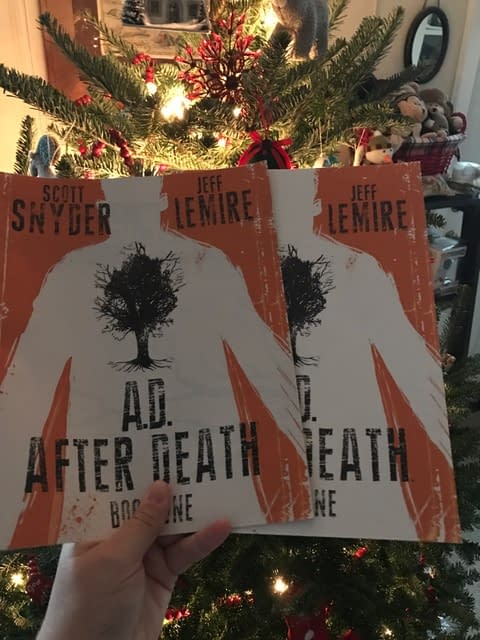 What is this thing and why should we read it? Well, aside from the obvious reason that you have probably read works by both Scott Snyder and Jeff Lemire and to some extent trust them to tell you a story that you want to experience, there are reasons specific to this book that mean you really should be reading it. Since I actually picked up a retailer-aimed first look version a few weeks ago that contained about half of the story, and then read the fully published version this week, it gave me some time to process the contents, think about the mood of the story, and try to understand why it was getting under my skin before I had the complete picture.
And to narrow it down to just three reasons to read this story, they are as follows.
Firstly, it's scarily honest about life. One of the most recognizable features–and most appealing–of Snyder's writing is his selection of details that are highly charged with emotion. He manages to make small phrases into tiny detonators to get through to you, the reader, in a powerful way. Here Snyder is given even more reign in the presentation of journal-like entries regarding the life and times of Jonah Cooke who sees his childhood as strangely linked to the choices he has made, which are in turn linked to the eradication of death for surviving humankind. The connecting threads are still murky–intentionally so–in the first "book" of three in the series, and focusing in on the detail of Cooke's childhood gives room for us to recognize the fabric of daily life.
Cooke is aware of the tensions between his parents, their losses, failures, and hopes, in a highly charged, novelistic, way. These are people struggling to find meaning and a sense of being in life, just as their son is, and he becomes obsessed with recording it as if it is all fragile, something precious that can be lost. Cooke's life as narrated by him is depressing, scary, and beautiful.
When I say that the book is honest about life, I mean that it presents a view of human life that's not painted in broad strokes simply to move the story along or constructed purely to entertain. However, the sense of directness about a life we can recognize as similar to our own is a far bigger experience than simply being entertained–it places us in the story and encourages us to address the big, scary, beautiful things about life. Greek tragedies aren't purely entertaining either–they are cathartic–they do us good and we feel connected to them. A.D. boldly steps into human drama without cleaning it up to make it more dreamy or comfortable.
Secondly, it takes on big questions, or rather the BIGGEST question. I was recently reading about Greek mythology regarding Hades, the Underworld, and Tartarus online and a number of classical scholars blogging about the subject shared the same sentiment: death was as much the most mind-consuming issue for the Greeks as it is today. Consider the span of human history and then consider how little this central fact of life has changed. Snyder and Lemire have decided to create a story that addresses–literally–the biggest universal theme in human existence. Comics and genre fiction have long been a home to serious discussions about life, death, consciousness, and legacy, but this work is particularly focused on the idea. It posits that death might come to an end–with strings attached–and then what? What would existence possibly be like, and would it be a blessing or a curse?
There is much more to the theme of death in the story so far than can be found in basic plot mechanics. Snyder and Lemire are making this work into a meditation on the subject as much as a kind of science-fiction story. Our main character narrates his childhood in journal-like entries through pages of typewriter script font illustrated by Lemire. We read about his excruciating fears for his mother who might or might not be facing a serious illness and the painfully joyful scraps of family life that he holds onto. It reminds us that the questions posed in childhood remain as powerful in adulthood. Death is always with us, but what if it wasn't? What would that turn us into? Would we even be human anymore? If you want to experience a story that can speak to your life and thoughts, you should be reading A.D. After Death.
Thirdly, A.D. After Death challenges the way we read and expect to read comics, as well as visual media. That opens up options for other creators to explore and gives us a new framework for thinking about and experiencing visual stories. There is a push in this direction right now by comic creators who are curious about the future of visual storytelling. We saw recently that Kieron Gillen and Jamie McKelvie produced an issue of Wicked + Divine in magazine style illustrated by Kevin Wada with real journalists presenting prose interviews with the pantheon of gods. The entire issue from Image Comics is a magazine in presentation. Likewise, Curt Pires and Eric Pfeiffer produced a magazine for Local Comic Shop Day for their series The Forevers, even printed in large format by Black Mask Studios. None of these works listed handles experiment in the same way, but it is interesting that larger formats and exploring the intersection between prose and images within a comics conversation is happening more and more.
When two very successful comic creators like Snyder and Lemire, who have a large following of readers, strike out into experimental territory, it gives a greater sense of permission to others to try new things. I'm sure that's a very problematic word to use–"permission"–since particularly in creator-owned comics, writers and artists have a great deal of freedom. But it speaks to an economic truth regarding what publishers will publish–precedent helps persuade them to greenlight new projects–and to a truth about underlying conservatism in more mainstream comics. We need examples of experimentation and innovation in comics to raise awareness of possibilities, to lay new groundwork for creators who, after all, are readers too.
And if, deep down, you are worried you might not find the limited prose presentation in A.D. After Death as gripping as the paneled comic pages, Snyder has proven that assumption wrong. The prose is limited, tight, highly emotive, a kind of narrative prose-poetry that meets comics half-way. The other half of the equation are Lemire's illustrations, which photo-like convey joy, tragedy, existential dread, and every kind of nuance in between. Read A.D. After Death to challenge your assumption about how stories are told and what their effect on you will be.
There's a bonus reason to read A.D. After Death. Call it reason "3.5". And that's the fact that a portion of the proceeds from this book are being donated to a grant foundation to fund new comics creators and their work, Creators for Creators.
Do we need any more reasons? You should be reading A.D. After Death. The first issue is out and the second arrives on December 28th, while the third lands on January 25th, 2017.