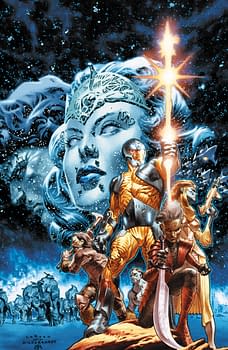 Humble Bundle has teamed with Valiant for their latest digital bundle focusing on Valiant Heroes. The deal has up to 90 issues plus a chance to obtain a limited edition X-O Manowar #1 Virgin Art Variant. Part of the proceeds will go to The Keep A Breast Foundation – a leading nonprofit organization with a mission to empower young people around the world with breast health education and support.
The Humble Comics Bundle: Valiant Heroes features a digital library of 24 graphic novels and collections, and spans many of Valiant's most popular superhero titles – including Bloodshot Reborn, Faith, Ninjak, Divinity, The Valiant, X-O Manowar, and more! With a total retail value of more than $385. In addition, for the first time ever, Valiant will feature all-new Comicstorian episodes exclusive to Humble Bundle customers. With over 285 million views, Comicstorian is one of the hottest YouTube channels in comics fandom! And now, they're delivering all-new digital videos exclusively for this Valiant bundle.
Fans who pay just $1 receive the first volumes of Ivar, Timewalker; The Death-Defying Doctor Mirage; and Wrath of the Eternal Warrior; along with other exciting digital collections! Plus: Get a Comicstorian Exclusive Valiant Video with an all access tour of X-O Manowar.
Contribute $8 or more, and unlock even more, including Book of Death, Bloodshot Reborn, Divinity, Imperium, and Ninjak, alongside the continued adventures of Archer & Armstrong and Rai. Plus, receive a copy of Valiant Universe: The Role Playing Game from Catalyst Game Labs (Shadowrun), the Faith #3 Keep A Breast #CheckYourSelfie Variant, and another Comicstorian Exclusive Valiant Video chronicling the saga of Rai, the spirit guardian of the 41st century New Japan!
For $15 or more, you get Armor Hunters Deluxe Edition, The Valiant Deluxe Edition, and Faith Vol. 1: Hollywood & Vine. Plus, receive the Valiant Universe: The Role Playing Game Supplement and a Comicstorian Exclusive Valiant Video featuring the unstoppable Bloodshot and Valiant's premier superhero team, Unity!
Submit $25 or more, and receive the X-O MANOWAR #1 VIRGIN ART VARIANT, signed by cover artist Lewis LaRosa (Punisher, Bloodshot Reborn) – Valiant's first-ever Humble Bundle physical reward. The first episode of the new on-going series by writer Matt Kindt (Divinity, Dept. H) and artist Tomas Giorello (Batman & Robin).
The Humble Comics Bundle: Valiant Heroes runs for two weeks beginning Wednesday, February 8, 2017 at 11 a.m. PST and ending Wednesday, February 22, 2017 at 11 a.m. PST.
Enjoyed this article? Share it!