A Villain Named Dr Maybe – Welcome To Suicide Risk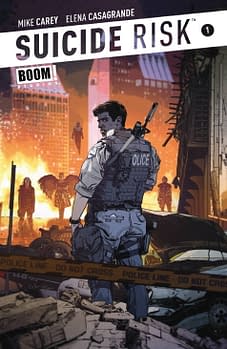 Louis Falcetti writes;
I grew up as a happy devourer of all things Big Two, (I am become sales, devourer of books), and would see comics from other universes and think "I don't know how someone could follow heroes that are new and weird like that." This was the 90s you have to remember, and a lot of kids who were really into the Image or Wildstorm 'verses were, a little extreme for my still recovering from Catholic school adolescence. When I say "extreme" I mean like in the Mountain Dew, roller-blading, metal bands extreme. Like a 90s commercial for virtually anything marketed for young men; loud electric guitars and heads with things shaved into the back and sides. I used to wonder how anyone could come up with new characters, since haven't we seen all the different incarnations of Batman & Superman by now? How long can we examine that relationship?
But as I've grown older and expanded my tastes beyond those limited borders I've come to celebrate the other worlds of heroes, no matter how big or small the 'verse. We've had a real renaissance in the last decade and change in terms of creators brashly and boldly making their own heroes & villains and using their new box of violent sexy metaphors to examine the bulges, veins and blood that make up our shared entertainment/intellectual addictions. (Face it, if you're here and you're reading this, you are a comic book addict. That's ok, you're among friends.) Christos Gage's Absolution, Si Spurrier's Extermination, the recent Millar release Jupiter's Legacy, Waid's Irredeemable, the new reigning champion of totally debauched superhero eviscerations, Ennis & Robertson's The Boys, most of Warren Ellis's entire Avatar output could easily slide into this list; these are the books that help break your head out of adolescent capes and cowls worship, that help turn off the escapism (just for a moment, have you actually been outside? It's horrible) and massage your thinking gears into explosive wonderment.
And so I say thank the comic gods (many of whom have danced to Mike Carey's tunes) for Suicide Risk, Carey's new on-going from BOOM! Mike Carey is one of those writers that I'll blindly follow into anything, so when I saw Suicide Risk on the racks this week, even though I knew f.a. about it I picked it up immediately. I had no idea that I was buying a ticket on a new fractured ride through superherodom. From the cover I thought it was something about cops and demons, which I'm very glad it isn't. Well it is about cops, and who knows, demons could easily come into it, but I get weary with cop and demon stories because a man can only take so many tortured broken characters with grudges against brimstone reeking monster men.
Right from the beginning I knew I was into it, the second a character spoke about villains with names like "Grudge War" and "Dr. Maybe". The story follows a cop who lives in a world where superpowers can be bought and the people who are buying them are, for the most part, deciding to become super-villains. A devastating attack leaves our protagonist, Leo, with an one-armed partner and some seriously disturbed emotions (or "feels" for the 25 and under crowd). By the end of the issue one (which I believe is titled, "Getting A Bit Short On Heroes", those words hang in a panel a few pages in without explanation, so I'm guessing) Leo has met the power pushers and maybe has got some powers of his own. Or killed. We don't really know yet.
The characters wonderfully straddle the line between silly and sinister with hero names like "Extended Remix" and villains like "Memento Mori". Elena Casagrande does a fantastic job capturing the range of emotions of the cast, from furious to fearful. The action scenes pulse with electricity and Andrew Elder provides excellent colors that give every villainous violation or courageous challenge the tone and energy they deserve.
I'm excited (and uneasy) about the title of the comic, which is a great state to be in. Actually I'm sure a mix of excitement and uneasiness is not strange in America right now, where our flags seems to have been continuously at half mast since the Dark Knight Rises shooting. I feel like a lot of people don't pay attention enough to titles and maybe it's my 11 years of undergraduate English study kicking in, but why is the story called Suicide Risk? Who's at risk? What kind of suicide? The mind wanders.
I'm happy there's a new Mike Carey ongoing (recovering from a burst appendix recently I had the opportunity to read all of Lucifer in three percocet fueled dream days so I'm desperate for more Carey) and I'm extra happy it's coming out from BOOM. It's a smart, dark book from one of the most talented writers working today. At $3.99 its on the slightly more expensive side of your weekly pull, but it's worth it, the issue is loaded with enough great story and excellent art to make it worth $4.25 easily. Finally a suicide risk you should take! (I'm working on being pithy, trying to get more quotes on to trade paperback covers, I don't quite know if that one was a winner though…)