[rwp-review-recap id="0"]
Booster Gold and Superman are trapped in the past on Krypton shortly before the explosion. However, things are different. Krypton has a thriving space program, and Jor-El and Zod are close allies and friends. This goes against the history which Superman knows so well. What has happened to the timestream? Can Superman and Booster Gold return home? This issue enters what is known as a plot cul-de-sac. It goes somewhere that has little bearing on the overall plot and doesn't really do anything for the story.
To spoil somewhat, they don't learn anything about the possible connection between Jor-El and Oz. This isn't the secret history of Krypton. It's something of a "time island," which really makes little sense when Skeets tries to explain it. Once they leave it, it never existed. There is a slim chance that next issue may connect back to this one, but the ending cliffhanger doesn't make it appear that this will be the case.
It feels pretty crappy, because this issue really has nothing of consequence to the story. By design, it adds nothing. It may as well have been a dream for all it really matters.
The only things of value in this issue are Booster Gold himself; he's charming and always adds a bit of fun. There is also a glimpse at the Krypton that could have been, which gives a fairly emotional moment of Superman coping with his lost home.
There is also a little from the Lois and Jon subplot about General Lane. I'm sure that will be the next plot when the Booster and Krypton ends, if it doesn't somehow conclude before then.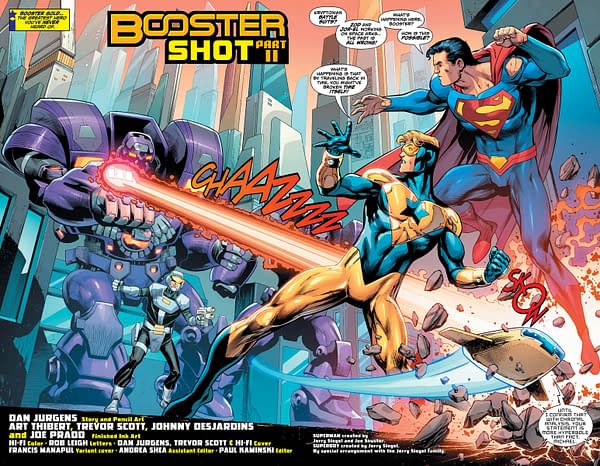 Dan Jurgens' artwork is still quite good. It still has that classic touch, and he's quite good at laying on the detail. Booster's costume looks great, and the Eliminator robots look quite cool too. Hi-Fi's colors look really good. Art Thibert, Trevor Scott, Johnny Desjardins, and Joe Prado give some solid ink work too.
While this comic has its fun moments, the pointless nature of this plot cul-de-sac make it pretty frustrating to read. Given how hard it is to track down Booster Gold in a comic book these days, I can understand wanting to grab it anyway. However, I can't recommend this one. Give it a pass. Hopefully next issue will be better.
[rwp-review-ratings id="0"]
[rwp-review-form id="0"]
Enjoyed this article? Share it!