Aidairo Illustrations: Toilet-bound Hanako-kun Coming from Yen Press
Yen Press, LLC announced the release of AidaIro Illustrations: Toilet-bound Hanako-kun, a beautiful art book that features full-color illustrations from the best-selling manga series. Creator Aidaira took that mainstay of high school urban legends, the phantom that haunts toilets, and crafted a bestselling manga out of it. Toilet-bound Hanako-kun is about a high school student who becomes bound to a toilet spirit, and together they fight evil spirits to keep the balance between the human and the spirit world! This is squarely in the Shonen, aka Young Boys, category, and Aidaira's unique and weird art style and oddball creepy humour make the series unique.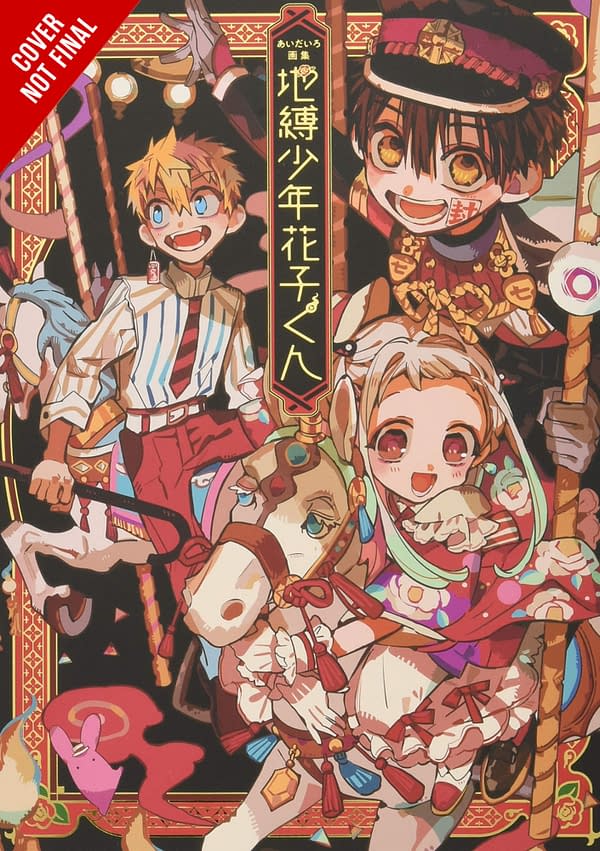 In case you were wondering, haunted toilets are an urban legend mainstay throughout Asia and Southeast Asia. Every kid there has a school story about a haunted toilet in their school. It's the type of creepy and alluring superstition that middle-schoolers and high schoolers love to tell each other and scare each other with. The ghost that haunts the toilet that can grant wishes and curses is part of every Asian kid's personal mythology. Asian-Americans don't have that folklore, but maybe some anime fans might create it here. Hope springs eternal. Of course, manga and anime would have series about the subject. Stories are how we make sense of the world, after all.
"It's alluring; it's adorable, it's in all the colors of the rainbow—it's AidaIro Illustrations, the Toilet-bound Hanako-kun artbook! Featuring all the color pages published in Monthly GFantasy from 2015-2019, over 170 photos of merchandise and collaboration cafés, and brand-new drawings you can only see here!"
Since Yen Press began releasing Toilet-bound Hanako-kun in print in January 2020, it has quickly risen to become one of the most popular manga series today. This beloved series combining the cute and comedic with the dark and supernatural has a large following of fans who are surely eager to own Toilet-bound Hanako-kun creator AidaIro's amazing collection of art, illustrations, and photographs.
AidaIro Illustrations: Toilet-bound Hanako-kun is scheduled for a November 2021 release in print and digital from Yen Press.