Ales Kot and Robert Sammelin's Savior, Coming From AWA Comics
In 1989, the teenage Mark Millar wrote a comic called Saviour for Trident comics drawn by Daniel Vallely and Nigel Kitching and notable for having TV presenter Jonathan Ross as the anti-Christ. It was his first professionally published work, it was Trident's best-seller and, years later, Alex Ross tried to revive it at Vertigo. Many of the ideas turned up in Chosen instead.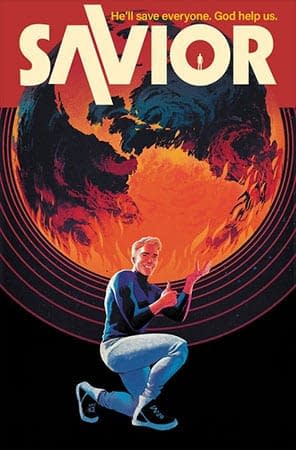 Anyway, Bill Jemas and Axel Alonso are dropping the 'u' and publishing a different comic with similar themes, also written by a bit of an unusual lefty, Ales Kot, and drawn by Robert Sammelin, who previously drew an issue of Kot's Zero for Image Comics.
Anyway, here's a look at Savior, a new comic by Ales Kot and Robert Sammelin, to be published by AWA Comics from their creator-owned Upshot line…
Savior by Ales Kot and Robert Sammelin

The Savior is special. Possessing godlike powers, he's been raised his whole life in a carefully controlled bubble of his mother and father's creation. When his parents pass away, he falls into the clutches of a secret society that has been waiting for someone like him to carve a future of their design. His parents anticipated this moment and prepared their son for it, but for him to truly rise to the occasion he must first pull back the curtain on his family legacy and uncover who he really is.
And a look inside the first issue…
And not a mark on him…