All 15 James Bond #1 Retailer Exclusive Covers
We've shown some of these before, but here is the great big batch of retailer exclusive covers for the recently released James Bond #1 by Warren Ellis and Jason Masters for Dynamite Entertainment.
We start off with a black and white cover by Gabriel Hardman for the final order cutoff.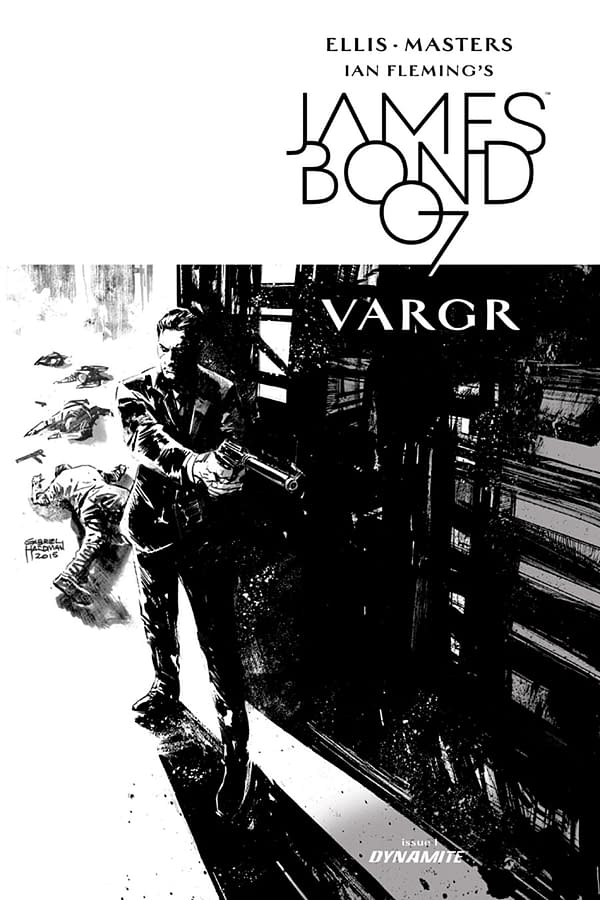 Then we have two versions of the Joe Jusko cover for 1st Print Comics… with and without trade dress.
And this is the cover by Aaron Campbell for Black Cat Comics.
And the Diamond UK Previews cover also by Aaron Campbell. This is a Dynamic Forces exclusive virgin cover done by Jock. And a Fried Pie variant by Francesco Francavilla. This Heroes And Fantasies cover was done by Timothy Lim. And here is the first of three Dennis Calero covers, this one for Madness Games and Comics. Calero also did this one for Maximum Comics. This paperback style cover was done by Robert Hack for Midtown Comics. (and here's a bonus look at how it was put together)
This cover was included in My Geek Box and drawn by Ben Oliver. While Calero did this design for Ssalesfish… I ordered this one myself. And Tate's Comics got this final cover by Calero. And finally, this is the shared exclusive cover by Jason Masters. This particular one was for Clint's Comics.