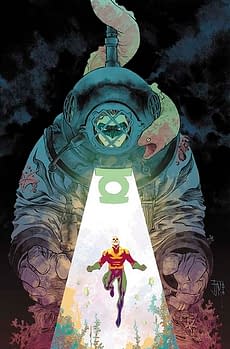 Earlier today, we were the first to run DC Comics solicitations for September 2015. But what have we learned (apart not to ask where certain people find certain information)? A few things…
1. Steve Trevor joins the DC Bombshells. And Mera is Queen of… Atlanta??
2. You get three helpings of Grayson. His ongoing comic, a guest appearance in Midnighter and a Grayson Annual by Tom King, Tim Seeley, Alvaro Martinez and Raul Fernandez.
3. Jock is a guest artist on Scott Snyder's Batman for the origin of Mr Bloom (we think it might be this). Other guest artists include Paul Pelletier on Justice League United and Pia Guerra on Black Canary.
4. Just as Superman and Batman have been undergoing changes, so the Justice League will come out irrevocably altered… Oh and Lex Luthor is alive.
5. There's a marriage proposal in Secret Six. While in All-Star Section Eight, Bueno Excellente, the superhero with the power of perversion is actually getting married – who says no one can get married at DC anymore? Oh and Wonder Woman is a guest. Well, they weren't going to invite Kyle Rayner, were they?
6. However, another controversial figure Tarantula character comes to the New 52/DC You in Green Arrow. As does Atlee/Terra, Starfire's new best friend. The shippers may start their engines…
7. More annuals! We get a Green Arrow Annual from Benjamin Percy and the rather dark and wonderful Szymon Kudranski. A New Suicide Squad Annual from Sean Tyan and Philippe Brionnes. A Batman Annual from James Tynion and Roge Antonio. A Batman: Arkham Knight Annual mixes its media by bringing in the Suicide Squad from Peter J Tomasi, Stephen Segovia and Art Thibert. And Green Lantern gets an annual from Robert Venditti and Pascal Alixe which reveals Hal Jordan's brand new look.
8. We get a Mirror Master of 3001.
9. It's Lobo Vs. Sinestro at last. In both Lobo's comic and Sinestro's comic. Crossover?
10. Red Hood And Arsenal fight Batman. Not sure which Batman.
11. Wonder Woman is tracking down Donna Troy in London where, coincidentally, John Constantine is going on a bit of a bender. You don't suppose…?
12. As the Superman Truth storyline comes to an end. Superman and Wonder Woman decide whether they can still be a couple. And there's a true fate of Batman to discover.
13. Robin fights Deathstroke. Batgirl joins We Are… Robin. And the Joker's Daughter returns
14. Catwoman gets her Celebration Of 75 Years hardcover collection.
Enjoyed this article? Share it!