Aquaman #29 Review: What Will Become Of Aquaman?
[rwp-review-recap id="0"]
Vulko and Ondine are cornered by a faceless ghost whom Vulko cannot not name. They are chased through the Catacombs while Aquaman and Dolphin try to work out where to go from here. Arthur isn't interested in leading Atlantis anymore, but Dolphin knows he's the hero that the underwater kingdom needs.
Mera and Tempest are met by mages of the Silent School outside the Crown of Thorns. We learn why Tempest quit the Silent School, and he finds a means of hopefully getting Mera back into Atlantis. On my last review of Aquaman, I said that, while this story is good, it needs to be work on wrapping itself up soon.
I'm going to do something that is not often done on the internet and admit that I was wrong. The story didn't need to end, it just needed a new angle to keep the plot fresh and interesting. I frankly should have known better given that Ta-Nehisi Coates' Black Panther is among my favorite comics being published right now, and its first arc lasted about a year.
Hard-and-fast rules are often made up because of a trend. People, myself included, get tired of monolithic and winding multi-part comic books story arcs, so we said they were a bad thing. However, padding is the real villain here. If a comic can justify its story's length, then that's fine. Have a lengthy multi-stage story arc. If it's just that long because of padding and fluff and unnecessary two-page spreads, then that's not a justification. Cut out the fat and leave the story shorter.
I do understand that some creative teams chop up stories because of awkward and creativity-killing corporate initiatives and tie-ins. They do have my sympathy there, but it doesn't make the split apart stories any more readable.
In any case, Aquaman #29 injects some life back into "Underworld" while still moving in the direction of a finale soon.
Well, I say a finale. The story of Corum Rath's tyranny and the dominance of Atlantis' fundamentalism will likely extend beyond "Underworld." It currently looks to be a stage of a larger story about Rath and Atlantis.
Aquaman's character gets pushed forward in an interesting way by Dolphin, and he gets a little bit of his spark back. It is genuinely left up in the air where is story will go from here. We get some backstory on Tempest which is surprisingly dark. Mera does her badass Mera thing and stops at nothing to get back into Atlantis. The plot with Vulko and Ondine takes an entertaining turn.
Also, Aquaman has an unexpected ally in all of this.
In short, this comic did not leave me bored or disappointed, and I'm feeling better about its length so long as it keeps this level of intrigue.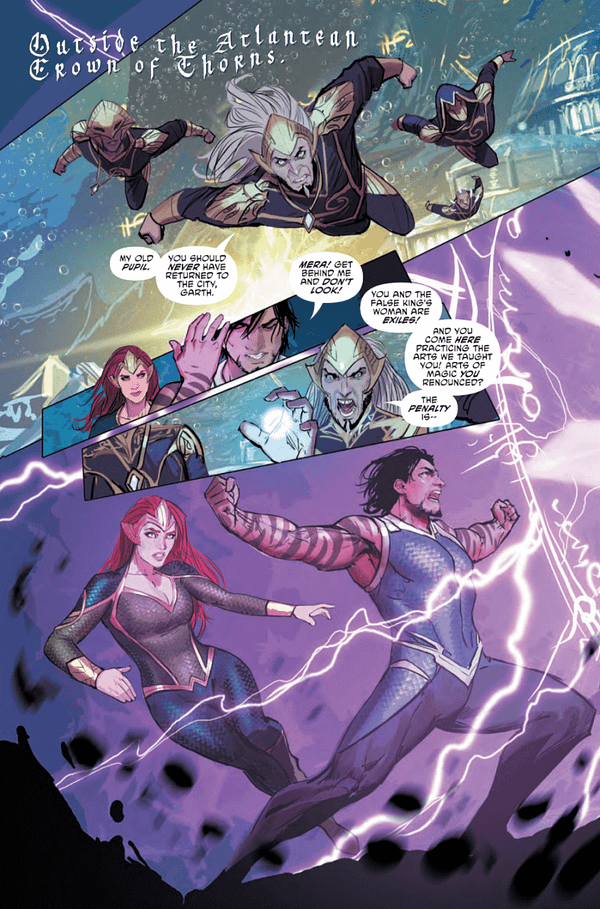 The incredible art of Stjepan Sejic remains just that—incredible. I've gushed over his work so much…and I'm going to continue doing so here. The texture and detail he gives to the world is very absorbing. He makes Tempest's magic look so cool, and he gives a personality to this world which could be mimicked by no one. He leaves a personal stamp on Aquaman.
Aquaman #29 continues the story of "Underworld" in an interesting and effective manner. This story remains great, and I look forward to where it will go by the end. It gets a recommendation, and you should definitely hop on board the Aquaman train.
[rwp-review-ratings id="0"]
[rwp-review-form id="0"]