Aquaman #32 Review: Who Will Rule Atlantis Next?
[rwp-review-recap id="0"]
Aquaman approaches King Shark with his request that the Ninth Tride gangs join up with the Undercurrent. Nearby, Dolphin has discovered Mera dying in an air bubble. She signals Arthur, who quickly comes to find his ailing beloved.
He returns to the Undercurrent with Mera and Dolphin. Ondine turns into his unexpected savior, and she has some other information from other sources which may impact the future of Aquaman, Mera, and Atlantis.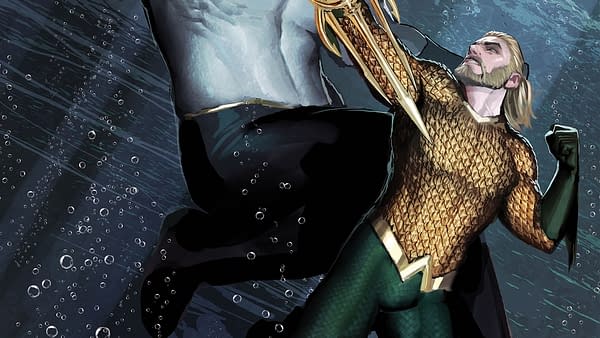 "The Crown Comes Down" has already proven to be an exciting second act to "Underworld," with Aquaman #31 ranking among my favorite single issues of last year. #32 continues this exciting drama by throwing a few twists into the mix and putting a spotlight on the drama of Arthur and Mera's ever-troubled romance.
It also provides a revelation that will certainly impact the future of Aquaman and how this comic functions once "The Crown Comes Down" concludes. It also hastens the time table of the Undercurrent's rebellion with a ticking clock on Mera's health. This pits Arthur's priorities against one another, and we see which he values more: the future of Atlantis or his wife-to-be. We also learn some of Mera's priorities in the same regard.
This looks like it will be the final prelude issue before the big blowout war in Atlantis between the rebels and Corum Rath's forces, which is exciting and welcome.
I say that, but I am genuinely impressed with how well Dan Abnett has paced this story and made every issue mean something. Yes, there is some fluff that could have been cut, but it has still been a consistently compelling saga regardless.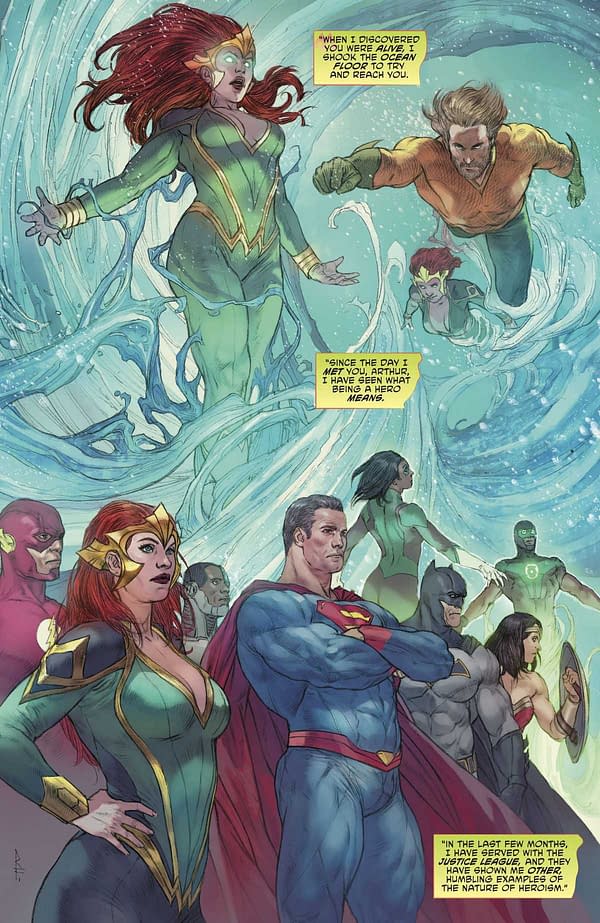 Riccardo Federici's artwork continues to be absolutely stunning, with numerous stills of Aquaman, Mera, Dolphin, King Shark, and others worthy of framing and putting up on a wall. The texture and depth he brings to this comic is genuinely breathtaking. Sunny Gho matches him with brilliant shadings, layered color, and additional texturing to really make this a gorgeous comic. The final page of the story is especially damn awesome.
Aquaman #32 is a slower issue than #31, but it is a brilliant read regardless. With Abnett building up to a spectacular climax in "The Crown Comes Down" and Federici and Gho making this a visually astonishing comic, I have no doubt that this will be an Aquaman arc remembered for years to come. Give this one a read. I highly recommend it. You won't regret it.
[rwp-review-ratings id="0"]
[rwp-review-form id="0"]