"This Arc Is The Finale We've Been Building Towards Since Issue One" – Frank Barbiere On Solar: Man Of The Atom
We have the flip to another of our writer-to-writer interviews. This time Justin Gray, writer of Lone Ranger: Vindicated #4, talks with writer Frank Barbiere about Solar: Man of the Atom #9, both on sale now. Covers by Marc Laming and Jonathan Lau.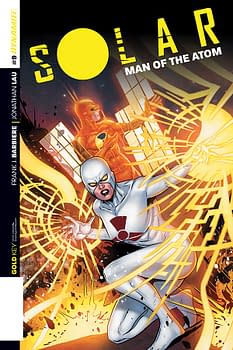 JUSTIN GRAY: In Solar #9, Erica and hereafter have returned to earth and you do a fantastic job of bringing readers up to speed in an interesting and exciting way. What got me thinking was the idea of a father and daughter team working within the construct of superhero comics. There is this kind of wonderful absurdity when you realize the protagonist's dad, aside from giving her superpowers, is essentially a ghost in a skin tight bodysuit that no one else can see. What makes that a compelling set-up for you as a writer?
FRANK BARBIERE: The central conflict of the series has really been about Erica coming to terms with her estranged father essentially haunting her/teaching her to be a "hero." We're finally seeing Erica really step into her own and define that word on her own terms, rather than just punching through her problems. I think that emotional core is really what drew me to the book—the chance to make it more about family, about growing into your identity, rather than just a "dude gets powers and punches bad guys" take on the character. Though this issue did have decidedly more punching.
JG: I would think you can get a lot of emotional mileage from the father/daughter dynamic because it strays from the formula in a way I find refreshing.
FB: Absolutely. It's the core of the book and I'm excited to get to the resolution of this 12-issue arc where we really see a lot of the payoffs.
JG: Something else I found interesting is the way Erica is a normal person in terms of appearance and even in costume, which almost goes out of its way not to look sexualized with the way Jonathan Lau is illustrating her. I mean I have to think other publishers would at least have a ponytail if not all of her hair out. There's always a lot of noise being made about female super heroines represented with impossible proportions and gratuitous designs. Was there a conscious effort to represent her more realistically based on the Solar costume?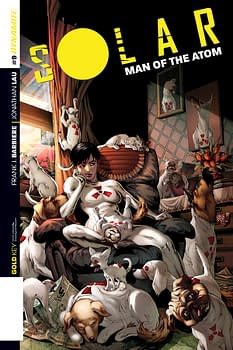 FB: Juan Doe actually designed our new Solar costume and did a fantastic job. We pushed from very early on to have Erica be a much more realistic person, rather than some kind of over-exaggerated, hypersensualized character, and I think Jon has done a remarkable job of making Erica look great without being a cartoonish parody. For me it even goes far beyond the aesthetic as we want to portray Erica as an interesting, diverse character who brings a new viewpoint to being Solar vs. the traditional takes on the character.
JG: Can we expect birds next issue?
FB: Haha, time will tell. But we do have the return of a villain that should make things pretty interesting, as well as some fun bridging of the Gold Key books that show our readers we are working in an exciting, shared universe.
JG: On a more serious note obviously this issue shows that you're building toward something bigger in the story with a special appearance by a character I won't spoil, but can you give people a taste of what to expect in the coming months?
FB: This arc is the finale we've been building towards since issue one and I'm really, really proud of how it's all wrapped up. I think we have some real emotion and power in this final arc, and it will really serve to define Erica as Solar for years to come, as well as deliver some really exciting superhero action.
For more on Solar: Man of the Atom #9, click here.