Archie Caught Between Betty & Veronica in Pep #143, Up for Auction
Always a good time, Archie is caught between Betty & Veronica on the Cover of Pep Comics and taking bids at Heritage Auctions.
---
Like most kids grew up buying the digest books off the racks, and chose a side in the eternal Betty or Veronica debate (Betty all day), but as far as having any sense of knowledge about Archie Comics and the various publications over the years, I have next to no experience — so let's dive in here. Publisher Archie had just shortened their seminal title Pep Comics to simply Pep a few issues prior, which might be considered one of the signposts of the Archie Silver Age. In fact, cover artist Bob White, who would be a regular Archie artist for decades, redrew this cover from Archie's Girls Betty and Veronica #10 from 1953 to fit in with the franchise's evolving 1960s style. There's a nice high-grade copy of this copy of the book, taking bids at Heritage Auctions, is a CGC 8.0, maybe one of the highest grades for an Archie book I have ever seen. It's the highest graded copy of this issue on the CGC Census, and perhaps surprisingly, there are only two CGC-graded copies on the census as of this writing. It currently sits at $140. Check it out below.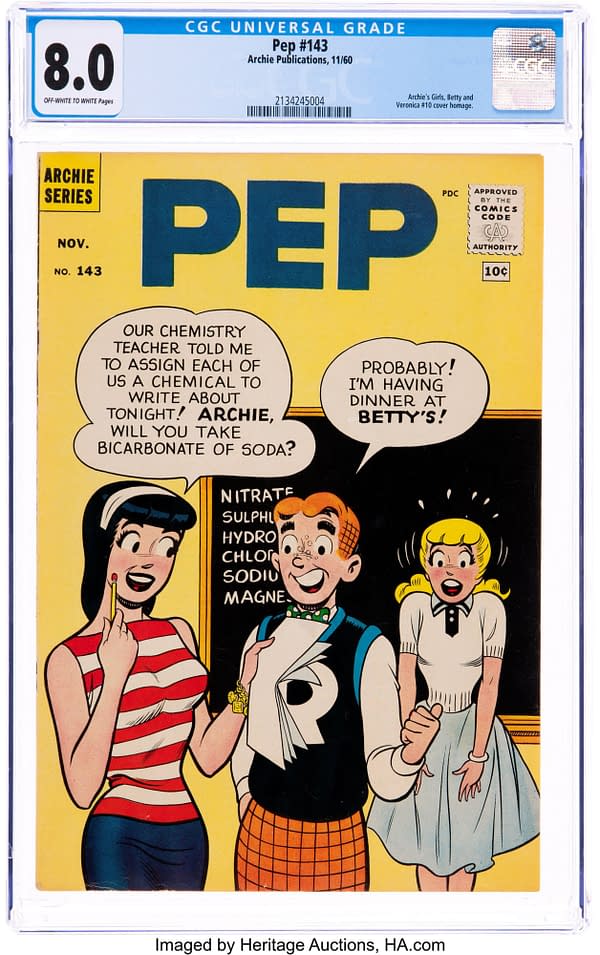 Graded Archie Books, Not Something You See Every Day
"Pep Comics #143 (Archie, 1960) CGC VF 8.0 Off-white to white pages. Overstreet 2022 VF 8.0 value = $44. CGC census 1/23: 1 in 8.0, none higher. CGC Grader Notes: multiple tear with crease left bottom of, front cover breaks color, small stain right bottom of back cover, spine stress lines, wear bottom of spine, wear top of spine." If I can go on a bit of a tangent here- what happened to Archie Comics? They barely put out any releases anymore, and a solid, classic style book featuring the characters almost never sees the shelves. That is a shame. I know they were not selling like they used to, but they had an audience, and there is almost no better gateway comic to give kids than an Archie book.
Maybe that is something the comic industry needs. Let's all agree that classic Archie Comics should have a place on the rack forever, and not as some weird horror comic. Go here to get more info and to place a bid. While you are there, click around to check out all of the other books taking bids today, including more Archies.