Avengers #8 CGC Copy On Auction Today At Heritage Auctions
Heritage Auctions Sponsored Post
Now is the time to start gobbling up copies of Avengers #8. This is the first appearance of Kang, who is looking at some real big plans in the MCU if rumors are to be believed. We know he will be the baddie in the next Ant-Man film, but bigger things are being teased past that. On auction, today at Heritage Auctions is a CGC graded copy of the book, a 4.0 conserved copy. While not a jaw-dropping example of this book, this is the time to grab any copy you can if you want it in your collection before the prices skyrocket. This one is sitting at $210 with only hours left to bid. Check out this copy of Avengers #8 down below.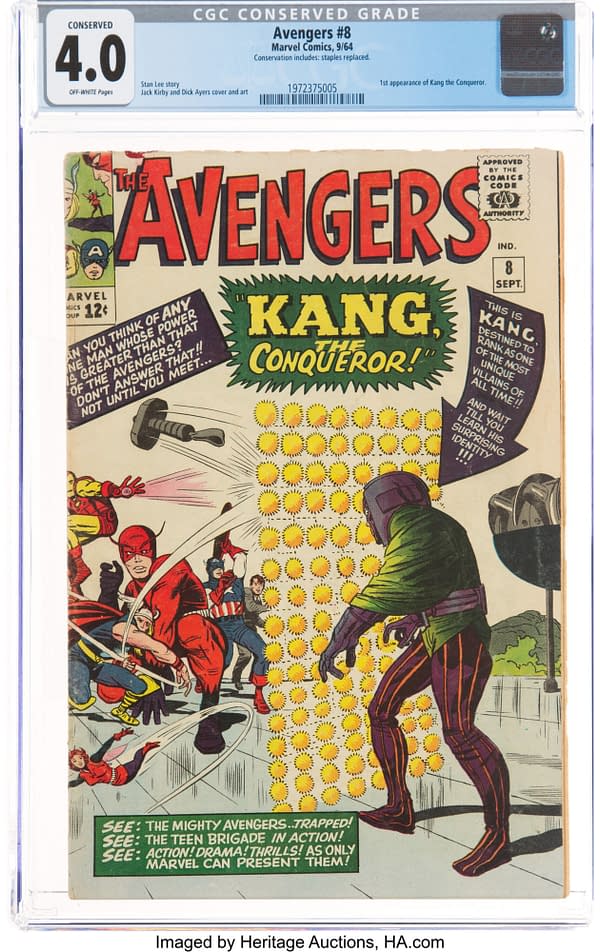 Avengers #8 Is Going To Be A Blue Chipper Going Forward
"The Avengers #8 (Marvel, 1964) CGC Conserved VG 4.0 Off-white pages. First appearance of Kang the Conqueror, the villain of the upcoming Ant-Man and the Wasp: Quantumania movie. Jack Kirby cover and art. Captain America, Iron Man, Thor, Wasp, and Giant-Man appearances. CGC notes, "Conservation includes: staples replaced." Overstreet 2020 GD 2.0 value = $46; VG 4.0 value = $92. Kang the Conqueror comes to rule Earth. The Avengers attack and are beaten and captured, apart from the Wasp. She and Rick Jones form a plan and get onto Kang's ship and free the Avengers. The Avengers battle Kang again and manage to defeat him by destroying his suit, which controls all his weapons. Kang is forced to flee back into his time."
This is going to be a huge book for years to come, so do not miss a chance to add this to your collection a little cheaper than it will be in the future. Go here and place a bid on it. While you are there, take a spin around the other books taking bids today. There are some great deals to be had on some really big books.

Affiliates of Bleeding Cool buy from and/or consign to Heritage Auctions.