AWA's "UpShot Now", Free at NYCC, Contains Full Issue of "The Resistance" by JMS and Mike Deodato
AWA Studios, the new comics publisher formed by Bill Jemas and Axel Alonso, came out with a full charm offensive at their booth at NYCC. They held a spin-the-wheel lottery for con goers to win one of several ashcan comics promoting their upcoming titles. There was a spirit of fun and games at the booth and something I hadn't felt for a while…
…the feeling that this was something new.
I got the vibe when I read AWA's anthology ashcan for their Upshot Comics imprint Upshot Now Issue #0.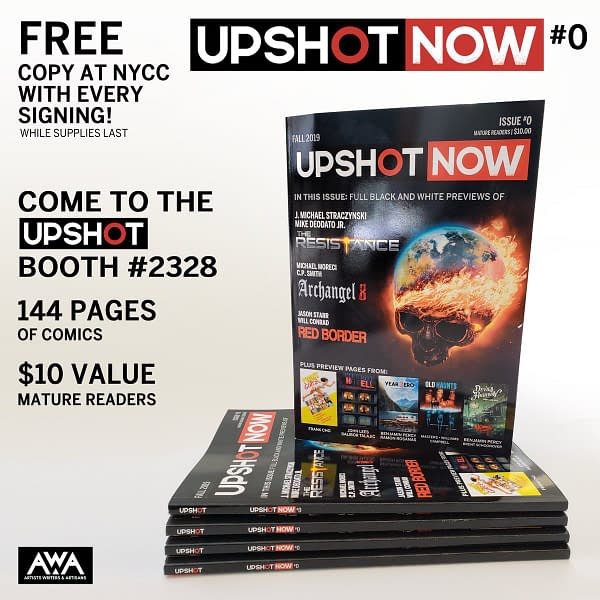 The Preview Comic to Get at the Con
Upshot Now is the jewel in the crown of freebies you can win from the spin-the-wheel lottery. It's a 140-page anthology preview of the comic series AWA is bringing out in 2020.
This is not a paid advertisement. I just like to write about a new publisher whose titles actually have me intrigued. The range and quality of stories in Upshot Now gave me a jolt I'd been missing in comics for a long time.
I know, I know, you can say there's nothing new under the sun. God knows there are so many comics and publishers now that it can be exhausting keeping up with them. Image Comics has pretty much taken over the creative gap left behind by Vertigo Comics, that of fun creator-owned fantasy, Science Fiction, supernatural and crime comics. AWA's titles seem to be fill the other hole left – serious, adult-oriented politically charged comics. The writing and art all scream their mission to tell mainstream comic stories with serious intent.
Not An Ashcan but a Full Anthology
The anthology featured black and white fully-lettered previews of AWA's upcoming books. You get the full first issues of The Resistance by J. Michael Straczynski and Mike Deodato Jr., Archangel 8 by Michael Moreci and C.P. Smith, Red Border by crime novelist Jason Starr and Will Conrad, and the opening pages of Fight Girls by Frank Cho, HotELL by John Lees and Delabor Talajic, Year Zero by Benjamin Percy and Ramon Rosanas, Old Haunts by Ollie Masters, Al Ewing and Lawrence Campbell, and Devil's Highway by Benjamin Percy and Brent Schoonover. The actual comics will be full colour when they're published in 2020.
Anthology comics are often more than the sum of their parts, and Upshot Now is the most confident debut I've seen for years. The stories and art are consistently strong, highly crafted, and tonally consistent. They represent a very strong identity for the publisher imprint.
So if you're at NYCC, by all means, drop by AWA's booth and see if you can score one of this book. It's one of those freebies that make comic conventions fun.
AWA Studios are going whole hog with a full spectrum social media accounts they would love you to follow:
Official website: https://www.awastudios.net/
Twitter: https://twitter.com/awa_studios
Instagram: https://www.instagram.com/awastudiosofficial/
Facebook: https://www.facebook.com/awastudiosofficial/