Babyteeth #8 Review: Occult Origins and Purple Demons
[rwp-review-recap id="0"]
Sadie is given the origins of her mother's cult while her father awakens to find himself being held by Dancy. Her father isn't held for long, and he and Heather go on the search for Sadie. They are soon joined by a demon.
Sadie's mother continues her story and how she played her part in the family cult.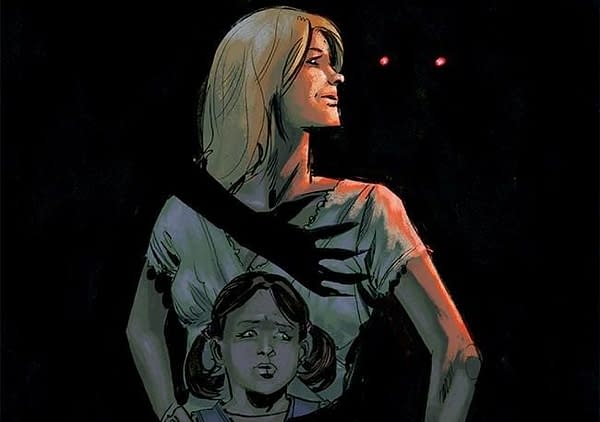 With a look into the background of the cult of Babyteeth, we get an interesting contrast between what they think they are serving versus what they are actually serving. Their cult is based primarily around Christian apocalyptic lore, and what we've seen strays a fair bit from that view of the world.
Sadie's mother is the prime focus of this issue, and she displays the charisma and eloquence that makes a good and dangerous cult figurehead. She explains the cult's wild and destructive beliefs in a conversational manner and even admits that they are hard to believe. She is able to slowly win Sadie over to her side, even if there is still some reticence. Regardless, you can see how the mother gained followers and acolytes. She can frame the apocalyptic as mundane and even benevolent very easily.
Seeing Sadie and Heather's father kick Dancy's ass is pretty fantastic too, even if it is a brief scene. We get some background information on Dancy too, and it's… startling.
The one drawback is how dialogue and exposition-heavy the comic really is. While the cult's origins and the mother's activities are interesting, this comic wavers on exposition-dump territory a little too much for its own good.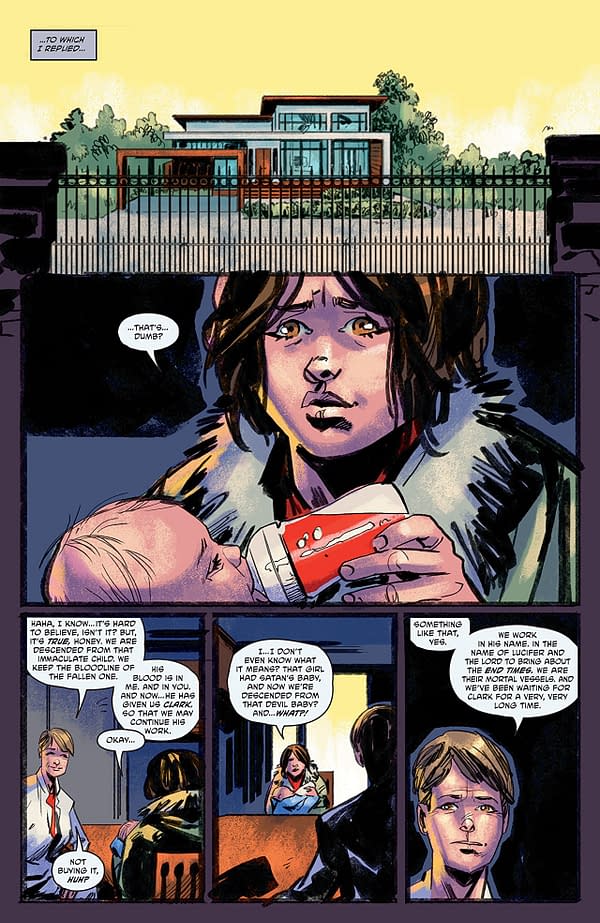 Garry Brown's artwork continues to bring the stylized and gritty texture that helps make Babyteeth the compelling experience it is. The depiction of the mother's explanation of the cult's origins has an interesting surreality to it. Also, the demon that shows up is surprisingly adorable despite — well, being a demon. Mark Engert's color art ties it all together very well with a focus on pale and faded shades occasionally offset by intense color contrasts.
Donny Cates, Garry Brown, and Mark Englert bring another enthralling issue of Babyteeth with its eighth installment. Despite the slow pacing and text-heaviness, the comic manages to still be quite interesting and earns a recommendation. Give it a try.
[rwp-review-ratings id="0"]
[rwp-review-form id="0"]