Bass Reeves #1 Review: A Bigger Than Life Legend
With a great sense of style and a laser-like determination, this book does a great job establishing the legend of the west's most successful lawman. Bass Reeves has a bigger than life legend, said to be "nine feet tall, coal-black and rides a horse that's ghost-white; and he carries these guns — black guns that look more like cannons with triggers," with more rumors of lifting full-sized cattle from mud on his shoulders and being heralded by whistling winds.
A real man with real issues brackets the reality with an arrest record, almost unlike any others. A husband and father, Reeves owns land and farms when he's not tracking bounties. His wife wishes he was home more, and his starry-eyed son is enamored of the glamor of gunsmoke. Reeves struggles to balance his skill in bringing down bad men with his faith and being there for his wife and wrestles with the necessity of what he does with his son's idolization of the lifestyle. Writer Kevin Grevioux does a great job showcasing both myth and man, looking like everything you wanted from Boba Fett but never got.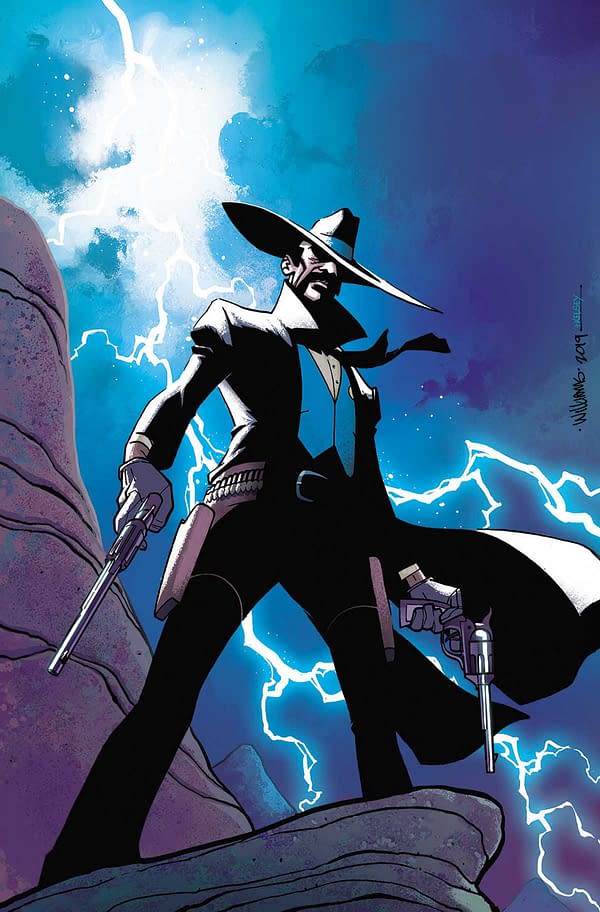 Admittedly, there are some mild political concerns with the idea Reeves is tasked with policing "Indian country." Still, he is barely shown with the first nations, mostly shooting at garden variety outlaws while showing off his linguistic skills in the pursuit of justice.
The visual stylings of David Williams, Kelsey Shannon, and Eric Weathers present a long, lean, solemn man of action and unerring accuracy. The composure and certainty Reeves shows in almost every circumstance (save when gunfire erupted near his wide-eyed son) is well demonstrated in the artwork. What was missing was a sense of adventure — if Reeves, in fact, is the source of the Lone Ranger myth, there was little derring-do, little besides some frighteningly accurate but all too brief bursts of gunfire. The myth we establish for Reeves is mostly hearsay and hyperbole, aside from post-game statistics.
This is interesting work that establishes a new paradigm for a western but falls just short of glory. RATING: HONORABLE MENTION.