We all know that Batman loves to spy on people. Besides brutally assaulting mentally ill criminals while dressed in a bat costume at nighttime in Gotham City, illegal surveillance is pretty much Batman's biggest hobby. In April's Batman #68, which we've got early thanks to an anonymous 4chan leak, Batman takes his creepy surveillance to the next level by spying on his own almost-wife during her bachelorette party. Well. Sort of. He's busy being tormented by Knightmares, so it's actually a dream party.
But does it really make a difference?
Maybe not, but if nothing else, at least he's not doing it on purpose. He's spying against his will, which must be quite the conundrum. On the one hand, he (and readers) are reliving one of the most traumatic events in recent memory, the bait-and-switch Bat/Cat wedding. On the other hand, he's doing one of his favorite things: violating the privacy of others.
Complex moral issues rule the day in April, when Batman #68 and #69 hit stores. Check out the solicits below:
Batman #68
written by Tom King
art and cover by Amanda Conner
variant cover by Francesco Mattina
Batman is making his way to the end of his Knightmares, but his unseen enemy has a few more tricks up his sleeve. It's time once again to stick a knife into the Caped Crusader's broken heart, letting the groom-that-could-have-been peer in on the bachelorette (or should that be *Catchelorette*?) party that never was. Artist Amanda Conner (HARLEY QUINN) rejoins the Bat-family for this month's special story–because who else you gconna invite to a shindig like this?
On Sale 04.03.19
$3.99 US | 32 Pages
FC | Rated T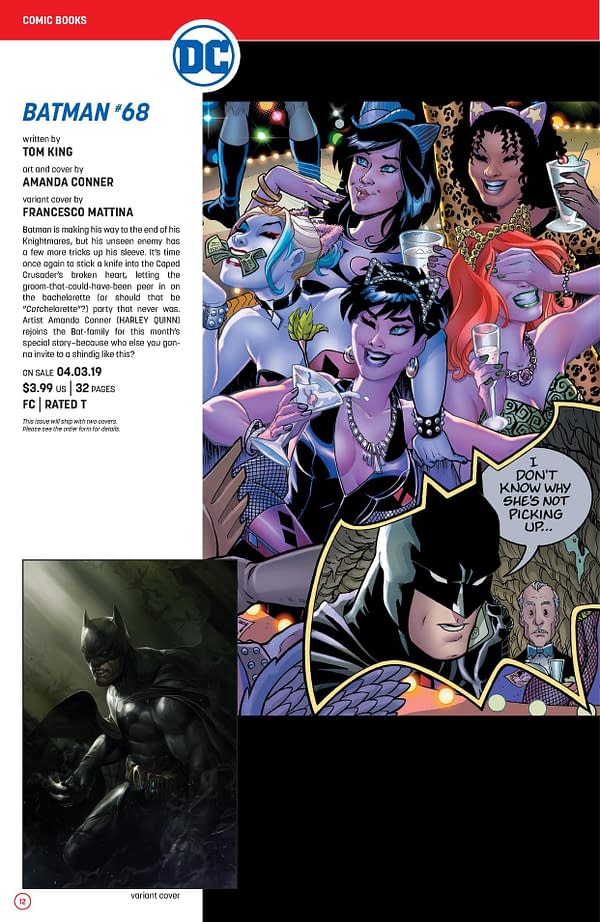 Batman #69
written by Tom King
art and cover by Yanick Paquette
variant cover by Francesco Mattina
The Dark Knight is breaking through the bad dreams and coming out the other side. But is he ready for the culprit waiting through the veil of terror? And what lasting effects might this whole ordeal have on Bruce Wayne's psyche? With artist Yanick Paquette (Wonder Woman: Earth One) jumping on board to tackle the art, "Knightmares" comes to a shocking close. This will be the strangest issue yet– a no-holds-barred journey through Batman's psyche via the inner workings of Arkham Asylum, setting up the next big chapter of Tom King's epic Batman tale. Batman's future starts now!
On Sale 04.17.19
$3.99 US | 32 Pages
FC | Rated T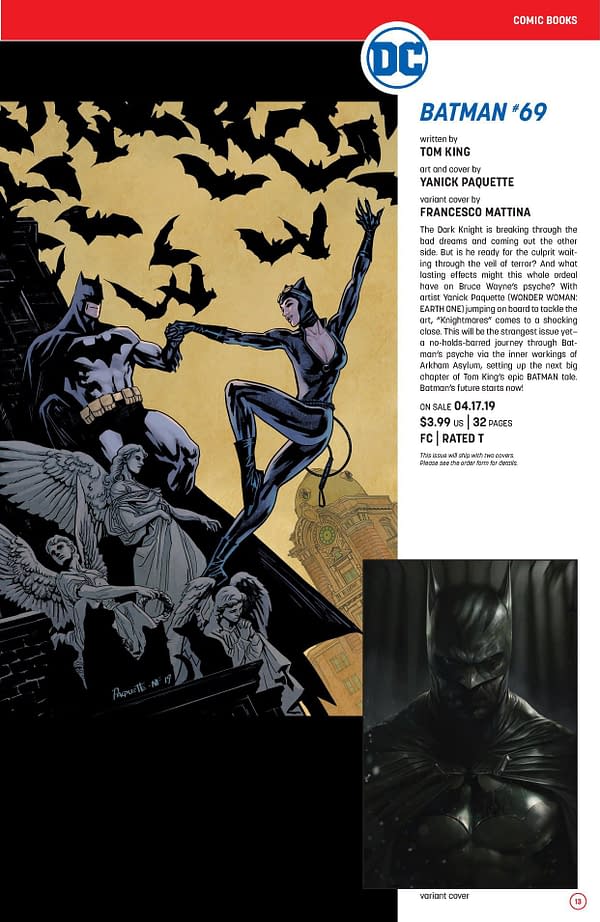 Enjoyed this article? Share it!