Beasts of Burden: Wise Dogs and Eldritch Men #1 Review – Fun Dog-Magic Adventure
Lundy runs into a burning forest as the animals within flee the flames. He finds a young salamander at the heart of the blaze, and it's caught in a trap with strange runes carved into it. Lundy frees it and returns to his pack. Three of the other dogs have set up a ritual to bring rain to quench the fire. After resting, the dogs of Burden Hill investigate the runes on the trap.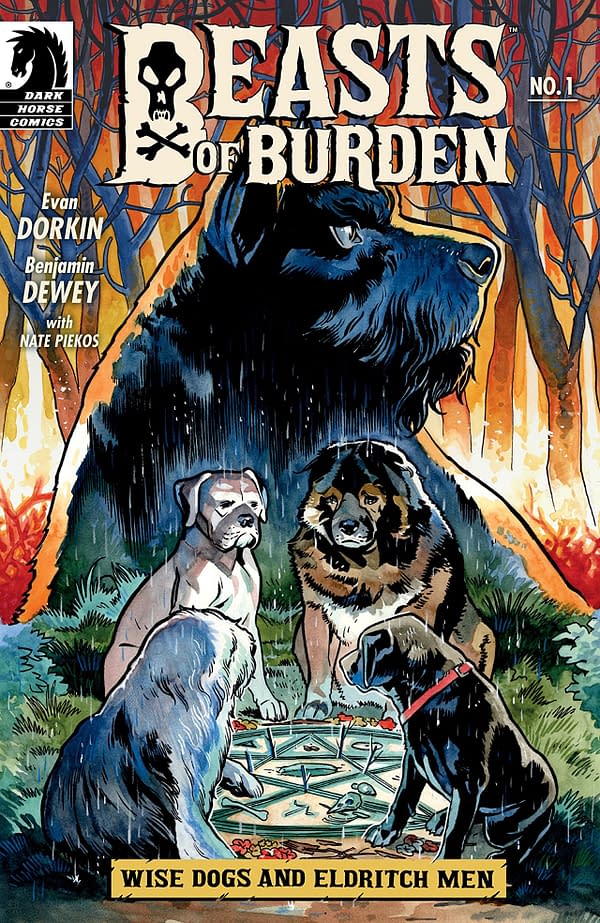 This is my first time reading a Beasts of Burden comic, but Wise Dogs and Eldritch Men #1 does a solid job of introducing the reader to the broad ideas of the comic. There are dogs, they talk to one another, and they have magic abilities and a leader named Lundy.
Trying to keep up with all the names is a different story, but I'm willing to be lenient on that one. There are like a dozen of these dogs, and some of them are the same breed.
The pacing is good, you're sent right into that opening forest fire followed by the characters meeting up and discussing the bizarre thing the reader just witnessed. There is a mystery involving the runes on the salamander's trap, and then we get another big conflict before the comic closes out.
The characters are fairly interesting. It's hard to distinguish some, but Lundy is a fun lead.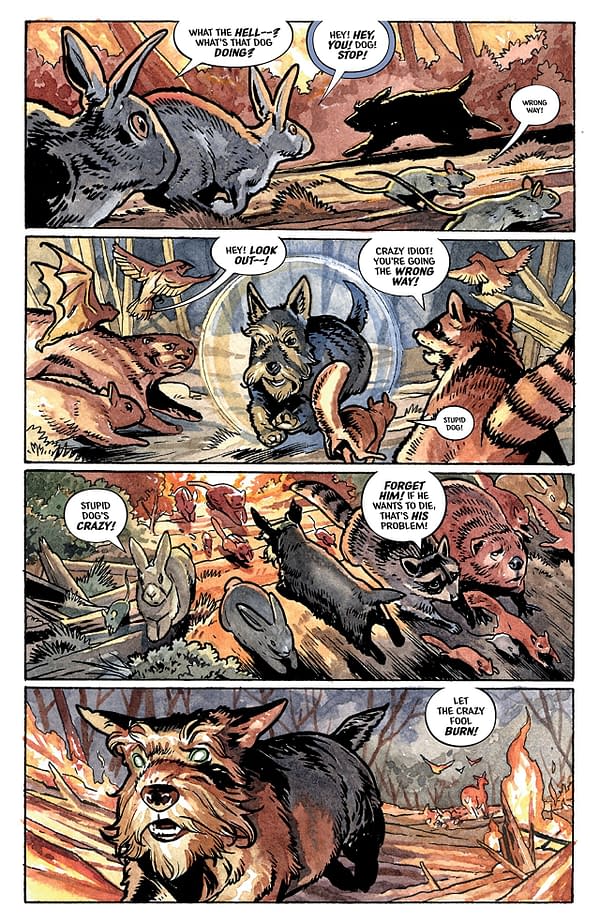 Benjamin Dewey brings a pseudo-storybook style to the comic with a heavy use of shading and exaggerated expressions from the dogs to add to the mystical feeling of the book. There is a good texturing to the book too. His color work is similarly storybook-like and uses earthy tones to coincide with the rough n' ready feel of the world and its characters.
Beasts of Burden: Wise Dogs and Eldritch Men #1 is a fun read. The world and characters are unique and strange, and the conflicts are fantastical and well presented. Mix that with some good artwork, and you have a comic worth a recommendation. Check it out.