 By Hannah Means-Shannon
DC's "My Secret Origins" panel was held in one of the largest meeting halls of the con, but still felt like one of San Diego Comic Con's best kept secrets. As fans scrambled to go to spotlight panels or those that were likely to yield big announcements, a powerhouse group of some of DC's finest talent took to the dais to talk about their lives and how they "broke" into comics. Any one member of the group would have been pretty fascinating to hear in monologue, but placing their personal stories alongside each other pointed out the overarching similarities and the wide swath of differences in their experiences, too. Bob Wayne introduced Jim Lee, Greg Capullo, Jimmy Palmiotti, Gail Simone, Scott Snyder, Amanda Conner, and Bernard Chang in basic terms, but the panel was really about each comic creator introducing their own life story.
Scott Snyder started off by talking about his dual focus even at the college level between art and writing, and dropping artwork due to scheduling and a feeling of being spread too thing. Snyder's story was unique on the panel because he came to comics via prose writing based on early success with short stories and a proposed deal on a novel. A twist of fate led to his contribution in an anthology of prose about superheroes, which in turn led to recruitment for one-shots at DC and an American Vampire pitch- the rest is comics history. He did, however, describe his rise as a "weird route in" to professional comics. These are changing times and the doors into comics are getting weirder, and surprisingly diverse. Snyder seemed to set the tone for the panel with his candor and self-effacing summary of wandering into the pro life, and like a game of Truth or Dare, he seemed to challenge the other panellists to give their personal observations rather than simpler sound bites about life in comics.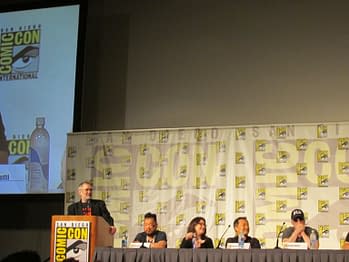 Gail Simone took up the challenge with what really is an even stranger story than Snyder's about getting into comics. She has a theatre and creative writing background anyway, but comics seemed like a far-fetched thing, particularly after she dropped out of school for financial reasons and pursued her creativity by running her own hair salon. To some extent, that was enough of an outlet for her until opportunity more or less knocked down the door to get to her. Venting on message boards in parody format gained her a suprising number of followers, then secretly typing up a Women in Comics column, something she kept from even her husband. Scott Shaw called her up courtesy of Bongo Comics and tapped her for writing, but she responded, "I am not a writer" and didn't give him an answer right away. Immediately, doubts set in and she felt foolish for not saying "yes", so the weight of rejecting such a big opportunity pushed her to wade in to comics and give writing a try, first appearing in Simpsons #50 before later jumps to DC.
Every panellist seemed to feel the unlikeliness of their opportunities as they explained the details of their entry into pro work. Jimmy Palmiotti was in it for the art, having graduated from the High School of Art and Design in New York, producing incredibly detailed sketches as fill in work even in high school and doing inking for extra cash. Viewing how a group of comic artists actually lived, in their tiny studio with mattresses propped up against the walls covered in reference pictures turned him off, though. It was a touch and go lifestyle that made him reconsider comics as a living, so he went on to college to study advertising. At about age 30, things turned around for him mentally, and he began to strategize bringing his knowledge of advertising to a comics career, hoping to actually make it a viable career financially. He started helping out at Marvel, particularly when things were on a tight deadline and they needed an extra pair of hands, and he knew, for one thing, never to miss a deadline himself, thanks to the rigors of advertising. It gave him a solid reputation and made him a go-to guy which led to more work. When he couldn't get work doing the writing that he really wanted to do, he turned to creator-owned work, also using his business and promo skills. Though it "took awhile", persistence led to work at DC and Wildstorm, with a firm grasp of where he wanted to go and what he wanted to do in comics. "It took 27 years to break into comics", he laughed, to applause from the crowd.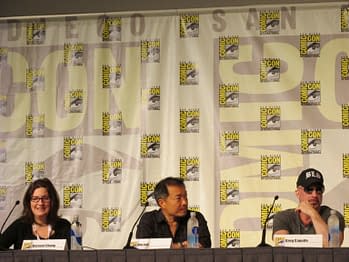 Greg Capullo, like Palmiotti, had his sights set on comics, but had a long way to go to reach his dream job. His highly entertaining monologue about his journey included fully recounted conversations (with funny voices) with high school teachers who tried to force him into other directions. Along with high school friends, he managed to get Jim Shooter to review his portfolio several times, critiques that were a little "sugar coated", Capullo felt, because Shooter didn't want to drive anyone away from comics. Larry Hama, however, took the opposite approach, something for which he's very grateful, but led to some hot-headed temper tantrums from young Capullo at the time. After unleashing a tide of profanity at Hama, who was telling him to basically confront his own stylistic problems, he was thrown out of Hama's office, and spent a year in a partial downward spiral working menial jobs. He started working on his art at home again, thanks to family support for his dream, and had the good fortune to get some recommendations from John Romita Sr., who campaigned pretty tirelessly to get him work.
With the hot temper toned down and plenty of application to the drawing desk, Capullo came out fighting to reach a "dream come true" working with Ralph Macchio on Daredevil. He regrets, he said, initially turning down Todd McFarlane's offer to come over to Image early on, but when he finally did, he spent many years at Image, including working on 80 issues of Spawn. He was frank about the fact that when advancement dried up at Image, he was prepared to go back to the mainstream, particularly when tempted by some powerful pep talks about the relaunch of Batman, a character he'd been drawing sinc
e he was 4 years old. Capullo's 25 minute monologue ripped away any veneer of just hearing the facts in an already very personal panel. For Capullo and Palmiotti, staying pro seemed to be a process of staying in motion and continually reassessing your goals, as well as being willing to stick to those personally meaningful projects even if they involved some risk.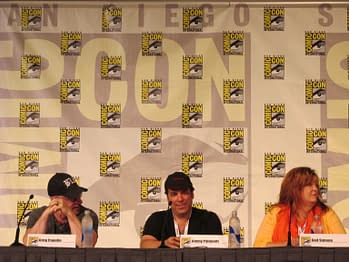 Jim Lee's story had the added twist of facing a lot of prejudice against comics from friends and family and feeling like he had to keep his interests a secret for a long time. He kept his comics in the closet, literally, and was pushed to be a doctor by his first-generation Korean American family. Ironically, it was reading comics that gave him a strong grasp of English and helped him adapt to American life. He recalled with some sentiment travelling in the summer on road trips and forcing his parents to seek out comic shops along the way by using an old copy of the Yellow Pages for each city in transit. This led to the awkward and seminal experience of finding a comic shop in St. Louis that was also an adult book shop as a kid and being marched by his steely-eyed parent straight to the back of the shop to find the actual token box of comics therein.
He assured the audience this was a true story, but played up the comedy behind his now "Pavlovian" and somewhat sexualized attraction to comics, hinting that it all started in a seedy St. Louis shop. But breaking into comics was quite a climb, starting with fanzine letters and endlessly sending letters to comics companies with samples of his art work. Of 40 different companies he tried, only Marvel and DC responded, but via form letter that didn't get him much further toward his dream. For lack of other plans, he went to college for a degree in Psychology, then moved back home, dissatisfied and aggressive about changing his life. He spent a few months "drawing in his underwear", but assiduously, at home, and mailing copious packages of his work out to companies. Attending a small con in New York ended up making all the difference for him, where he met Archie Goodwin, who gave him a "try out" story at long last in 1987. Lee's story felt like a triumph, and a relief, to hear, making it clear that only single-mindedness could have gotten him where he is today. There was certainly no sugar-coating on the panel about that.
Amanda Conner's story, like Lee and Capullo's, was one of early interest and pursuit, but with plenty of ups and downs at the cusp of success. She relentlessly visited Marvel and DC with her portfolio for tips during her time as a student at the Kubert School in New Jersey, making train ride after train ride to do so, and each time getting some good feedback that reassured her, but also kept her aware that she still had some distance to go to become a pro. Working at a tedious computer coloration job that stemmed from her uncle's business was at least a comics-related job, but the tedium only motivated her further to get out and move forward. Working at a comic book shop was a little more palatable, and kept her more focused as she continued to work on her art. At her 6th visit to Marvel to show her revised portfolio, she finally got offered an 11 pager in Solo Avengers #12, but it wasn't all fun and games after that. Working in comics was panning out, but she simply wasn't getting enough paid gigs to keep on indefinitely, so she went back into doing side-work in advertising. That did the trick for a more stable lifestyle, but was also "soul-sucking" and eventually she pulled away from it, followed by increasing opportunities in comics the more she pursued them. Conner's observations suggested a lot about comics right now, that there are other jobs for comics artists out there that may pay more or be more stable, but for some it's just not a matter or purely practical consideration. Fans are lucky that Conner was prepared to take that road back into full time comics work even though other jobs were available to her.
Bernard Chang concluded the tell-all panel, and having heard so many voices speaking about their struggles and their personal dilemmas about getting into, and staying in, comics, Chang commented that he had a lot of similar experiences trying to get a foot in the door. He started off, he said, at San Diego Comic Con about 20 years before (to fan applause at the venue) with a portfolio in hand. Those were the days of portfolios, he reminded, as it had been for a lot of other panellists, whereas these days digital submissions take their place, if they are viewed at all. He was pushed into studying architecture rather than art at the Pratt Institute in New York by concerned parents hoping he'd find a solid career. It had been awhile since he'd read comics, but the work at college was getting him down, and walking through a local bodega and noticing a spinner rack was a turning point for him. He picked up a copy of X-Men #275 and felt a wave of nostalgia and appeal. He justified that he might do some comics work as a "side-job" without giving up his degree work and got into DC's "New Talent" program just to learn more about the business of comics. But it was turning up to San Diego in 1992 that really helped him turn a corner to tracking down leads for working in comics. It led him to call up a small new company called Valiant in New York when he got back from SDCC. "And then I jumped in a Delorian and now I'm here", he joked, but there was some truth behind that statement.
Specific moments had a huge impact on these creators' lives, and hindsight helped them pick out those key decisions that may have seemed minor at the time. Though the trajectory and desire was there, pushing them forward, often against all common sense and pretty tremendous odds, that push helped them find what could become life-altering chances to show their work to people who could take an interest. The message of the panel, as a whole, seemed to be that nothing you really want in life is easy, nor do the paths you really need to take to get there have clear signage. It's the ability to keep moving, to keep trying, and to genuinely learn from those who have been in your position before you, that seems to make the biggest difference.
The panel was one of the best kept secrets of the con because it was like receiving a mini biography directly from a large team of DC's top talent in their own words, uncensored, and getting them all together in one place encouraged them to break out the honesty and take it to an even more meaningful level. Maybe it was even therapeutic for them to compare notes with each other, and see themselves as part of a team, not just in terms of working with DC, but as comics pros. That may account for the upbeat atmosphere as the panel came to a close; the fans got a lot out of hearing those stories, and plenty they could relate to in their own fandom and even pursuit of work in comics, but the panellists may have benefitted from hearing where their fellow creators have been, and why they are all headed where they are headed, still pursuing their dream.
Hannah Means-Shannon writes and blogs about comics for TRIP CITY and Sequart.org and is currently working on books about Neil Gaiman and Alan Moore for Sequart. She is @hannahmenzies on Twitter and hannahmenziesblog on WordPress. Find her bio here.
Enjoyed this article? Share it!