James Whynot is known for an art style full of heavy texture and black ink, with brilliant splashes of color, expressed in his comic Bolts published by Action Lan, described as Frankenstein meets the wild west after an apocalypse, with giant monsters for good measure.
He's teaming up with writer ML Miller of Black Mask's Pirouette for a new comic also from Black Mask… Gravetrancers. Take a look…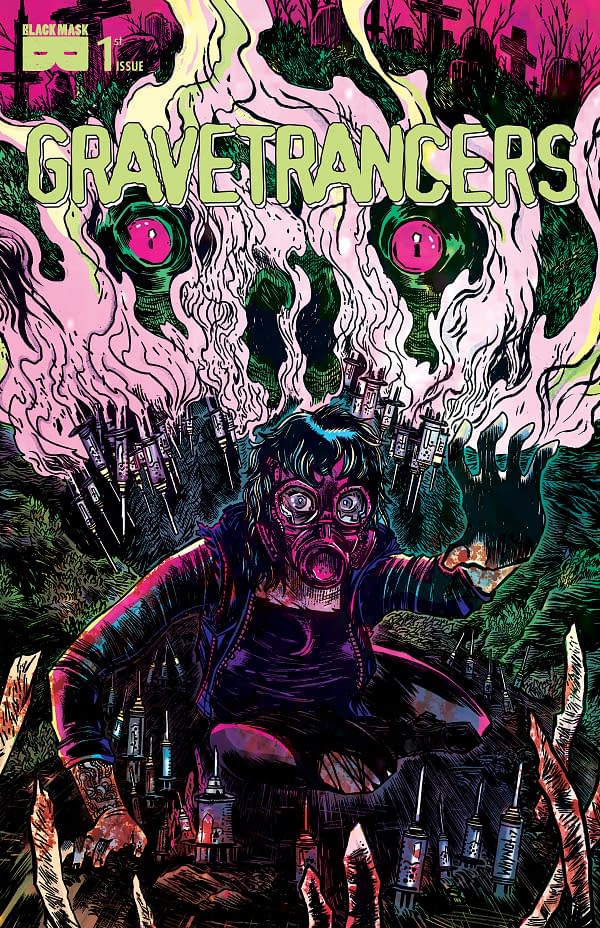 GRAVETRANCERS #1
Writer: M.L. Miller
Artist: James Michael Whynot
SRP: $3.99
Full Color | Mature | 36 pages
Synopsis: On a journey to track down the grave of their estranged father, Maribel and Anthony find their way to the Malort Cemetery, a strange, seemingly abandoned field of mostly unmarked tombs. There they encounter an eccentric clan of grave-robbers who've devised a highly-addictive drug made from human remains–and the fresher the corpse, the stronger the dose. What started out as an attempt to reconnect with the past becomes a descent into a psychedelic, neon-colored nightmare, will Maribel and Anthony find their way through the hallucinogens or will they become the next hit?
Written by M.L. Miller (Pirouette) and featuring mind-shredding artwork by new artist James Michael Whynot, Gravetrancers delivers a grisly grindhouse tale of taboo and terror.
And a few other comics Black Mask has out for September 2017…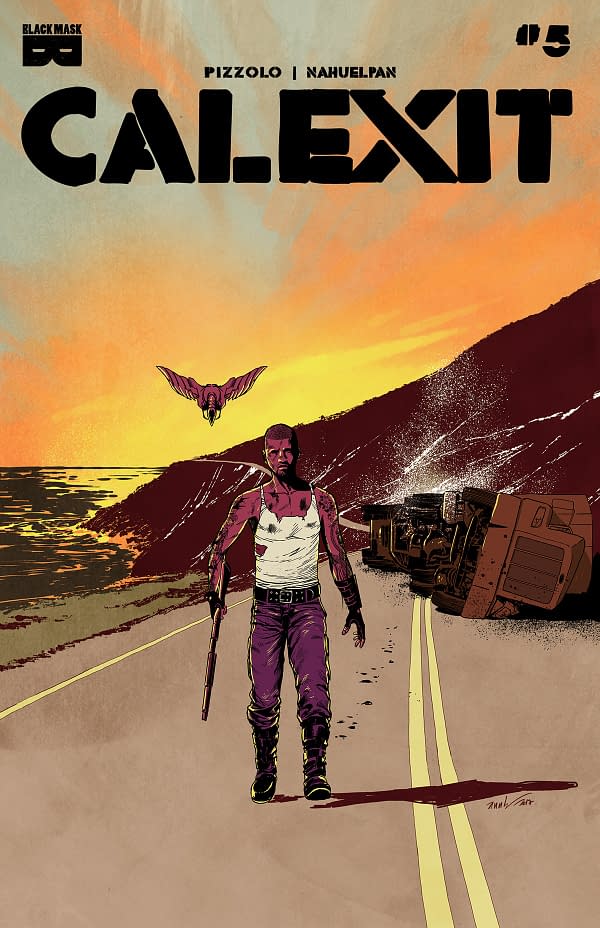 CALEXIT #5
Writer: Matteo Pizzolo
Artist: Amancay Nahuelpan
Colorist: Tyler Boss
SRP: $3.99
Full Color | Mature | 32 pages
Synopsis: To live and die on the Pacific Coast Highway.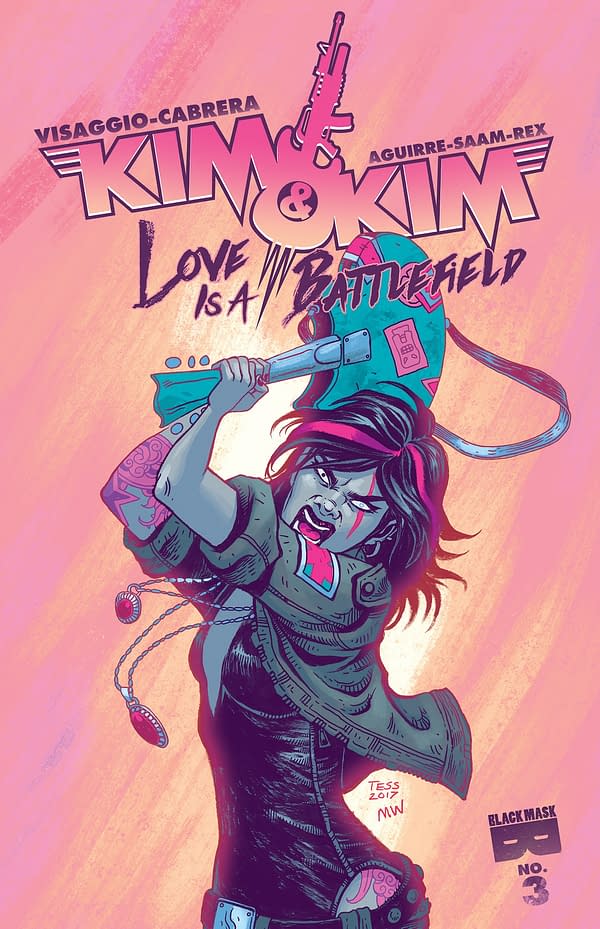 KIM & KIM #3
Writer: Magdalene Visaggio
Artist: Eva Cabrera
Colorist: Claudia Aguirre
Letterer: Zakk Saam
SRP: $3.99
Full Color | Mature | 32 pages
Synopsis: The Kims' old friend Kathleen shows up with some startling news: Kim D's ex-girlfriend has a bounty on her head the size of Texas — and the criminal resources to justify it. So this is the part where stuff gets kinda serious. It does have a giant robot, though.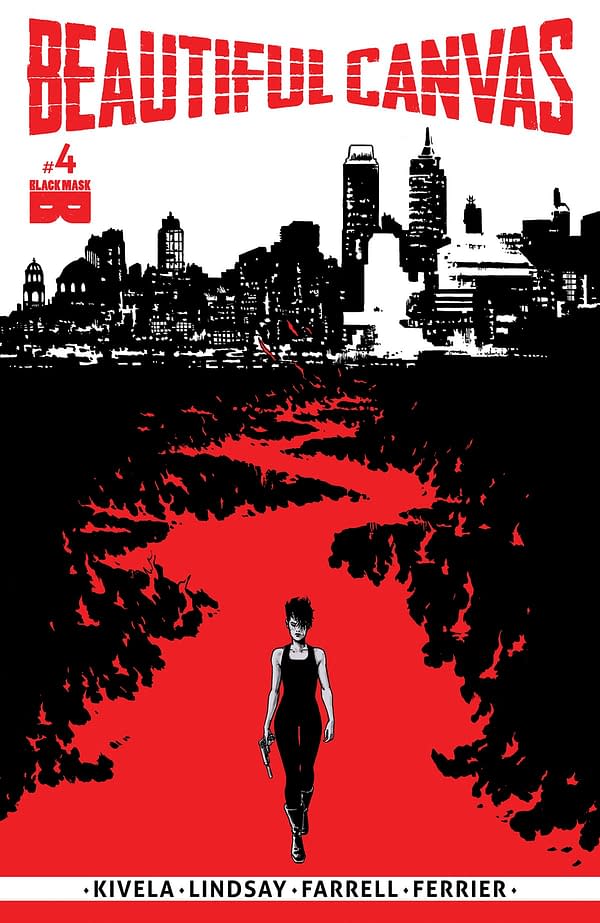 BEAUTIFUL CANVAS #4
Writer: Ryan K Lindsay
Artist: Sami Kivela
Colorist: Triona Farrell
Letterer: Ryan Ferrier
SRP: $3.99
Full Color | Mature | 32 pages
Synopsis: A showdown on a zephyr. Every sacrifice hurts. Love endures and obliges. Lon Eisley has had a good run, but her story ends here. Stay in your seats for the coda, though, because the end is the beginning is, etc.
From Sami Kivela [CHUM] & Ryan K Lindsay [NEGATIVE SPACE, and DC Writers Workshop] comes this masterful conclusion to a gonzo dystopian tale of villain zephyr fortresses, a scorched Earth, and brutally hard choices.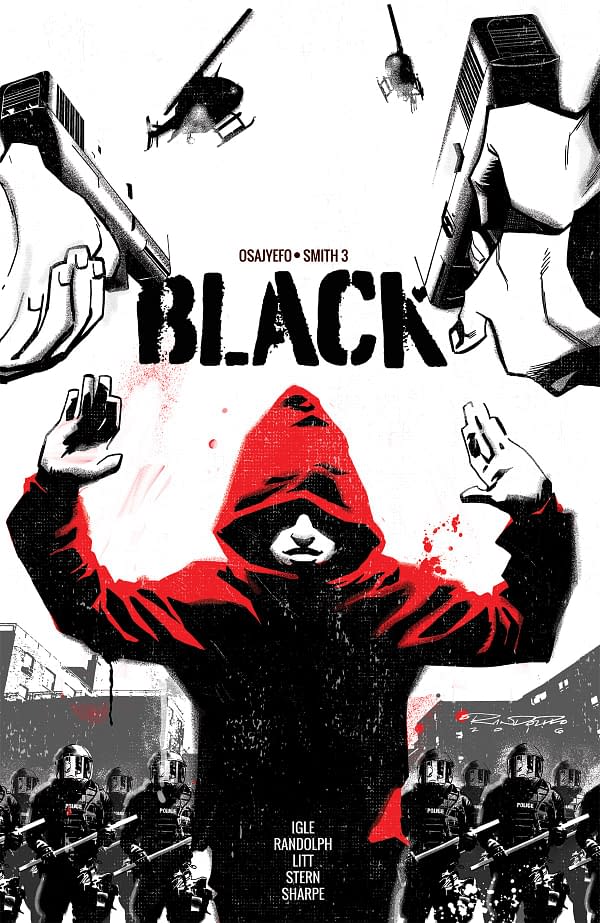 BLACK, Vol 1 TP
Writer: Kwanza Osajyefo
Designer: Tim Smith 3
Artist: Jamal Igle
Inks: Robin Riggs
Tones: Derwin Roberson
SRP: $19.99
B&W | Mature | 208 pages
Synopsis: In a world that already hates and fears them – what if only Black people had superpowers. After miraculously surviving being gunned down by police, a young man learns that he is part of the biggest lie in history. Now he must decide whether it's safer to keep it a secret or if the truth will set him free. Collects issues 1-6.
Enjoyed this article? Share it!