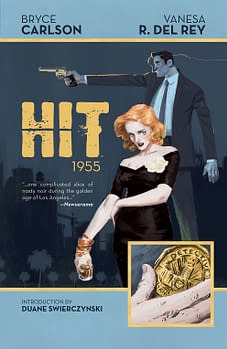 Hit: 1955, the four-issue series written by Bryce Carlson and drawn by Vanesa R. Del Rey is being collected in December by Boom! Studios. The story looks at the twisted history of the LAPD and of a policeman who did some under-the-table wetwork in an attempt to clean up the streets. The series was nominated for a Harvey Award.
"Hit is one of my favorite books we've ever published," said BOOM! Studios Editor-in-Chief Matt Gagnon. "Bryce and Vanesa arrived on the comic book scene lightning-fast last year. It was a groundbreaking debut for two creators that took us to Los Angeles in 1950s and delivered a gem of a noir story. This collection is a must-have for fans of beautiful art, great writing, and comics that add a little something new to the industry. Plain and simple, Hit delivers."
Hit: 1955 is a classic noir detective style series where homicide detective Harvey Slater chases his cigarettes with two fingers of bourbon and who spends his nights taking out "untouchable" criminals for the LAPD. This book collects the complete four-issue limited series, features the never-before-seen prose short story, "Bonnie," and includes an introduction by American crime author Duane Swierczynski.
Enjoyed this article? Share it!