Next week sees the release of the second issue of Friendly Neighborhood Spider-Man, the latest Spider-person book to fill Marvel readers' seemingly unlimited demand for such things. In the previous issue, Peter Parker found himself the unwitting caretaker of two strange children after their mother was kidnapped by super-strong suit-wearing villains. He's got to go get their mom back, but first, he needs a babysitter, so he reaches out to… well, we don't get to find out in this preview, because before Spider-Man's first choice of babysitter arrives, his cranky neighbor Marnie arrives to find Spider-Man's roommate, the D-list villain Boomerang, hanging out in his… or maybe Spider-Man's, if you read last issue… underwear. Yeah, there's a lot you're missing out on if you don't read all the Spider-people books.
Anyway, Marnie is unimpressed.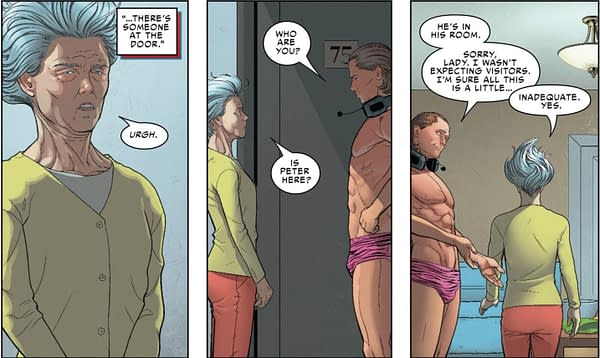 Ouch! It's not the size of the boomerang that matters, Marnie! AV Club had the EX-X-XCLUSIVE preview of this one, and luckily, they're far more secure, feeling no need to overcompensate like some websites by plastering watermarks all over their previews.
Friendly Neighborhood Spider-Man #2 hits stores next Wednesday.
Friendly Neighborhood Spider-Man #2
(W) Tom Taylor (A) Juan Cabal (CA) Andrew Robinson
Spider-Man is the worst neighbor EVER! There are always crazy villains and property damage and drama and…and he CATCHES the villains. And he tries to fix the damage and he helps carry your groceries and actually that property damage keeps the rents down. You know what? Spider-Man is the best neighbor ever and this book will give you a closer look at Spider-Man's (and Peter Parker's) neighborhood than any book ever. Also, it wouldn't be a Spider-Man adventure without a threat that could destroy not only Spider-Man, but all his neighbors. Superstar writer TOM TAYLOR (X-MEN RED, ALL-NEW WOLVERINE, Injustice) and rising art star JUANN CABAL (ALL-NEW WOLVERINE, X-23) give you the most local Spider-Man ever!
Rated T
In Shops: Jan 23, 2019
SRP: $3.99
Enjoyed this article? Share it!