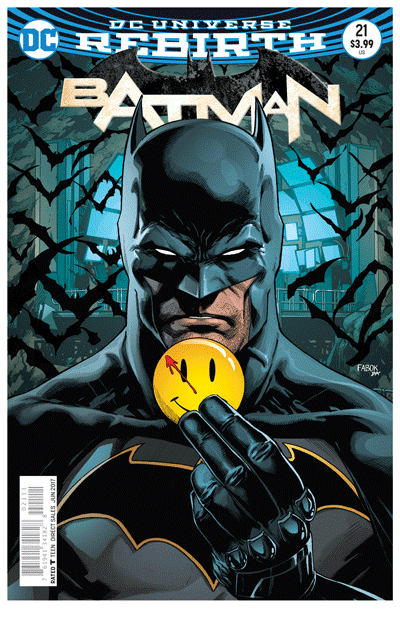 DC Comics are publishing The Button, a four-part crossover with Batman and Flash investigating the blood smeared smiley face button found in the Batcave in DC Universe Rebirth.
They are publishing the comics with lenticular covers and non-lenticular covers that highlight the smiley face button, But, just as with Watchmen, DC Comics can't publish that on the front cover of a comic without infringing the trademark of the French company that owns the European trademark on the symbol. So those covers are not being distributed in the UK.
But some are still sneaking their way in.
Ltd Edition Comix are smuggling some into the country and are taking mail pre-orders. £3.50 for the 2D versions, £5 for the lenticular, which is certainly a large markup on cover price, but probably less than they could have charged… but Forbidden Planet are undercutting them with prices closer to cover.
Button wars! Enjoyed this article? Share it!