Catesmania: Hundreds Swarm Midtown Comics For Absolute Carnage Signing
Global entertainment superstar Donny Cates is the hottest writer in comic, but is he bigger than the Beatles? Based on the turnout for a signing featuring Cates and artist Ryan Stegman for the release of Absolute Carnage at Midtown Comics in Manhattan, the emphatic answer is: yes!
In a scene reminiscent of when the Fab Four arrived on Pan-Am Flight 101 at John F. Kennedy International Airport on February 7, 1964, crowds lined up outside the popular Manhattan comic store for a chance to meet with Cates, and also Stegman. We're not saying that Stegman, a superstar artist, isn't a popular creator in his own right, but if we had to classify him, he'd probably be the Ringo. Cates, on the other hand, is obviously Paul, John, and George combined. Why else would Bleeding Cool dedicate an entire section of the site to tracking his hairstyle changes?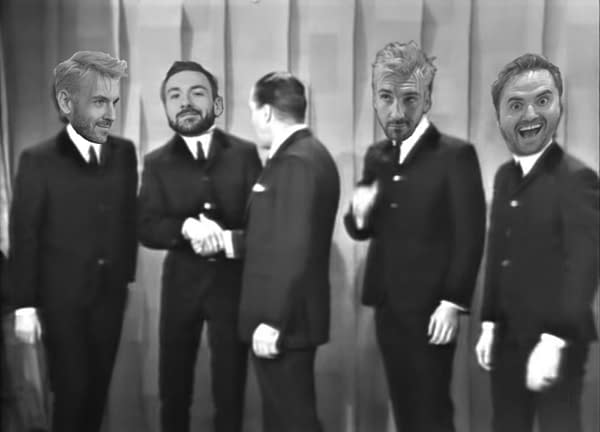 According to Cates' Twitter, over 200 Catesbronies — that's the official name for hardcore fans of Donny Cates, who are also sometimes called AdvoCATES — waited in line outside Midtown Comics for the signing, braving unsafe weather conditions to meet the iconic writer and catch a firsthand glimpse of his recently-announced mullet-in-progress.
While Ring– we mean, Stegman posted the following video:
Hopefully, all the Catesbronies and Stegasisses were able to get their comics signed. Absolute Carnage #1 is in stores now.
ABSOLUTE CARNAGE #1 (OF 5) AC
JUN190761
(W) Donny Cates (A/CA) Ryan Stegman, J. P. Mayer
After turning Venom's world upside down a year ago, DONNY CATES and RYAN STEGMAN are about to put the Sinister Symbiote through hell again, only this time CARNAGE has come calling, and everyone who's ever worn a symbiote is dead in his sights! He's skirted the periphery of the Marvel Universe for months, but Cletus Kasady at last stands poised to make his grand return to New York in a blistering 60-PAGE story… and he wants to paint the town red!
Rated T+
In Shops: Aug 07, 2019