Catwoman Has Two New Arse-Based Nicknames For Nightwing (Spoilers)
Seriously Selina Kyle, what would Bruce Wayne say? The Nigjtwing innuendo is real in Batman/The Joker: Deadly Duo #4, from DC Comics tomorrow.
---
Sometimes only a tale of Nightwing's derriere derring-do will do. Tomorrow sees the release of the fourth issue of the decade-plus-long-awaited Batman/The Joker: Deadly Duo #4 from Marc Silvestri. But don't forget the input of Top Cow EIC Matt Hawkins who has been scripting some of the comic books. And who I reckon is responsible for these little bon-mots. Because, as we all know, Dick Grayson, Nightwing has a certain reputation at DC Comics for his admirable buttocks, the subject of both male and female gaze.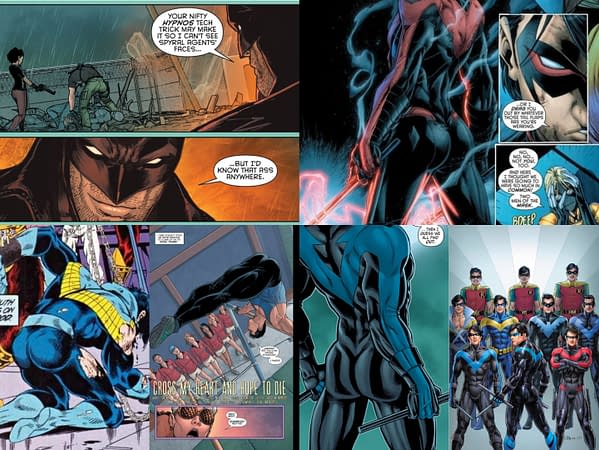 Yes, basically like that. A lot. Well, in Batman/The Joker: Deadly Duo #4, it appears that Catwoman is joining in. Now considering that Catwoman is basically Batman's wife, and Batman is basically Nightwing's dad, this may reveal something about Marc Silvestri or Mike Hawkins' browser history that we'd rather try and avoid… as Catwoman is ogling Nightwing just like everyone else.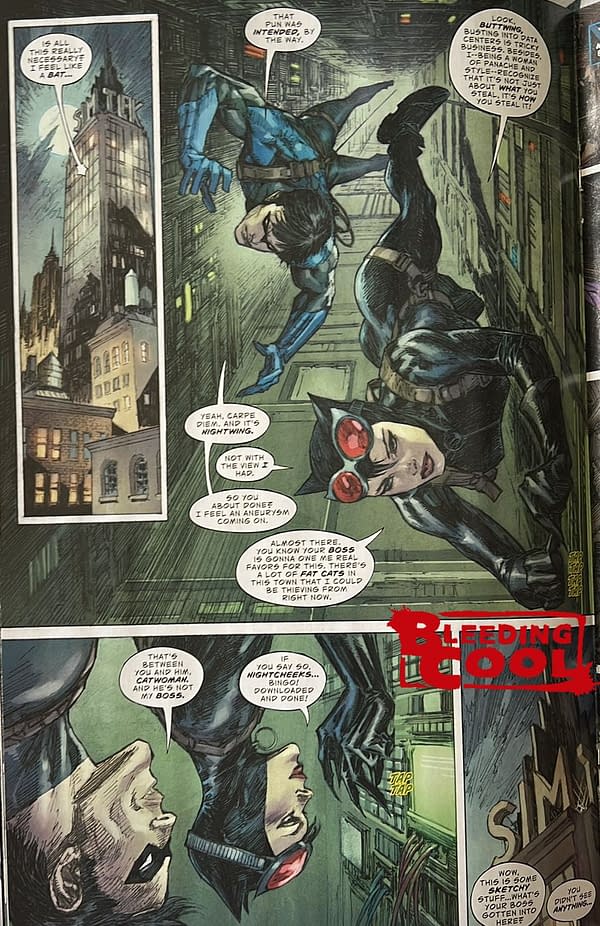 Buttwing or Nightcheeks, which do you prefer? Is this sexual harassment at work? And does this make Seline Kyle a Catwoman or a Cougarwoman? You get to decide… Batman/The Joker: Deadly Duo #4 is published by DC Comics tomorrow.
BATMAN & THE JOKER THE DEADLY DUO #4 (OF 7) CVR A MARC SILVESTRI (MR)
(W/A/CA) Marc Silvestri
TRAINing day! Batman and The Joker's ability to function as a team is put to the biggest test yet as they are dropped out of the sky and into a moving train! Will their alliance hold together, even if the speeding locomotive does not? Meanwhile, the Dark Knight has enlisted the help of Nightwing and Catwoman to help with his investigation, but with more pieces of Gordon being shipped to GCPD headquarters, by the time they find any clues, will there even be enough of the commissioner left to save?
Retail: $4.99 In-Store Date: 02/07/2023